By Katie Trojano, Reporter Staff
September 11, 2019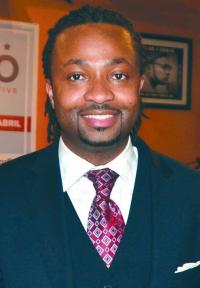 Former state Rep. Evandro Carvalho has taken charge as executive director of the newly reformed Boston Human Rights Commission. A Dorchester resident, Carvalho was named to the post by Mayor Martin Walsh late last month.
"As attacks on human rights continue from the highest levels of our country, here in Boston, we're committed to preserving and advancing human rights, including our immigrant communities," Mayor Walsh said in his Aug. 26 announcement. "I'm proud to activate this crucial commission and look forward to Evandro's strong leadership and track record of helping people guide this commission." 
Carvalho, an attorney, is currently outlining and studying the ordinance. He said that the next step in the process is vetting candidates for the seven-member commission. "My job is to execute this law," he said, "and to help the commissioners with their job." 
The panel is charged with prioritizing the needs of Boston's immigrant communities. Commissioners will help them access state and federal laws that provide legal protections and mandate that certain basic services be provided to all regardless of immigration status. 
"I'm proud to take this position because I understand this position," Carvalho told the Reporter in an interview this week. "It's constitutional law, and I think it goes to the core of society. This is why we have government, because we protect the public. We want you to feel welcome in our city regardless of where you came from." 
The commission has the power to conduct hearings, call witnesses, and issue reports on the results of individual investigations.
"We see that immigrants are under extreme attack at the federal level," Carvalho said. "I think the mayor wanted to accomplish a particular thing with this [commission]. My neighbors are immigrants, so I know the fear that people are experiencing right now— particularly since Trump came in. But it's not just immigrants; it's racial minorities, people with disabilities at times, or the LGBTQ community." 
The Boston Human Rights Commission was established by city ordinance in 1984 to guarantee that all residents are given fair and equal treatment under the law, but until now it had not been active since 1996.
"It never really got off the ground," Walsh told the Reporter. "With all that's going on in the world and what we're seeing with discrimination, housing and immigration today, people need a place to go. They need a beginning point and the commission is going to be that beginning point." 
Asked why he tapped Carvalho to lead the body, Walsh said: "Evandro's resume speaks for itself. He has an understanding of prosecution and how the legal system works." 
Carvalho immigrated to the US from Cape Verde at age 15. He graduated from Madison Park High School and earned degrees from UMass Amherst and Howard University School of Law. He then served as an assistant district attorney in Boston prosecuting gun crimes before he was elected a state representative from Dorchester's Bowdoin-Geneva neighborhood in 2012. He served three terms, then ran unsuccessfully for Suffolk County district attorney last year.