By Reporter Staff
June 6, 2019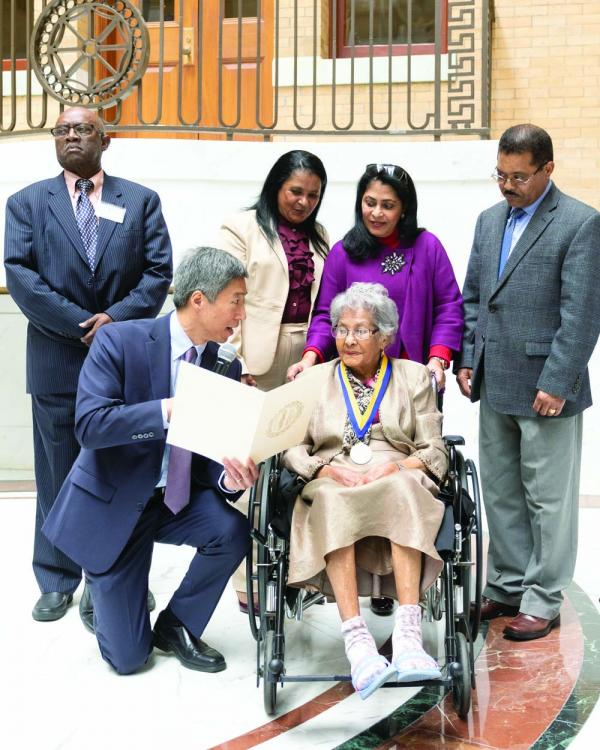 Fifteen elder residents were inducted into the Centenarian Society of Boston at an event hosted by Central Boston Elder Services at the State House last month. Among the inductees was Dorchester resident Maria Barros, who will celebrate her 101st birthday on June 20.
Born in Cape Verde, Barros came to the United States at age 16, worked as a seamstress and developed a clothing sales business. She has 5 children, 32 grandchildren and 54 great-grandchildren.
CBES services and programs enable these new inductees and many more elderly Boston residents to age in place in their homes and communities. 
"Central Boston Elder Services celebrates our older residents and recognizes the enormous value of their life experiences," said Michael Vance, Central Boston Elder Services CEO. "We are so proud of them and treasure their ability to share the insights and occurrences of their many years, to describe how times have changed, and to share their often unique cultural experiences."
Vance noted that this year two CBES Centenarians have lived to age 107 and that the group is very diverse, with some immigrating to the United States from as far away as Russia and the Cape Verde islands.
One reason CBES created the Centenarian Society of Boston was to have the opportunity to honor and capture the unique stories of Centenarians thy serve. CBES staff members write a brief biography of each Centenarian, capturing their distinctive stories. Many of the Centenarians state that a key to their longevity is hard work and strong family connections.