By Katie Trojano, Reporter Staff
October 10, 2019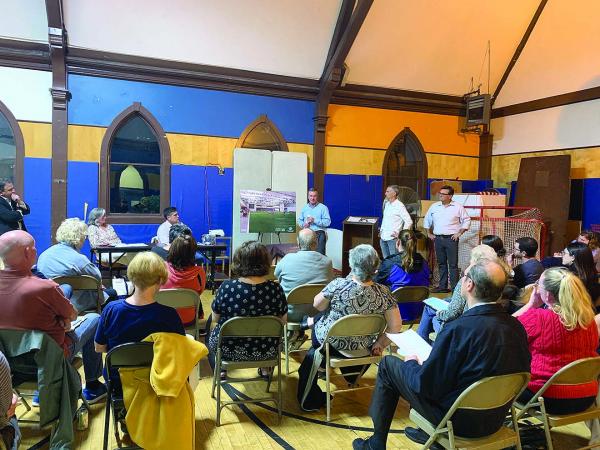 The proposal to build a $30 million indoor sports and community center on what is currently a field beside the McCormack Middle School on Columbia Point was presented to the Columbia-Savin Hill Civic Association meeting on Monday night.
The tenor of the spoken reaction to the presentation was mostly positive, even enthusiastic in some cases, though concerns about the location were shared with the gathering.
Preliminary designs were shown by Bill Richard of the Martin Richard Foundation, Bob Scannell, president and CEO of the Boys and Girls Club of Dorchester, and Kevin Deabler of RODE Architects. 
"We're committed to building the Martin Richard Field House in Dorchester," said Scannell. "This is something that we really feel can serve the entire community. We know that we can continue to serve the Dever and McCormack schools in a very significant way, as well as the Harbor Point community, the local sports teams in town, the elderly community, and all ages of people." 
No vote was sought or taken after meeting attendees had their say, of which the following were representative:
"I think that this is a terrific proposal," said Dianne Lescinskas. "There are a lot of kids in that neighborhood and the Boys and Girls club is fully inclusive; they serve kids who have special needs. That's something we really don't have."
She added: "They do get bused in from different schools but that's just typical of how BPS operates. My daughter, who is 22 years old and has special needs, still participates at the Boys and Girls Club."
Don Walsh, a longtime Savin Hill resident and civic association member, had a different take to offer. "I'm a big fan of the Martin Richard Foundation and the Boys and Girls Club, but I think this is a lousy location for a bunch of reasons," he said. "I don't think there are many kids out there anymore. It's a tremendously valuable piece of property right now. Is putting this facility there, when you're still going to have to bus kids, is that the best use of the space?"
Bill Richard responded to Walsh, saying, "Is it perfect, Don? I don't know; nothing's perfect. But we've been through this for a number of years and we think that it's really good. I would never say that a site is perfect, but if we wait for perfect, we'll never get it done." 
The Boys and Girls Clubs of Dorchester and the Martin W. Richard Foundation submitted their plan for the new facility –named the Martin Richard Dorchester Field House – to the Boston Public Schools (BPS) this summer in a response to a city-issued Request for Proposals.
The project is largely the brainchild of Bill and Denise Richard, who created the Martin Richard Foundation— named for their eight-year-old son who was killed in the terrorist bombing at the Boston Marathon finish line in 2013. They enlisted the Boys and Girls Clubs of Dorchester— led by Scannell and his wife Mary Kinsella— to bring their vision of an indoor recreation facility for city kids in particular to fruition. Together, they have been seeking an appropriate site ideally in Dorchester for the past four years. 
"We went through every iteration possible when we were looking for a potential site, and we're grateful that this land became available," Richard said. "We don't have it yet, because it needs to go through a process, but if we are fortunate enough to get it, we'd love to build it. We think it would be a tremendous asset to the community, the Boston Schools and not just this neighborhood but the rest of the City." 
The new building, if approved by city officials, would house a turf field for soccer, lacrosse, rugby, football and other sports; an elevated, three-lane running and walking track; a fitness center with locker rooms, classrooms and a nutrition center, along with some open space outside. The building would be managed and programmed by the Boys and Girls Clubs of Dorchester, but would be fully accessible to the Boston Public School students at the neighboring McCormack-Dever campus. The facility would also be open to the larger community, and to adult sports teams, for example, that could rent the space for games and practices when not in use by children and teens.
The site along Mt. Vernon Street is an open space that is tucked between the McCormack school building and St. Christopher parish's parking lot.
"The RFP was very strong around what the parameters would be for BPS students and we are going to present plans to the Dever and McCormack to get more feedback before we move forward," said Rob Consalvo, chief of staff in the BPS superintendent's office.
Funding for the center will be raised privately through the efforts of the Martin Richard Foundation and the Boys and Girls Club. 
"This is going to be first and foremost a center for the Boys and Girls Club and the Dorchester community, but it's going to bring us all together in a world-class way," Richard said. "It will be clean and well kept. We've got a lot of work to do in terms of raising the funds but we've got a great track record." 

Get the Dorchester Reporter— the paper of record for Boston's largest and most diverse neighborhood—delivered to your door for just $30 per year.
That's 52 weeks of the Dorchester Reporter delivered by USPS for just $30.
Support our brand of community journalism AND get the print edition delivered to your door each week— the best deal in town!
Click here to submit your order with PayPal:
Or call 617-436-1222.