By Daniel Sheehan, Arts and Features Editor
October 31, 2019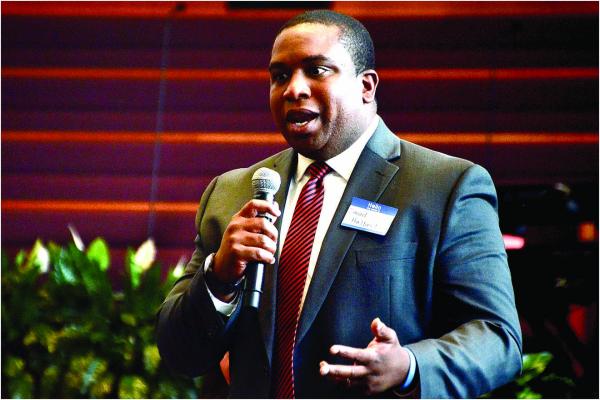 Last Friday morning at Ripple Cafe in Ashmont, the blueberry muffin that David Halbert had ordered sat forlorn and largely untouched on the table in front of him as the at-large city council candidate spent the better part of an hour delving into details on issues ranging from affordable housing to transit equity to representation.
The first-time candidate – a Cincinnati native and son of career federal employees with "government service in my blood"– can point to a public service resume at the local and regional levels, having worked for former Massachusetts Governor Deval Patrick before a stint at City Hall through Sam Yoon's mayoral run and then several years at the Middlesex Sheriff's Office.
That experience, suggests the 38-year-old Halbert, when combined with his master's in public administration from Northeastern, means that he generally knows what he's talking about when it comes to policy.
"I'm a policy guy, I'm an ideas guy," he said forcefully, "but I also am somebody who has seen a lot of politics happen, and I understand some of the seeds of cynicism and where they come from."
Halbert says he is wary of the way some elected officials can disappear after campaign season, or fail to follow through on conversations with constituents. 
"Every politician, every candidate you're going to meet is always going to tell you two things: They're going to tell you what they want to do, and why they want to do it. And if the conversation ends there, you've been left with a promise. But we know that promises are often forgotten or broken, and people feel that, particularly in some communities more than others. There's a third question, which is how are they going to do it? That's how you turn a promise into a plan. Plans are how you enact real policy and help impact and change people's lives...I don't make promises to people that I don't see a way of keeping."
When it comes to the "how" part of that formula, Halbert offers nuanced plans, especially when it comes to affordable housing, a cornerstone of his campaign.
He has witnessed the housing crisis firsthand: After the birth of his second daughter, he and his wife searched in vain for nearly a year for a larger apartment in the city that could accommodate his growing family better than their cramped space in East Boston. They finally found a spot on the Dorchester-Mattapan line, where the family currently resides. But the experience was surprising, he said.
"We figured we'd be okay. We had a condo, we had a leverageable asset, we had good careers...We thought that on paper, we'd be able to find something pretty quickly, but after a year of searching, we weren't able to find anything that we could both fit and afford...I know as a candidate hearing stories about housing, which is the number one concern I hear across the city, that our story is not that much different from many others."
To address the issue, Halbert has proposed measures such as raising Boston's Inclusionary Development Policy (IDP) rate, which dictates what percentage of units in housing developments must be affordable, from 13 percent to 20 percent. But changes like that, he said, need to be coupled with a broader vision and an awareness that surrounding communities like Quincy and Brookline have a role in the housing conversation, as well.
"You can't be parochial about it," he explained. "The housing crisis isn't just facing Boston, it's facing a lot of other communities. No one's feeling it more acutely than we are, in my opinion. But you need to have two parallel conversations: One, what we can do, what we can control from City Hall. But we also need leaders at City Hall who...understand that doing what's best for the city sometimes means expanding our view and our conversations outside of the city's bounds."
As to zoning, Halbert said that community members have told him that often "it doesn't feel like there's a plan. One building goes up and it's eight stories, another goes up and it's two stories. Nobody knows what's going on, and it's just about who you know at 1010 Mass Ave. or City Hall."
On the larger issue of overall development, he supports Councillor Michelle Wu's proposal to break up the BPDA, noting the need to be "responsible" about shifting the development process to a conversation that brings housing advocacy and anti-gentrification activists and developers to the table from the start. 
"A big responsibility of elected officials is to be the convener of those conversations, to bring people to the table," he said. "I think oftentimes we find in policy issues that when you have two sides that seem to be very much in opposition, in a binary, the truth and the answer lie somewhere in between. But you have to break down those walls and allow for effective communication in order for it to happen." 
If elected, Halbert would become the first black man on the city council since Tito Jackson won a seat in a special election in 2011. Remarkably, it would also mean that he would be the first black man directly elected to that body in 38 years, since Bruce Bolling in 1981.
"Representation is powerful," he said, noting that Boston's Latinx and LGBT communities also lack voices on the city council. "Every time we bring a new voice to the table, we close the aperture on those blind spots."
To demonstrate his position, Halbert pointed to a recent meeting about a pending distracted driving enforcement bill. He and a contingent of mostly black citizens were discussing a provision of the bill centered on demographic data and instances of racial profiling or over-policing during traffic stops.
"Every person there had a story of being pulled over, having a negative interaction, and how that made them feel," he said. "All shared that collective story...when that perspective isn't at the table and you're making policies, you can be as well-intentioned as possible, but you have to...understand that there are other unintended consequences that can happen."
A black man's voice on the city council will fill "a glaring need," said Halbert, who is being positive ahead of the approaching election on Nov. 5. 
"I'm hoping to make a little bit of history," he said.