By Katie Trojano, Reporter Staff
August 12, 2020
The three candidates for the 12th Suffolk District House seat seized a rare opportunity to appeal to voters in person at an outdoor meet-and-greet hosted by the Ashmont Adams Neighborhood Association last Thursday.
About 20 neighbors gathered in the Plasterer's Union Hall parking lot on Minot Street to hear from Stephanie Everett, Jovan Lacet, and Brandy Fluker Oakley, the Democrats vying to replace Rep. Dan Cullinane, who announced earlier this year that he would not seek re-election.  
Those in attendance wore masks and used beach chairs, positioning them just-so in keeping with social distancing requirements. 
While the candidates had participated in several virtual town halls and online civic meetings, they had not appeared jointly in a live setting, instead campaigning without having much, if any, face-to-face contact with voters in the district, which includes parts of Dorchester, Mattapan, Hyde Park, and Milton.
Lacet spoke first and said he was running "to give a voice and also to advocate for a better quality of life for everybody in the 12th Suffolk District." He said he would work with fellow legislators, constituents, and stakeholders to "address some of the disparities and inequities" in the district.

Lacet addressed members of the Ashmont-Adams Neighborhood Association last week. Katie Trojano photos
The Mattapan-based attorney and former Boston Police officer , who had waged two unsuccessful campaigns against Cullinane in the last two election cycles, pointed to his participation in several civic associations.
"You may want to say, 'Why Jovan?'" he said. "I know about what's going on — the development, problems with the trolley system. I've built a relationship with the community and now I want to take it to the next level and advocate and work with you guys in a partnership." 
Lacet asked members not to weigh endorsements heavily, a likely reference to the backings earned by Everett and Fluker Oakley, who have each notched a flurry of political, union, and other public nods in recent days.
"Listen to what your fellow constituents are saying when you're making your choice. Please do not listen to folks from other towns and those who are endorsing. Please listen to what your fellow constituents are saying," he said.
Fluker Oakley, a former teacher and public defender in the Boston Municipal and Chelsea district courts, made her pitch next. After teaching in Baltimore, she developed an interest in public policy and eventually attended law school. She is now a practicing attorney and advocate for education reform. 
"As someone who has studied policy, I know that our issues are interconnected," she told the small crowd. "While the State House tackles many issues, they often solve them one at a time, which doesn't recognize how our systems interact and interplay with one another.
"I'd like to form a committee that actually explores the interconnectedness of whatever bills are coming down the pipeline to make sure that they're actually speaking to one another," she said.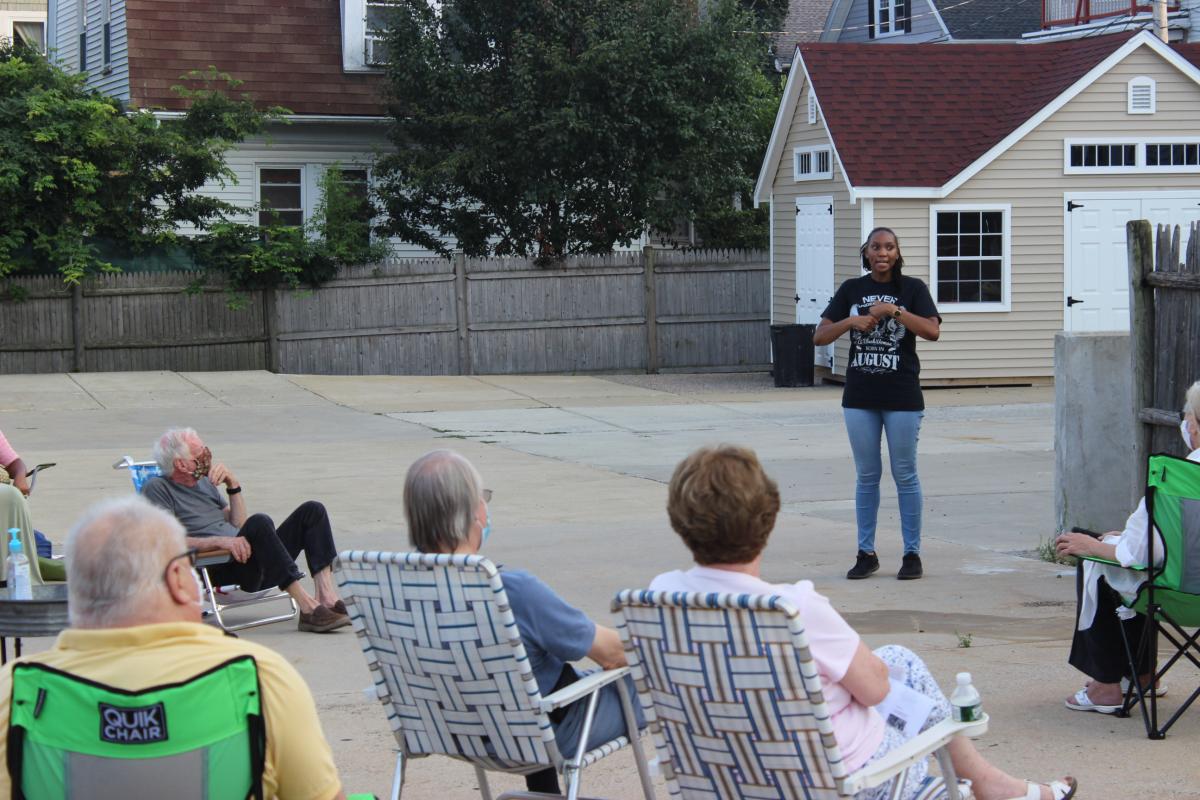 Brandy Fluker Oakley

She added: "I have looked around our community and seen that because of COVID-19 these inequities that we know all too well have only been exacerbated. I want to make sure when I look around and see my neighbors, some who have had the deck stacked against them, that we work together to eradicate those barriers." 
Everett, an attorney and Mattapan resident, ran unsuccessfully for the 12th Suffolk seat in 2013. She spent 12 years as a state employee, including as deputy chief of staff for state Sen. Sonia Chang-Diaz, who endorsed her candidacy last week [see below], and as chief of staff for the Department of Transitional Assistance.
"As a daughter of this community, I know the strength that this community has to offer. My dad spent 90 percent of my life in jail and my mom suffers from mental health issues to this day. I had two very unavailable parents, but this community never gave up on me," she said.
 
Everett said that issues worsened by the spread of COVID-19 motivated her want to run for the seat again. 
"We are back at the point today where we are worried how we are going to pay our rent, get healthcare, and educate our children because of COVID-19," she said.  "I want to make sure that at this time, all voices are at the table. When the kids first went out during quarantine, not every child had the same resources – internet laptops and those who have special needs were also not thought of in this virtual space. It took a very long time to get them situated." 
Everett said she's ready to "go to work. We're going to have to talk about the environment, housing, education and racial equity. If we're going to move forward and really be better together, we're going to have to do that sitting at the table together and working on racial equity issues that will take a lot of listening, talking, and moving forward." 
During a question-and-answer period, the candidates were asked about the MBTA trolley line which runs between Ashmont and Mattapan Square. Last year, the T announced a 10-year-plan to gradually phase out the existing fleet of PCC cars, which date to the 1940s. They will be replaced in piecemeal fashion by more modern "Type 9" trolley cars which are now in service on the Green Line.
Everett and Fluker Oakley generally support the T plan. Lacet complained that the line seems to get "second-hand" vehicles after other communities have used them. "We have to say no to that," he said.
Fluker Oakley added that she would seek to be "innovative" in her transportation advocacy. "I'm in support of getting the type 9 [trolleys], but I also want to think about how we can be innovative. I don't think COVID-19 is the opportunity to do business as usual to advocate for things that we've always advocated for," she said.  "I'm thinking about what it would mean if we also got the funding to actually extend the Red Line all the way through Mattapan." 
The campaign in the 12th Suffolk has been one of the most competitive in the city. It will be decided after votes are tabulated on Sept. 1, the day of the state primary.
Early voting begins at select locations across the city on Aug. 22 and many voters have opted for mail-in ballots amid the health emergency.
For updates on the 12th Suffolk race, see DotNews.com and follow @DotNews on Twitter.