By Daniel Sheehan, Reporter Staff
March 25, 2020
As the Dorchester neighborhood entered Week 2 of operating under coronavirus-era restrictions, the inevitable fallout from the state and city's responses to the crisis continued to ripple through its small business community.
On Monday morning, Gov. Baker ordered all "non-essential businesses" to close their doors by noon on Tuesday and stay shuttered until at least April 7. While that directive shut down some businesses, like nail salons and barber shops, it allowed restaurants to continue takeout and delivery services – provided they "follow social distancing protocols," a caveat that Mayor Martin Walsh discussed later in the day.
"I want to remind both restaurants and residents to continue practicing social distancing while waiting for take-out," Walsh said. "We're hearing at different points of the day that people are gathering inside restaurants. If you place an order, if you could, stand on the sidewalk and practice social distancing; it's really important. Restaurants, I'd like you to do the same thing – encourage folks to spread out so we're not having people on top of each other."
However, with residents being urged more and more to stay inside, restaurants that do not offer delivery may suffer losses on walk-in takeout orders. At the very least, the new advisory will put pressure on restaurateurs like John Pappas, owner of Brothers Deli & Restaurant in Mattapan Square, to make some decisions. 
"We'll see how long we can do it," Pappas told the Reporter after noting that the restaurant had already seen a 50 percent drop in food orders. "This weekend will determine if we can continue to operate. We might have to shut down for a while...time will tell."
He added: "We're considering getting delivery service also so we can keep everybody working, you know. We all have families, we all have bills to pay. I've had to cut back a little bit, but I want to keep everybody on."
Elsewhere in the neighborhood, others have been pushed to the edge, with some deciding to close up shop. The Ice Creamsmith in Lower Mills, which last week had set up a takeout window at their front door, decided to close indefinitely just a few days later. Just up the street, The Bowery, along with Lucy's American Tavern, its sister establishment in Adams Corner, arrived at the same decision. 
"At this time, we have closed the locations to focus on the safety and health of our teams and guests. We will be back at full operations as soon as we are given official word," said co-owner Shawn Ahern.
In Fields Corner, home.stead bakery announced on Tuesday that it will close indefinitely beginning next Sunday at 3 p.m. "We will miss our wonderful community and will see you on the other side," wrote co-owner Elisa Gerard in a Facebook post.
Next door at 50 Kitchen, Chef Anthony Caldwell, who fulfilled his dream of opening a restaurant just last month, is also facing uncertainty. After accepting takeout orders for much of last week, the restaurant was closed Monday and Tuesday of this week and customers were told to expect "day-to-day" updates.
On Dorchester Avenue, one staple food spot is back to its take-out roots – for now – after just making the move to add more seating.
Jennifer Nguyen, owner of the Vietnamese restaurant Bánh Mì Ba Le, said "we are taking it day by day." Last week, Nguyen told the Reporter, "We stay open for our staff and customers, but we look for a way to keep everyone safe too."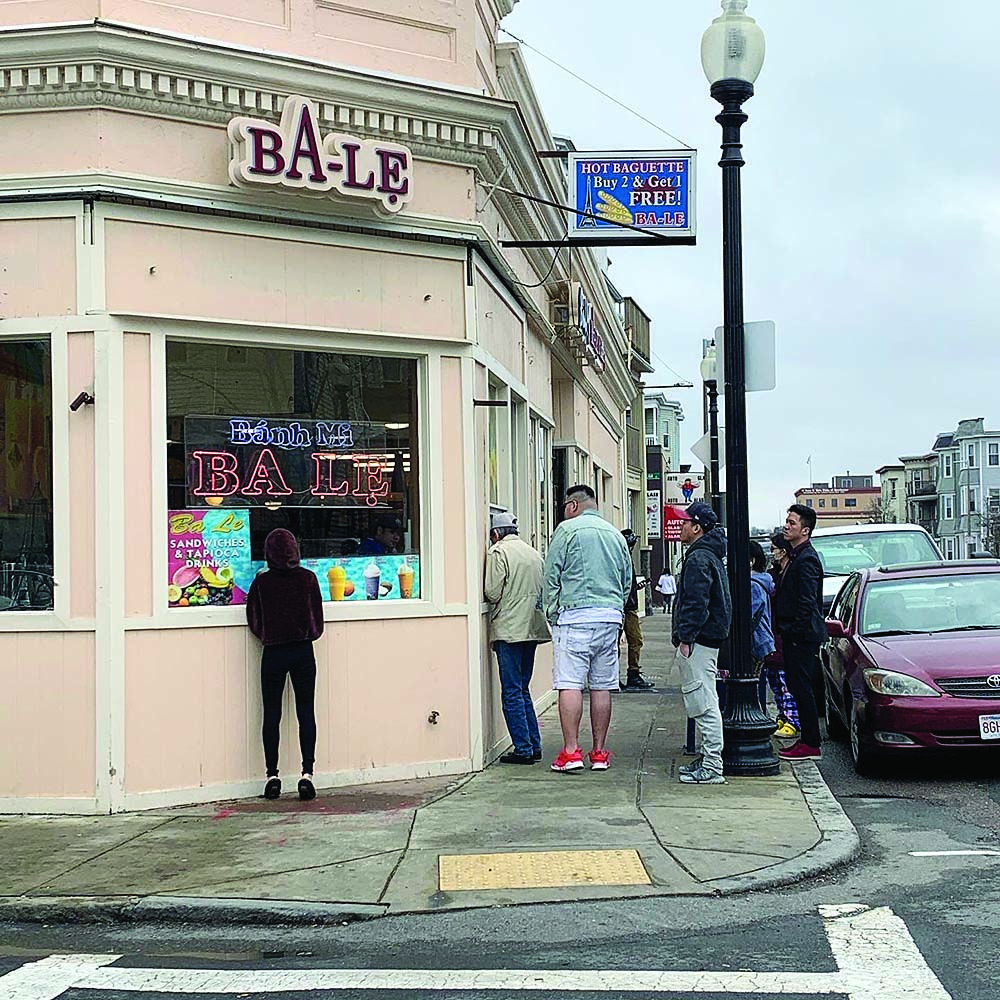 All orders at Ba Le are being taken and distributed from a storefront window on Dot Ave. Daniel Sheehan photo

Once a bustling shop with only a single table nestled among the packages, snacks, and bubble tea station, Ba Le recently completed an expansion that roughly doubled its size and added seating — a goal Nguyen had looked forward to rapturously in a mid-2019 interview right before Dorchester Day.
Nguyen confirmed that they are back to take-out service only, in accordance with the state-wide restrictions on restaurants. The staff is "doing our best to encourage social distancing among the customers," she said. Ba Le is taking all orders and distributing food through a storefront window to customers on the sidewalk in an effort to avoid crowding the store's interior.
A few blocks to the south along Dot Ave., staff at dbar have begun to appeal to the community to help combat another by-product of the pandemic: widespread layoffs in the food industry.
A group of former employees started a gofundme fundraiser Sunday to support those left without a job – and without tips or paychecks – due to the COVID-19 restrictions.
Other businesses are gearing up to serve customers "curbside" during the evenings. Tavolo – located in the Carruth building next to Ashmont station – will be open from 5 p.m. to 9 p.m. Tuesdays through Sundays. It is offering special menu items for families at its website, tavolodotave.com.
Pat's Pizza in Lower Mills remains open for takeout and delivery. A sign on the front door directs customers to call in orders and pick them up at the back door in an effort to maintain social distancing.
On Gallivan Boulevard, another pizza joint, Papa Gino's, has begun offering a "limited contact delivery" option in addition to their normal takeout and delivery, whereby customers can choose to pay with a credit card over the phone and give drivers instructions to leave delivery orders outside their front door.
In another COVID-19-themed promotion, Dorchester Brewing Co. and restaurant partner M&M BBQ are including a complimentary roll of toilet paper with each takeout or delivery order.
In the South Boston seaport, Harpoon Brewery announced that it is now offering delivery services to a zone that includes parts of Dorchester, including Columbia Point, Savin Hill, Jones Hill, Uphams Corner, and Grove Hall.
Many other businesses offer services that won't be viable in the age of extreme physical distancing. Serge Pierre, owner of Unique Cuts barber shop in Lower Mills village, turned off the lights on his barber's pole on Monday.
Pierre, a native of Haiti who has operated in Lower Mills for 23 years, said he and three other employees will sit-out the hiatus at home. "We will be okay," he said. "Everybody needs to do this to be safe. We all have families to take care of."
For more details about the takeout/delivery service status of local restaurants, see the the city of Boston's directory at www.boston.gov/departments/small-business-development/support-bostons-re....
Reporter editor Bill Forry and former Reporter news editor Jennifer Smith contributed to this report.