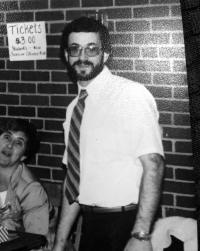 The hour was growing late in St. Gregory's auditorium and the 15-member cast of the musical "Godspell" was beginning to dissolve into sniffles and sobs, an unscripted group meltdown in front of a crowd of 300 relatives and classmates. The cast of 12, 13, and 14 year olds were supposed to be disciples snoozing in the Garden of Gethsemane, but as the first plaintive notes sounded from "On the Willows," the ballad that precedes Jesus Christ's betrayal, they were starting to lose it.
It was May 1985— two weeks before Dot Day— and I was a sixth grader at St. Gregory's Grammar School, now known as the Lower Mills campus of St. John Paul II Catholic Academy.
Four months of tryouts and rehearsals and improv sessions, and at least one fistfight, had culminated in two days and three performances. Now it was all about to end. But, looking back 35 years later, I understand it was very much a beginning for me and at least some of my castmates.
The cast was led by Pierre Auguste, a 12-year-old sixth grader who had leapfrogged the "veteran" seventh- and eighth-grade theatre posse into the marquee Messiah role. His parents were immigrants from Haiti, and his brother Richard had played a part in St. Greg's 1984 junior high show, "Music Man." Pierre had been too young to perform in that show, but he was a regular at rehearsals. He was a natural performer— constantly in motion and imitating the "wave" and "popping" dance-styles of early hip-hop that were just starting to filter into '80s pop culture.
Pierre and Richard's family lived at the corner of the Gallivan housing development, often dubbed the Morton Street projects. They were black kids in a school that had been the province of freckled-faced white kids since the parish school opened in the 1920s. That started to change in the early '80s. The Sullivans and the O'Neills and, yes, the Forrys now shared pews and coatrooms and the gym with the Ostines and the Raphaels and the Augustes.
The Haitians were a growing presence in St. Gregory's parish. And as it happened, that was not the only serendipitous change as the Reagan years hit the half-way mark.
A somewhat clumsy but gifted young musician had landed a guidance counselor job at St. Greg's in 1984. Joe DeSisto was a Canton native who had chased his passion for music and Broadway into a fledgling career in theatre. After stints at Boston venues, he was hired to be the musical director for a national tour of "Godspell." Originally staged in 1971, the show had become became popular thanks mainly to the song-writing skills of Stephen Schwartz, who has gone on to even greater fame for the musical "Wicked."
By 1985, "Godspell's" cornball jokes and yippie references were already cringe-worthy. But the music still worked. And it was a natural choice for DeSisto's debut as a junior high director. Plus, the Sisters of Notre Dame, who ruled the school, and Monsignor Paul T. Ryan, who presided over the parish, could hardly quarrel with a school show based on the Gospel of Matthew.
While DeSisto takes little credit, the blend of kids he chose for the ensemble— as it turned out— just gelled. We were a multicultural lot: Kenji Quinn, Fabiola Narcisse, Danny Clancy, Anna Marangos. The Auguste brothers. There were seasoned performers— eighth-graders Brianna Livingston, Mark Sullivan, David Raymond, and Regine Ostine. There were the fresh-faced sixth graders, Erin Little and Pam Corey, who were newbies to the stage. Pam had watched the older kids perform in "Music Man" the year before and thought it looked like fun.
"I thought it was cool," she remembers.
Not me. I was a quiet, shy, reserved kid. I loved to play basketball, but even stepping out on the gym court in front of the few dozen spectators for a CYO game gave me the jitters. I'm still not sure how DeSisto persuaded me to try out, let alone take a spot in the cast.
Pierre Auguste needed no convincing. He was a natural showman. He enjoyed the limelight. He didn't seem to mind getting a girl's phone number squeezed into his hand too much, either. The Auguste brothers lobbyed DeSisto— successfully— to add in modern references and a hip-hop inspired dance sequence.
For DeSisto, there was never any question that he had his Jesus. Never mind that Boston was barely a decade removed from the height of the desegregation strife that drove many parents into Catholic schools in the first place.
"I remember people commenting at the time, although not in a negative sense," he recalled. "It was just that I picked the one who I thought was going to do it the best. The rest is kind of irrelevant."
Pierre's talent and charisma in the lead role— plus the mix of kids and DeSisto's know-how and connections to the national tour— made it work. He arranged for stage, lighting, and the sound equipment. He assembled a live band, which he led on piano. He leaned on favors for costumes and props. Eighth-grade math teacher Andrea Provan, a native of Jamaica, assisted with choreography and rehearsals.
As the two-day window – May 14-15 – drew closer, we practiced lines and blocked out scenes in the school auditorium. Built in 1960, it featured a stage that loomed five feet above the floor and ran the width of the room. But DeSisto decided he wanted the show "in the audience's lap." So, he rented a smaller portable stage and assembled it on the basketball court.
"I wanted the audience to be part of it and I'm pretty sure that's what happened," he said last week.
A few days before dress rehearsals, DeSisto and his team' including students Andy Venis and Sean Montgomery, began assembling the set, sound, and lights. They salvaged a discarded chain link fence for the backdrop and Joe sent the cast members into Dorchester Park to scavenge branches, tree limbs and vines to add greenery, all of which had died by the day of the first performance.
DeSisto, who directed more than 100 shows before retiring from the Renbrook School in West Hartford, CT, last year, counts St. Greg's "Godspell '85" as one of his top five experiences.
"I thought that that was what always happened," he told me in a call from his new home in Utah. "Every once in a while, you get a group that just hits, and you have no control over that part whatsoever. Either it does or it doesn't. And most of the time it doesn't. But when it does, it's just, you know, get out of the way."
We didn't know it at the time, but while Joe was teaching us to sing and act, he was mourning the loss of his father, who had died that winter. His entire family was at the show.
Pierre, who joined a Zoom call to reminisce about the show, says DeSisto knew what to do with those raw ingredients.
"The magic is that you knew what you were doing. We just kind of went through it and it worked. And you sort of look back and you're just like, Holy Smokes! And that's why for us it was always, it would always be treasured," said Auguste.


Above, Richard Auguste led the cast in "All Good Gifts," one of Godspell's memorable musical numbers.
Regine Ostine-Jackson, the eighth grader who I thought stole the show with her vamping in "Turn Back, O Man" went on to become a professor of sociology who has written books on the Haitian experience in Boston, with a focus on the Catholic parishes.
"I really do feel like that mix that we had in 1985, even in that cast, that was a moment that was definitely fleeting, right?" she told me last week. "I mean, St. Gregory's was radically different 10 years before that. And then fast forward 10 years later and it was a totally different place," she said. "I think that 1985 moment, you know… it did capture something… this kind of tipping point or this moment in the history of the city. It changed dramatically after that."
From my personal vantage point, it was a turning point. My world opened up to new friendships, food, music, and languages. I was bonded to this group— and to the Auguste boys in particular— in a permanent way. They remain my closest friends.
Last week, I walked up to St. Greg's gym. I wanted to fill up my senses with the place, but the doors were locked up tight. The building hasn't heard a sneaker squeak since before St. Patrick's Day. The windows are covered in steel grates from the outside and long curtains obscure from within, but with some effort you can see the spot where we choked up as Joe DeSisto sang "On the Willows."
Recently, my father found an old BetaMax tape that he recorded at the show in a box in the basement. We tried to get it digitized. But at some point in the last three-and-a-half decades, the film surrendered to the elements and time.
There's no video left, just a rumble of kids' voices, indistinguishable.
I was a bit relieved, to be honest. Those memories are sweeter in my mind, and for 35 years they've continued to be some of the fondest that I can conjure up.

A clip from the June 1985 edition of The Reporter included a photo of the cast with assistant director Andrea Proven and director Joe DeSisto (top left). Ed Forry photo