By Katie Trojano, Reporter Staff
September 23, 2020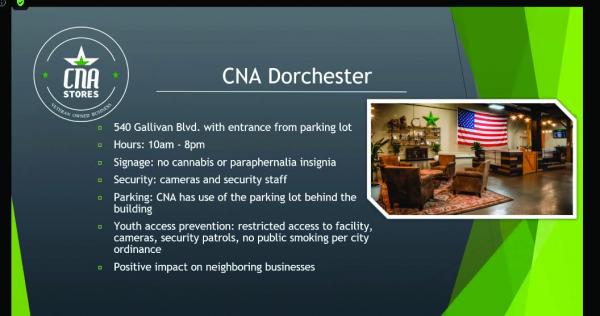 A proposal to site a 3,000 square foot retail cannabis store in a key commercial building in Adams Corner was the topic of discussion during an online-only meeting of the Cedar Grove Civic Association on Tuesday evening. The proposal by CNA Stores, Inc., a company based in Amesbury, MA, is the latest in a series of proposals in Dorchester, but the first for the Adams Corner-Neponset section.
Preliminary plans for the Dorchester facility would include a retail site in a roughly two-story building at 540 Gallivan Blvd., which currently houses Supreme Liquors, Boston Sports Club, a dental office and the specialty clothing retailer College Hype. The cannabis shop would be located in the building's basement level— next to College Hype's space— and would be accessible through the rear of the building, facing the large parking lot that is controlled by Supreme Realty Trust, which owns the building. The facility would operate from 10 a.m. to 8 p.m.
"The great thing about where we're looking to locate is that it's not in your face on Gallivan Boulevard, it's actually behind the building and it's almost like you have to know the destination is there to go find," said Robert DiFazio, the owner and CEO of CNA Stores Inc. "The entrance point in the back is underground which makes it a hardened building from a security standpoint. Access is only through one door." 
DiFazio added: "There's a large parking lot in the back that will help mitigate some of the traffic concerns that get generated through the openings of our stores and cameras that we put out will heighten security in that area." 
DiFazio said that the company has secured four licences for cannabis business in Massachusetts, including two for dispensaries in Amesbury and Haverhill, one for a cultivation site and another for a retail factory. 
If approved, the Dorchester location could employ anywhere from 15-30 people.
No persons under the age of 21 would be allowed in the facility and security guards would be positioned at the entrance of the store to check IDs, DiFazio told about 45 people who joined the meeting online. The added layer of security, he said, would be a benefit to the surrounding community. 
When the session was opened up for questions from the community, several people asked questions about products, security measures and the potential for an on-site police detail and specific community benefits.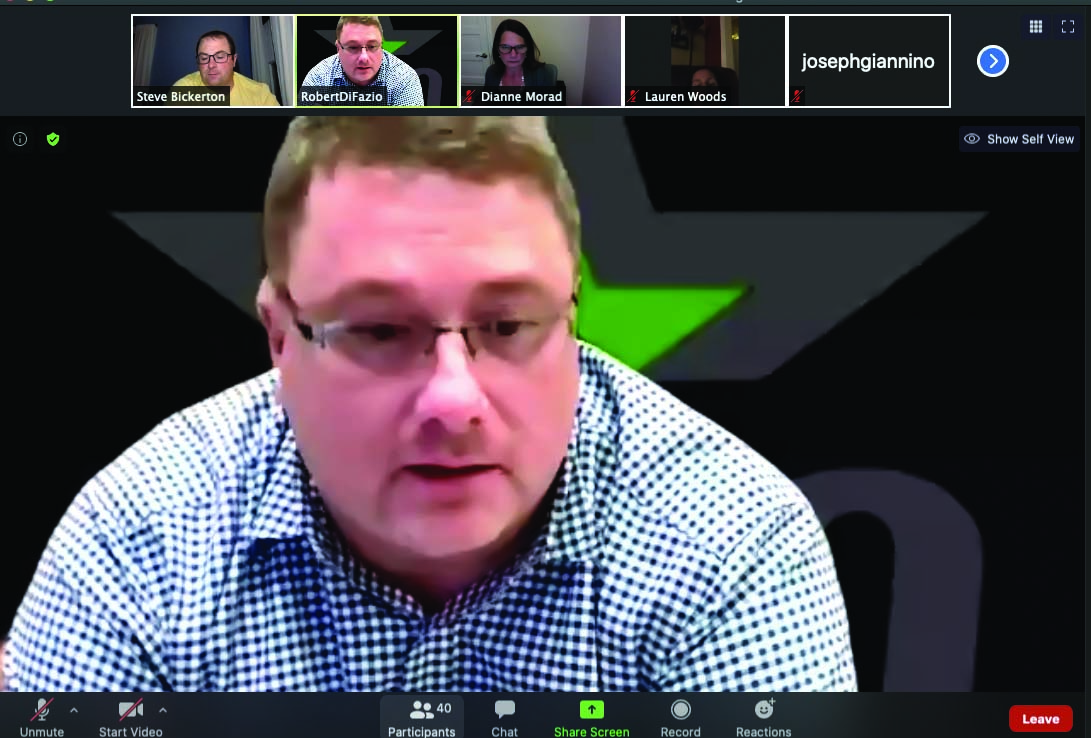 Robert DiFazio, president and CEO of CNA Stores, Inc., spoke during an online meeting of the Cedar Grove Civic Association on Tuesday.

Steve Bickerton, president of the CGCA, said that the possibilities for community benefits were briefly discussed when the team came before the association's executive board to discuss their plans over the summer. 
"I will say that these guys are fully open to suggestions from our group and other community groups on where they should direct their community benefits package," said Bickerton.  "We mentioned youth hockey, little league, things like that and they said basically wherever the civic association and neighborhood groups prefer is where they'll look." 
DiFazio said: "We'll be required to donate $25,000 a year to the local community, and we can work to get things done that will bring benefits to everyone. There are a lot of different things we can do and I'm not opposed to anything."
The building that would house the cannabis retail business at 540 Gallivan Blvd. The entry for the basement-level dispensary would be at the rear.
One neighbor raised concerns that a cannabis dispensary would attract long lines of customers. District 3 Councillor Frank Baker, who was on the virtual call, offered some context based off of other establishments that have opened in the city.
"As a few of the stores opened up, the only problems were lines. In Brookline there were a lot of issues with lines coming out to the street and in another place the issue was traffic," he said.  "I think that as the stores open up you won't see the overcrowding especially if you have online ordering."
Baker also said it would be difficult for the team to secure a permanent police detail, as some civic members suggested. 
"I don't necessarily think that this group would be able to say they can offer police details. The reality is that they will have difficulty getting police details there just because of the amount of work that's going on. If that's something the community really wants, it might be something that's difficult for this group to deliver on." 
DiFazio said that a police detail would likely be in place when the business first opens.
"Then," he added, "based on our assessment of the situation in the community and around the building, we'll come up with a plan to transition from a police detail into our own security personnel." 
Dianne Morad, a Dorchester native who is a liaison for the CNA team, pointed out that the city has mandated a half mile buffer zone between cannabis establishments.
"If you think that Rob and his team are folks that you can work with and that will run a professional and caring business, I hope that you would choose to work with them because there are going to be a large number of establishments in the city," Morad said. 
"If Rob and CNA Stores locate here, then, according to the city, there would be sort of a half-a-mile force field around that establishment and others wouldn't be able to set up shop. If these are guys that you feel like you can work with and talk to, then this might be the best bet for you." 
After more than an hour of discussion, the membership agreed to put CNA Store's proposal up for a vote at their next general membership meeting in October. The vote will decide whether or not the civic association will publicly support the proposal. The next step would be for the CNA group to seek city approvals to open at the Gallivan location.