By Bill Forry, Editor
August 5, 2020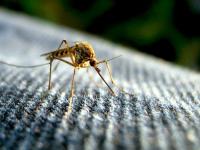 The Boston Public Health Commission (BPHC) announced on Monday that a campaign will begin next week to spray an anti-mosquito pesticide — sumithrin—in select parts of the city: Hyde Park, West Roxbury, and East Boston. The work will be done next Monday and Tuesday, weather permitting, from trucks that will drive into targeted parts of those three neighborhoods and project an aerosol spray that contains the pesticide formula.
The news came on the same day that state public health officials confirmed the season's first human case of Eastern equine encephalitis (EEE) in a teenage boy in Plymouth County. The southeast coast is particularly susceptible to mosquito-borne illnesses and some communities, like Carver, have nighttime bans on outdoor activities in public parks.
Last year was the "most active year since the 1950s" for EEE in Massachusetts, "with 12 human cases and six deaths," according to the State House News Service. Public health officials expect this year "to be another active year for EEE since outbreaks tend to extend themselves over two or three years," the service reported.
There have not yet been any reports of mosquito-delivered illnesses here in city neighborhoods. But they're likely on the way. In fact, on Tuesday, the state Department of Public Health raised the threat level for West Nile Virus from low to moderate within the city after three mosquito samples collected in Brighton came back "positive."
So, it is good to see that city officials and their colleagues at the Suffolk County Mosquito Control Project (SCMCP) are taking steps to control the mosquito population in the city with the initial spraying next week. But, why not spray more widely and help protect Dorchester and Mattapan or other neighborhoods? It's a good question.
BPHC officials say that they are responding to constituent complaints about "large mosquito population" activity in those three communities. So far, there have not been any calls or emails from Mattapan or Dorchester residents. The city and county set traps and test throughout the summer and fall and are monitoring the activity and the risk factors.
But if you and/or your neighbors feel there's a significant problem in your neck of the woods, don't presume the city health experts are clued in. Here's what to do: Send an e-mail to infectiousdisease@bphc.org or call 617-534-2691. Explain the issue and give a specific location or area of concern. According to BPHC officials, in past instances in East Boston and West Roxbury they sent out a team to investigate and determine if spraying was needed.
Here are a few things to know if you decide to report the problem and if city officials decide to target your area for spraying:
• The spraying set for next week is happening in a fairly compact part of each neighborhood. For example, in East Boston, it's targeted for just a few select streets around Orient Heights.
• The pesticide trucks roll through between sunset and 11:30 p.m. People should "minimize exposure" by staying inside during the spraying and closing windows until the spray dissipates.
• The toxins used in the spray "do not pose a significant risk to people or their pets," according to officials, because it is diluted in the aerosol form.
• Also, don't wait for the spray trucks, which may or may not come to your aid. Check your own yard for unused flowerpots, garbage cans and the like that can be breeding grounds for the bugs.
But, by all means, don't just suffer. Call or e-mail. We'll be curious to hear from our readers about their experiences.
– Bill Forry