By Daniel Sheehan, Reporter Staff
April 8, 2020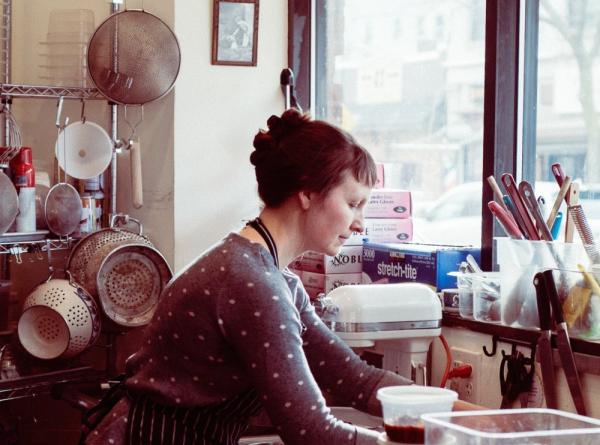 Since coming to the difficult decision on March 28 to close indefinitely the home.stead bakery & cafe in Fields Corner, co-owner Elisa Girard had been searching for a way to take action. Eventually, she settled on a solution that both came naturally to her as a baker and seemed universal enough to bring people together: bread.
"It was just kind of a spur-of-the-moment kind of decision for me," she said. "I had been making sourdough at home, and had been wanting an idea to help our staff and help home.stead reopen. So initially, I put some feelers out on social media and got a huge response from the beginning."
Girard said she has heard from more than 60 donors in just the last week alone and estimated she has baked about 20 loaves of sourdough so far. She initially set a fundraising goal of $1,500, a figure that has been eclipsed by some $1,100 as of Tuesday. And with roughly 40 orders on the waitlist, Girard plans to be baking bread for the foreseeable future.
Two of Girard's sourdough loaves.

"I'm baking out of my home kitchen, so I only can deliver two loaves a day," she explained, adding that people were excited about getting fresh, warm loaves on their doorsteps.
Girard has been delivering loaves via bicycle – "when it's not raining," she noted – accompanied by her husband, Vivian, who co-owns the cafe along with Jack Wu.
The Facebook fundraiser has an end date of May 30, leaving plenty of time for Dorchester residents to donate and secure a place on the sourdough loaf waitlist.