By Daniel Sheehan, Arts and Features Editor
July 23, 2020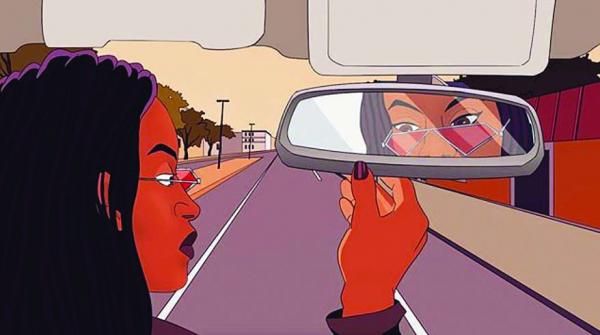 Since the start of her music career, Dorchester-based rapper Red Shaydez has endeavored to understand and embrace her "aura," the innate way her personality and energy affect those around her.
That process of self-discovery began with her first album, "Magnetic Aura," released in 2016. "Feel the Aura," Shaydez's second album which is set to drop this weekend, is in many ways a sequel to her first effort, but it's also a benchmark that shows just how much the MC has evolved since first diving into the Boston rap scene.
For Shaydez, it feels like she's just now coming into her own.
"People kept telling me that other people gravitate towards me, they listen to me when I speak, and it was something that I don't think I was aware of at the time because I was really shy as a person," she said in an interview with the Reporter. "I think I was hiding my light for a long time, but I've grown so much from that project...I feel like this time around for the second installment, "Feel the Aura," it's like, 'Hey, I'm here. I've arrived.' I feel like I have my mojo now."
The forthcoming album, over a year in the works, has seen its rollout altered by the COVID-19 pandemic. Shaydez initially had plans for a film that would act as a visual companion to the project, but that was scrapped as the virus began to shut down the city in late March.
Instead, surviving footage from pre-COVID times documenting the album taking shape in the studio became a focal point of the rollout process.
The phone-recorded video clips— dubbed "The Aura Sessions"— show Shaydez and her co-collaborators in a studio space bathed in red light, penning rhymes and laying down verses.
The collaborative, in-person nature of this recording process was meant to create a literal manifestation of Shaydez's aura, by which she and her fellow Boston MCs can "craft the song together in the same space under red light so that we both feel the aura and come up with the song and it's organic." 
The heavily populated track-list of the final product demonstrates just how much Shaydez and the Boston music community have embraced one another in recent years. 
On "Elevation (Bigger Purpose)," Shaydez builds a back-and-forth rapport with veteran rapper Bakari J.B., the two matching one another bar for bar with tightly interwoven wordplay. Taking the role of a tough-talking "Beantown bully," Shaydez impresses with a busy yet nimble flow: "Rose grew out the concrete/from a little bitty cash flow with my palm deep/when it's feeling itchy, stay low out the hard streets/so nobody kill me build more to achieve more, bring the city with me."
For "We Got It On," Shaydez enlists the help of CakeSwagg and OFDer Brandie Blaze in a showcase of Boston's deep pool of female talent. Roxbury wordsmith Oompa and vocalist Eva Davenport also feature on the project, which marks a departure from Shaydez's largely solo earlier works.
While this sense of community permeates the album, including skits in which friends and family leave her heartfelt voicemails, Shaydez is nevertheless adamant about forging a path for herself and doing things her own way.
On "The Recipe," she scoffs at those of her peers who "buy" social media followers or plays on streaming services in an attempt to manufacture clout.
"My whole brand is to show that you can literally build something from the ground up and have an impact in the world and in your city without having to forge any numbers and stuff," she explained.
"I was actually proud that I don't have the most listens in the city or in the world, but I have more impact than some people who have more followers than me. I'm fulfilled with that., "she said. "A lot of people do music for different reasons; mine was to touch people's lives in whatever way."

Red Shaydez posed in front of a billboard in the Seaport advertising her new album, which drops this weekend.

For proof of Shaydez's local influence, one need not look further than the crowds that show up for her live performances, such as last year's Boston Answering set at the Strand Theatre. The tangible matters more to her than the virtual, and that sentiment is clear in bonus track "Pop Out," in which Shaydez challenges critics who may doubt whether fans will show out for her. "Bet they won't," she retorts.
While the songs on "Feel the Aura" were all written months ago, two in particular feel relevant to the turbulent times we are experiencing. The first, "Steppin' Out," is about battling psychological demons and mustering the courage to leave the house after weeks of self-isolation.
"'Steppin' Out" was written half a year ago, and it was when I was feeling really dark. There was a period six months ago where I wasn't leaving the house...I was just falling deeper and deeper into a hole and then one day, it was one sunny Saturday and I was laying on the couch and I finally came out of that dark cloud I was under. I decided 'I'm gonna go outside.'"
Now, as neighborhoods begin to reopen and Bostonians warily venture out of quarantine, the track resonates.
"It's so timely, it's fitting," observed Shaydez.
On the album's finale, 'Buy All the Land Up," a sample from the Black Panther film soundtrack provides the backdrop as a militant Shaydez urges the Black community to engage politically, demand change, and reclaim rights and property that for so long have been promised to them.
"We gon' buy all the land up, tear all the walls down, hit up the Congress," she declares while advocating for activism and healthy skepticism: "Don't believe the work is getting done because they tell us so."
The pertinent lyrics reflect ongoing nationwide protests and calls for wide-reaching social reform in the wake of several high-profile police shootings, but as Shaydez noted, the subject matter represents a time-weary struggle rather than a moment of clairvoyance.
"Being an actual Black woman, that never ends to me," she said of the fight for social justice. "So contrary to some people's belief, these issues didn't just start in May, it didn't start with George Floyd. We were feeling like this since the beginning of time."
"Feel the Aura" is rife with calls to action, motivational anecdotes, and morsels of advice aimed at having some transformative effect on the listener. Shaydez said those messages are at the heart of her mission as an artist.
"I truly feel that my calling here on Earth is to uplift people, motivate them, help them find their niche. That's why I have aspirations of being a life coach or a coach in general. I just want to help people, and that's where I get most of my self-fulfillment."
Last month, Red Shaydez's image graced a billboard in the Seaport in an ad teasing the release of her album, which will follow a virtual event held this Saturday night. Seeing her face posted above the city, Shaydez said she felt overwhelmed.
"I think that's when it finally hit me. My life started flashing before my eyes in terms of my musical journey and how far I've come...I'm definitely proud and happy and excited."
Feel the Aura will become available on streaming sites on July 27. A virtual album release party will take place on Sat., July 26, from 5 p.m. to 9 p.m. and will be livestreamed on Red Shaydez's social media accounts.