By Daniel Sheehan, Reporter Staff
April 1, 2020
The last few weeks have been a crash course in "changing with the times" for Chris Skillin, who owns the Ice Creamsmith in Lower Mills along with his wife Sarah Mabel-Skillin.
This time of year is normally joyous for the longtime Dot Ave establishment and its loyal customers as they celebrate reopening after a long winter hiatus. On unseasonably mild March days —as much of this month has been — the small shop is usually packed with families eager to try new flavors of homemade ice cream.
"That's when everyone knows we open," Skillin said in an interview. "On a beautiful day after school, everyone comes in and hangs out in the store. We have people here talking to us and welcoming us back. So right now we're missing kids coming in, and the smiles on their faces."
But this spring is unlike any other in the 44-year-history of this neighborhood landmark.
As the COVID-19 pandemic and local business restrictions have developed, the couple have been forced to regularly revise their gameplan.
Initially, on March 13, they voluntarily closed down the shop and installed a take-out-only table at the front door from which customers could walk up and order from the full menu, an adaptive measure that allowed the Skillins to retain their full staff.
Then, the restaurant restriction orders came down from local officials and, seeing his staff was "too exposed" with warm weather and long lines at the door, the Skillins closed again on the 19th to re-evaluate.
The shop relaunched on March 25 with a new online ordering system.
"My wife worked super-hard to update our website to take online orders and be able to communicate with a credit card reader," explained Skillin.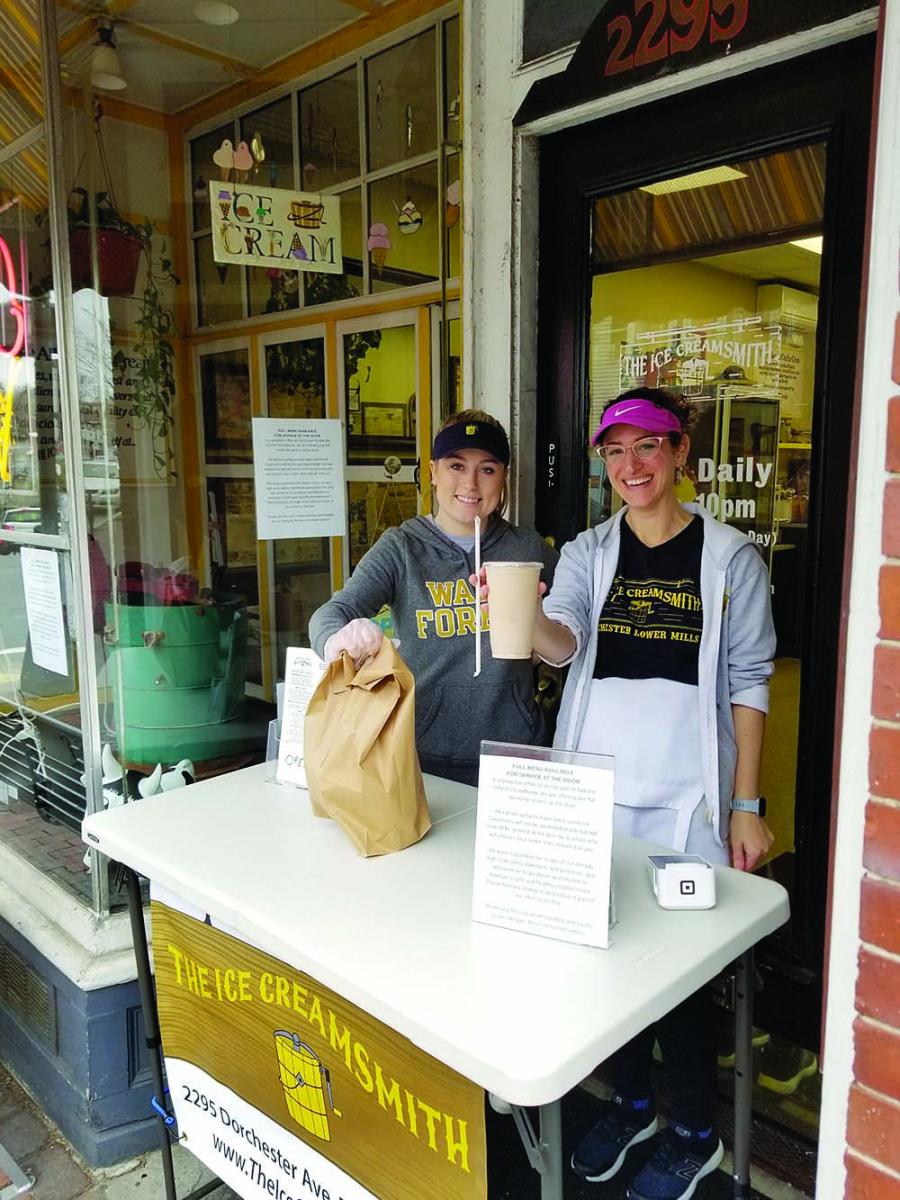 Sarah Mabel-Skillin, right, does ice cream, yes, but also websites. Reporter photo

The shop, which has operated since 1976, was a cash-only business for years. "Having it now be all credit card is something completely different, but obviously we have to change with the times."
The new system also allows for a virtually contactless ice cream shopping experience: "There's no touching going on at the door. People come up, tell us their name, grab their ice cream and they're on their way."
The Ice Creamsmith is currently open for online and phone orders from Wednesday to Sunday, with placed orders available for store pickup from 4-7 p.m. But Skillin was forced to reduce the menu to quarts of ice cream, pints of sauce, and containers of candy toppings, as well as "pare down" the staff to himself, his wife, and a senior manager.
"We started a new tipping feature [with online orders] on credit cards solely to help our employees that are now stuck at home," noted Skillin, who said all tips are being split evenly among laid off employees. "For most of them it's a part time job or a second job, but we still feel terrible not giving them any money. Most are high school kids hoping to buy a car, save up for college, buy a prom dress...but we've stayed in touch and they're all in good spirits."
Chris and Sarah have continued making the ice cream by hand, per usual. But menu changes have altered the process and how they prepare for each week, noted Skillin.
"The hardest part is trying to keep up with demand. When you have five gallons it usually could last a couple of days with orders of small cones, frappes, things like that. But when you're packing it into quarts, it goes very quickly."
The Skillins switched from scooping ice cream from gallon containers to fill cones to using quart containers, lined up and ready for sale above, for pickup customers. The Ice Creamsmith photo

While a reduced menu and a ban on in-store customers have seen the Ice Creamsmith take a hit on sales compared to business as usual, Skillin says customers have been "very responsive" to the new online ordering system.
"It's been difficult on us, but we're doing the best we can. Our customer base has been fantastic, you know, rolling with the punches. We've been an establishment here for 44 years so people expect what they expect here."
In an attempt to maintain some semblance of normalcy, Skillin was hard at work Monday making the new special flavors for the week--chocolate hazelnut, salted caramel pretzel, and lemon custard--to keep up a tradition treasured by loyal customers.
"If I don't have special flavors, I'll hear about it," Skillin said with a laugh. "We want to make sure customers are happy."