By Matt Murphy and Colin A. Young, State House News Service
September 2, 2020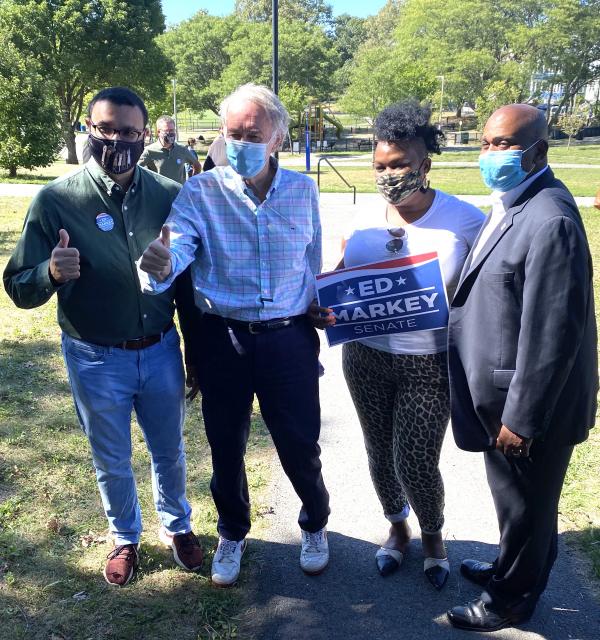 Sen. Edward Markey beat back an insurgent challenge from Congressman Joseph Kennedy III on Tuesday in decisive fashion, surpassing Kennedy by a margin of 59-40 percent in Boston, according to unofficial results posted by the city's Election department.
Markey, who at 74 has spent more than four decades in Congress, successfully defined himself as a progressive champion, using endorsements from people like U.S. Rep. Alexandria Ocasio-Cortez and his co-sponsorship of the Green New Deal to endear himself to young, liberal voters.
"The time to be timid is past. The age of incrementalism is over. Now is our moment to think big, to build big, to be big. This is what this election is all about. This is what this moment demands," Markey declared in a victory speech outside the Malden Public Library.
The primary victory puts Markey in the pole position to win another six-year term in November. He will face Kevin O'Connor, a Dover resident and Boston attorney who defeated right-wing provocateur Shiva Ayyadurai in the Republican primary.
Kennedy, who is the grandson of Robert F. Kennedy, the son of a former Congressman and the first Kennedy to lose a political race in Massachusetts, started his campaign with an advantage in the polls and fundraising, but saw both leads evaporate as COVID-19 upended the race and he struggled to convince Democrats that Markey deserved to be forced into retirement.
Kennedy, when he called Markey to concede, trailed the senator 55 percent to 45 percent with less than half the vote counted. He spent considerable time campaigning in Dorchester in recent days. On election eve, his campaign rallied in the parking lot of IBEW Local 103. On Election Day, Kennedy finished his campaign with a late-afternoon visit to the 13-10 polling station at the Cristo Rey School on Savin Hill, where he greeted voters with Boston City Councillor Frank Baker.
Kennedy performed well in some parts of Dorchester and Mattapan. At the triple-precinct Mildred Avenue polling station in Mattapan, Kennedy was the clear winner, 971-452 over Markey.
Kennedy won Dorchester by a margin of roughly 52-47, according to an analysis of unofficial returns posted by the City of Boston. He won the most precincts in wards 14 and 15, while Markey was the top vote-getter in Ward 16 and in parts of Ward 13. The incumbent showed strength elsewhere, beating Kennedy by smaller margins in Neponset, Lower Mills, St. Mark's Area, Ashmont-Adams and Fields Corner. Markey piled on much bigger margins in other parts of Boston, Cambridge, Somerville, and in suburban communities, including Kennedy's own home base, Newton.
A few hours later, in a concession speech outside his Watertown headquarters, Kennedy said he did not regret taking the risk of challenging an incumbent of his own party, and told his supporters, "I know that we are not done."
"It's worth being in the ring. It's worth the fight," he said, offering advice to his two small children.
Kennedy also called his family "role models" after he said his famous last name "was invoked far more often than I anticipated in this race."
"You are my example of what public service should be and can be when it is done with courage and grit," Kennedy said.
The outcome leaves Kennedy with an uncertain future in politics. Just two years ago as a third-term Congressman, Kennedy was tapped by Speaker Nancy Pelosi to deliver the Democratic response to the State of the Union and appeared to be a leader on the rise.
Now, he is out of politics, at least for the time being.
Both Kennedy and Markey spent over $10 million each on their races, flooding the airwaves with ads, and super PACs on both sides added to the arms race as the campaign got contentious in the closing weeks.
Over the course of multiple debates, the two Democrats tangled over Markey's votes on crime and immigration bills, and Kennedy's evolving position on Medicare for All. But the two really diverged less over policy than personality, and how the power and prestige of a Senate seat should be wielded.
The outcome also marked another big win for top Markey advisor John Walsh, who in 2006 helped elect Deval Patrick, who ran as a Beacon Hill outsider, as the state's first African-American governor.
U.S. Rep. Stephen Lynch, of South Boston, also both won in their contested primaries. In Lynch's case, the incumbent does not have a Republican challenger in November. He defeated Massachusetts General Hospital infectious disease physician Robbie Goldstein. In Boston, Lynch won about 54 percent of the vote to Goldstein's 44 percent, according to unofficial results posted by the city Election department.
Senator Nick Collins was nominated for re-election in the First Suffolk district with roughly 74 percent of the vote over challenger Samuel Pierce.
Many local lawmakers— including State Rep. Dan Hunt, Liz Miranda, and Russell Holmes— were unopposed on Tuesday's ballot.
Reporter Staff contributed to this report.