By Daniel Sheehan, Reporter Staff
May 29, 2020
Yesterday at around 6:00 p.m., a peaceful standout in Peabody Square protesting the killing of George Floyd by Minneapolis police drew around 100 supporters, many brandishing signs calling for justice, denouncing racism, and showing support for Black Lives Matter. The standout was organized by Dorchester People for Peace, a local organization with goals "to oppose US wars and militarism; to build a multi-racial peace movement throughout the neighborhoods of Dorchester; and to work against the war at home, including violence, budget cuts, racism and political repression."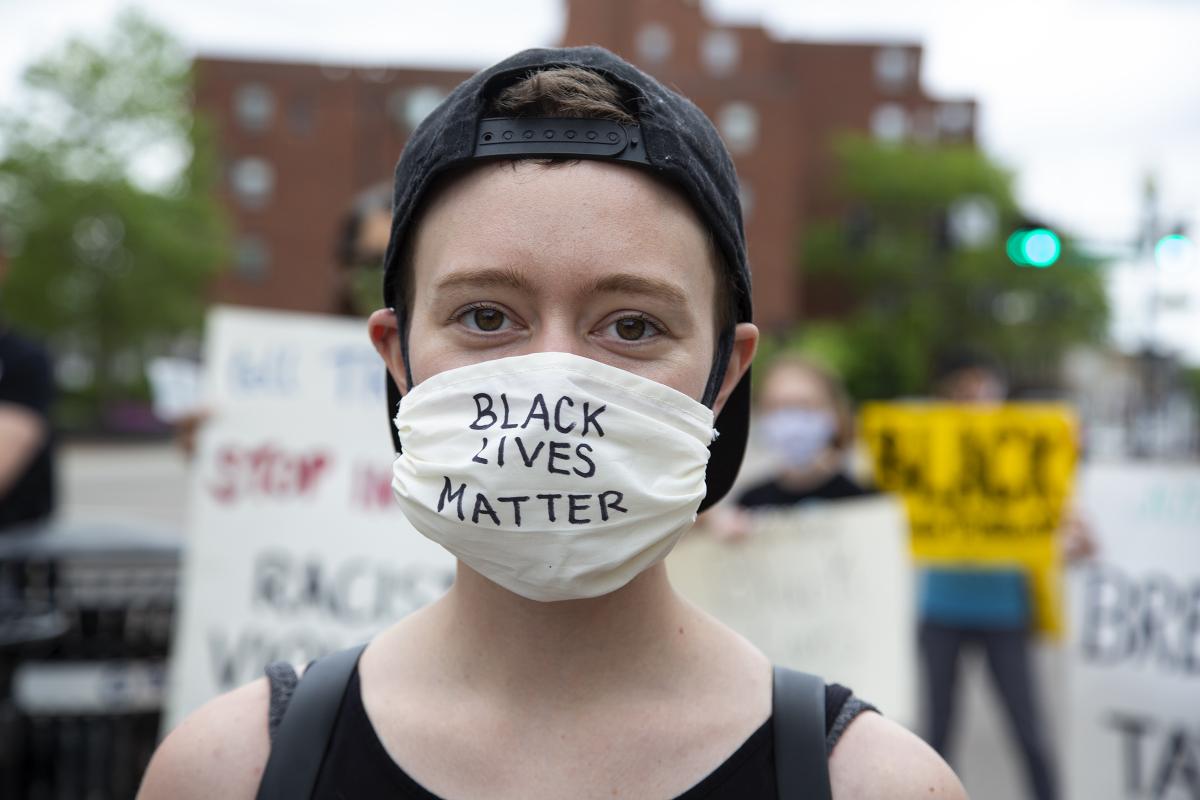 Emmy Rainwalker, an Ashmont resident who organized the standout, said it came together "last minute" following discussions on Wednesday, and as such was surprised by the relatively high turnout.
"We often have standouts for Black Lives Matter on that corner, and we thought maybe we'll get 20 or 30 people and that would be great. So we were really shocked when I think over 150 people showed up, by one person's count."
Rainwalker said in addition to impromptu chants of "Black Lives Matter" and "I can't breathe," activist Kevin Peterson led participants in a 30-second kneeling demonstration, an act that both acknowledged the form of peaceful protest championed by Colin Kaepernick and recalled the use of force by which officer Derek Chauvin killed Floyd.
"There were people of all ages, all colors, and it was very energetic," noted Rainwalker. "People are really mad. This just hit a deep, deep, deep nerve, and I think has put a lot of us over the edge with feeling like we have to do something."
She added that she hoped the standout was a wake up call of sorts for white residents, in particular.
"I am very happy that so many people of color have shown up, but especially pleased to see white people are getting the message that they need to get off their behinds," said Rainwalker. "It is not enough to simply not be a racist. We need to actively dismantle systemic racism."
All participants in the standout appear to have worn face masks and made efforts to maintain social distancing guidelines during the protest.
Meanwhile, US Rep. Ayanna Pressley, who represents much of Dorchester in Massachusett's 7th congressional district, was busy in Washington introducing a House resolution condemning police brutality. The resolution calls for the adoption of various reforms aimed at improving accountability for law enforcement officials and departments, using Department of Justice oversight to investigate instances of racial profiling and civil rights violations, and establishing all-civilian review boards to oversee those investigations.
"For too long, Black and brown bodies have been profiled, surveilled, policed, lynched, choked, brutalized and murdered at the hands of police officers," said Congresswoman Pressley in a statement. "We cannot allow these fatal injustices to go unchecked any longer. There can be no justice for George Floyd, Breonna Taylor, or any of the human beings who have been killed by law enforcement, for in a just world, they would still be alive. There must, however, be accountability."