By Katie Trojano, Reporter Staff
September 15, 2020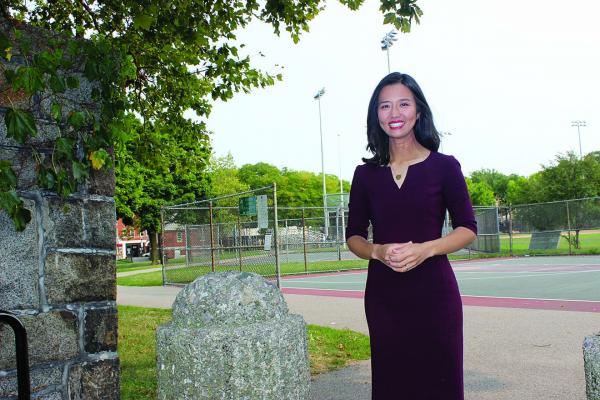 At-large Councillor Michelle Wu made it official on Tuesday: She is running for mayor of Boston next year. Her campaign released a multilingual video on Tuesday that never mentioned incumbent Mayor Martin Walsh by name, but in it she said she is running to "make Boston a place for everyone." 
It is not yet clear if Walsh, who is in his second term, will seek a third.
"We're in an unprecedented time as Boston faces a pandemic, an economic crisis, and a national reckoning on systemic racism," Wu said in a statement released to the media Monday night. "To meet this moment, we need leadership that matches the scale and urgency of our challenges. Business as usual has been failing Bostonians since well before the pandemic, and Covid-19 has exposed and exacerbated deep inequities across our city. In this moment of crisis, it's not only possible but necessary to re-imagine community-based leadership with the vision and conviction to act." 
Wu's campaign video was released in three languages — Chinese, English and Spanish— each of which she used when speaking into the camera.
Wu's intentions to run became public last weekend when Walsh told the Globe that she had told him of her intentions in a phone call.
At a press conference on Tuesday outside of Boston City Hall, Walsh declined to respond in detail to any questions about Wu's campaign for mayor.
"I commend Councillor Wu on her decision, I have great respect for her or anyone who runs for office, and I look forward to more conversations about how we can move our city forward, but right now we are battling the Covid-19 pandemic."
Walsh added that he was focusing on rebuilding the economy, reopening schools, housing the homeless, advancing reforms with the police department, and helping to elect Joe Biden and Kamala Harris to the White House, noting, "that's quite honestly what I'm working on, and what I'm focused on."
At the same hour, Wu was in Dorchester at Town Field park huddling privately with a group of teenagers before heading to Nubian Square and, later, Allston-Brighton for campaign events. The Fields Corner event was closed to reporters, but Wu spoke to the Reporter before it began.
"It's been a packed day across the city," said Wu. We had lunch with Latinx community leaders commemorating the first day of Hispanic heritage month and we're about to head into a meeting with youth activists. We'll be at the bus station and house parties and standouts, so it's been a long day and I'm looking forward to many, many more of them."
Wu said her meeting with youth activists at Town Field was one of many she planned to engage with new voters in her campaign.
"Boston has the resources, we have the activism, and we have the ideas. We just need bold, urgent leadership and young people are always at the forefront of delivering that," she said.
Wu added that she enjoyed campaigning while also governing. "I think sometimes people think of government and campaigning as two separate matters that require two distinct skill sets, but if we want a government that really represents and reflects our communities, it should be the same," she said.
Should a Walsh-Wu face-to-face campaign become a reality – hardly a certainty given the city's active electoral scene – money will talk. In public reports filed with the state's Office of Campaign and Political Finance, Wu's campaign spent $53,363 in August, a large sum for a council candidate not in a campaign. Wu has a little more than $346,000 in cash on hand this week, compared to $5.5 million in Walsh's account.
The mayor has not yet discussed publicly his plans for re-election next year. He is closely allied with former Vice President Joe Biden and could be recruited into a Biden administration depending on events on Nov. 3 and beyond.
In Boston, District 4 Councillor Andrea Campbell, a former council president, has been moving money into her campaign coffers. According to OCPF, she has $285,000 in the bank, which is considered a large sum for a district councillor. However, unlike Wu, Campbell has not been spending large sums— yet.
Reaction from Campbell —and most city politicians to Wu's decision —was muted in the hours after her formal announcement. One exception was Lydia Edwards, a district councilwoman from East Boston, who noted it in a Tweet.
"Well, it's a race… next year," Edwards wrote. "I do want to acknowledge that [Councillor Wu] has joined a small group of less than 10 women to run for mayor of Boston. Proud of her. Now back to our regularly scheduled program of removing Trump on Nov. 3."
City Councillor Frank Baker, who represents Dorchester in District 3, said Tuesday: "My support is with Mayor Walsh. I think he's done a great job, pre and post covid. There's a reason why our numbers are where they are and we never saw an overwhelming surge like New York. That shows real leadership."