By Gintautas Dumcius, Managing Editor
August 13, 2021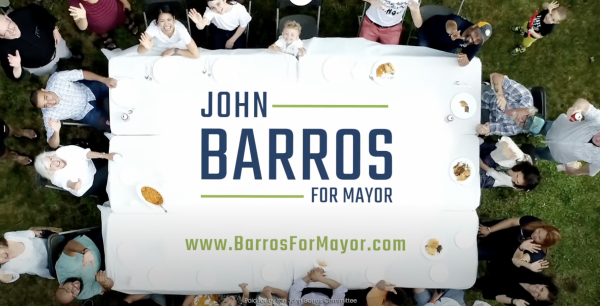 Mayoral candidate John Barros released his first ad of the campaign, focusing on airing it online and eventually on television.
Called "The Table," it was filmed in the Barros family yard in Dorchester, with supporters seated around a table as Barros, who served as former mayor Marty Walsh's economic development chief, chats and shakes hands.
The campaign is putting $100,000 behind the ad "to start," a spokesman said Friday. The campaign declined to provide further details behind the spending.
"The ad will be posted all over social media, and hopefully on television," according to a fundraising email to supporters.
"We hope it leaves you with the knowledge that you will always have a seat at the table when John is mayor," the email adds.
Spotted in the ad: Walsh's former tourism chief Ken Brissette; Dan Magoon, a Dorchester veteran who heads up a nonprofit focused on Gold Star families; and Rev. Jack Ahern, the pastor of St. Gregory's Parish.
Barros ended July with $194,000 in cash on hand, having raised $48,604 that month and spent $173,570, with more than half of that going towards digital advertising, according to publicly available campaign finance records.
Barros' ad was released the same day a super PAC, calling itself "Unified Boston," surfaced with the intent to spend outside money on his behalf.
The super PAC listed Antonio Teixeira as chairman and treasurer. Teixeira, whose voicemail greeting identified him as working for Roxbury Latin School, did not respond to a voicemail and an email seeking comment. it has not filed any spending reports yet.
The super PAC's entry now means every major mayoral candidate has at least one super PAC backing them. Super PACs can raise and spend unlimited amounts of funds, but they cannot coordinate with the campaigns they support.
The Sept. 14 preliminary will winnow the field to two candidates.
Separately, a super PAC supporting City Councillor Michelle Wu's mayoral campaign swung into action this week. A public campaign finance filing showed the group, tied to the Environmental League of Massachusetts, spending $47,000 on digital advertising in support of Wu.
Another pro-Wu super PAC, calling itself the "Boston Turnout Project," has not yet publicly filed any campaign finance reports.
A super PAC supporting City Councillor Annissa Essaibi George, dubbed "Bostonians for Real Progress," also hasn't filed any reports.
Acting Mayor Kim Janey has two active super PACs supporting her, one backed by the hotel workers union UNITE HERE Local 26, and one from liberal group known as the Right to the City Vote.
City Councillor Andrea Campbell has the "Better Boston" super PAC, which has spent nearly $1 million on ads on her behalf.
She and Essaibi George have recently both gone up with their own TV ads.