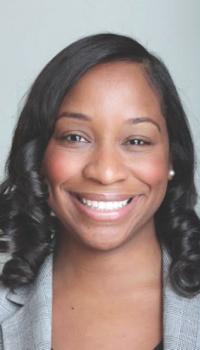 Last month was kind to City Councillor Andrea Campbell's campaign effort. Her team announced on Monday that she has raised more than $272,000 in January, an infusion fueled in part, no doubt, by Mayor Walsh's imminent departure for Washington, D.C.
In total, the Campbell camp noted, the District 4 councillor and mayoral hopeful banked $272,288.72 from more than 900 donors last month, which put her fund-raising number since her announcement last September at over $600,000.
The campaign trumpeted: "That's more than any Black candidate has ever raised total for a mayoral campaign in Boston."
In other news, Campbell signed up two new campaign staffers in the last week: Jasmine Talley' a Georgia native who has been attached to campaigns for Bernie Sanders, Stacey Abrams, and Elizabeth Warren, will run the candidate's ground game as field director. And Heeyoung Leem, a Boston College alum, will direct her digital outreach.
Campbell also picked up a notable endorsement last week, getting a nod from former Massachusetts First Lady Diane Patrick.