By Katie Pedersen, Reporter Correspondent
May 6, 2021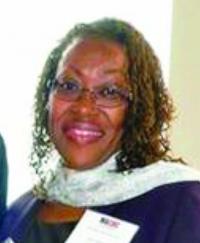 Since the first uncertain weeks of the Covid-19 pandemic, the Codman Square Neighborhood Development Corporation (NDC) has continued to offer desperately needed services to Dorchester residents even as its physical office remained closed.
Tracing its roots to local activism in the 1970s and 1980s, the non-profit has worked to promote affordable housing, homeownership, equitable transit options, and economic development in Codman Square for more than 40 years. The pandemic only added to the group's already monumental workload, said executive director Gail Latimore in an interview.
"We're working on the same body of work that we've always done, which is affordable housing and commercial development, including the economic line of business, the community organizing line of business, and the development line of business."
However, the NDC has also expanded operations to spearhead Covid-19 relief programs and several special initiatives, including the Talbot Norfolk Triangle (TNT) Eco-Innovation District, the Men of Color/Male Engagement Network, and the Fairmount Indigo CDC Collaborative.
Said Latimore: "Through our eco-innovation district, we're doing a bit of sustainability and energy-conservation work, as well as advocacy work around environmental justice issues and green jobs issues. We're also very much involved in an initiative, over the last six or seven years, of serving and promoting the needs of men of color [through the Men of Color/Male Engagement Network]."
The Fairmount Indigo CDC Collaborative, in partnership with the Dorchester Bay Economic Development Corporation and the Southwest Boston Community Development Corporation, "is concerned with transit-oriented development, affordable housing development along the Fairmount Line, and developing green spaces along the line as well," Latimore said. "So, we're doing all of these things while also pivoting to meet—as best we can—the needs of the community around Covid."
The NDC has conducted several surveys about the economic and personal toll of the pandemic on residents. Armed with their findings, the group has stepped up to meet Codman Square residents' most pressing pandemic needs.
"Every month or so, we give away grocery gift cards and PPE," Latimore said. The NDC has also worked tirelessly to help Codman Square businesses access grants and Paycheck Protection Program (PPP) loans, despite systematic obstacles.
"The way that the first round of the Payroll Protection Program was set up last year made it almost impossible for some of our businesses to get [loans] because they did not have the type of documents or financial records required to apply for the PPP loans," Latimore said.
Mere weeks after the first shutdown last spring, the NDC surveyed local businesses to see how they were faring. Out of some ten businesses surveyed, five had already ceased operations.
"That alarmed me," Latimore said. "Because a lot of our businesses in that business district are mom and pop shops operating on a shoestring. They do make a living, but it's a modest living. They're providing services that are really culturally appropriate to our community." In particular, Latimore noted the Caribbean businesses in Codman Square that serve residents with roots in that region.
"We've been trying to diligently work with small businesses, informing them of both the opportunities, like PPE or the Payroll Protection loans, or various grants," she said, adding that the CSNDC had helped secure more than $100,000 worth of payroll protection loans to businesses in Codman Square.
"This may not seem like a lot, but remember that these businesses are very small businesses," Latimore said. "It's significant."
In addition to providing material aid to individuals and businesses, the CSNDC has also set up a partnership with clinicians of color at UMass Boston and elsewhere to provide group therapy and mental wellness sessions, an arrangement that Latimore says will continue for "as long as necessary."
Finally, the NDC continues to work to promote homeownership in the Codman Square area.
"If there's one thing that I'm most concerned about," Latimore said. "It's the foreclosure prevention piece. We offer foreclosure prevention services where we work with homeowners who are having problems paying their mortgage to work out arrangements with their banks, and we do that for free. Even before the pandemic, it was hard getting people in the door, and we've been doing this work for a decade or more. People tend to be kind of hesitant. People don't usually come in until they're very, very delinquent.
"We have very small homeownership rate in our area—33 percent— and the rate for people of color is probably even tinier. A lot of vulnerable BIPOC homeowners, first-time homeowners, probably need our help more than ever with economic issues related to the pandemic. The numbers tell us that there's probably a lot more people who are at risk of losing their homes than have reached out to us. We want people to come in and take advantage of these services and save their homes."
Even as its managers look forward to reopening in person, the NDC wants to remind Codman Square residents that they can access many resources online at any point.
"We want people to come in and take advantage of the services," Latimore said. "We're still interested in hearing from folks in terms of their support needs. We're still very much open for business even though our office is not physically open."
Reporter readers can access the services provided by the CSNDC or learn more about their programs by visiting Homepage * Codman Square Neighborhood Development Corporation (csndc.com).