By Mia McCarthy, Special to the Reporter
February 1, 2021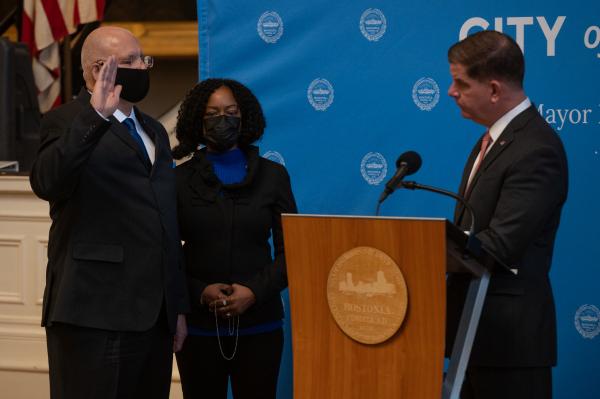 Mayor Martin Walsh swore in Dorchester native Dennis White as the city's 43rd police commissioner during a ceremony at Faneuil Hall on Monday morning.
After being sworn in, White said he is accepting this honor on behalf of the Dorchester community of his childhood.
"I am proof it takes a village to raise a child. I was blessed to have grown up on Nottingham Street in the Four Corners area of Dorchester, where all families knew each other," White said. "So my village families, please know that I accept this honor on behalf of you."
Turning to Mayor Walsh, he said: "Thank you for entrusting me with the leadership of the Boston Police Department. I will not let you down."
Mayor Walsh appointed the Boston native to be the new police commissioner on Friday after the previous commissioner, William Gross, announced his retirement. White was previously the commissioner's chief of staff and has served on the police department for 32 years.
"I am confident he will continue the department's reputation as a leader in community policing and advance the department's commitment to accountability and transparency and help lead the Boston Police Department into a new era," Walsh said.
The oath ceremony was held on Monday morning before Walsh's briefings on COVID-19 and the current winter storm warning. White's wife, Jackie, presented him with the Police Commissioner badge.
White said becoming police commissioner fulfilled a dream his mother had before she died from lung cancer in 2014. She had told him she dreamed he would first meet President Obama and then would become Police Commissioner.
"In March of 2015, I had the honor of meeting and taking a picture with President Obama," White said. "Today, February 1st 2021, Beverly's dream came true for her favorite child."
White, who is African American, highlighted his goals of building better relationships between police and their communities, which he said have been strained following the pandemic and national racial justice movements. White has served as a member of Boston's Police Reform Task Force during national movements of police reform this past year.
"As commissioner, the BPD will continue to prioritize community engagement to build trust and relationships with our citizens and community," White said. "We will get through this together but we will have to make changes in doing so."
In addition to implementing new recommendations, White said he is dedicated to prioritizing health and wellness of Boston's sworn officers after a hard year.
"The Boston Police Department has been tested this past year. The COVID pandemic has strained our resources with our offices working long hours in difficult situations," White said. "Still the Boston Police Department has answered all the calls to service without hesitation to our citizens."
The Mayor and newly-sworn in Police Commissioner both thanked Gross - who attended the ceremony - for his work and commitment to the city as well.
"You never waited in your commitment to the well being of the men and women of the department," White said to Gross. "Your commitment has also been shown in your love for the citizens of the city. I wish you the best commissioner and your next chapter of life, my brother."
Walsh said one of his proudest moments as mayor was appointing William Gross to Police Commissioner in 2018. Gross served the Police Department for 37 years and was Boston's first African American Police Commissioner.
"He led the department with passion and purpose," Walsh said. "He embodied a strong spirit of community policing. He made neighborhoods safer and took Boston's national leadership to a whole new level."
White concluded with his hopes for the future of the Police Department and working with the city of Boston.
"I look forward to working close with the members of the department, communities and all our partners to continue to make the Boston Police Department the best department in the country," White said.