By Katie Lannan, State House News Service
December 23, 2021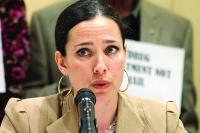 If elected governor, state Sen. Sonia Chang-Díaz would include money in her first annual budget proposal to eliminate bus fares at the MBTA and regional transit agencies as a major step toward a fare-free transit system.
Incentivizing public transit by removing fares for riders is one component of the climate and energy plan the Jamaica Plain Democrat released this week, along with transitioning the state to 100 percent renewable electricity by 2030, and building a "green workforce" pipeline that prioritizes communities of color and environmental justice communities.
Under her plans, the senator would also use "the full powers of the executive branch to block future fossil fuel infrastructure projects in Massachusetts" and "immediately" appoint a new slate of Department of Public Utilities commissioners "who are committed to a progressive energy agenda and who have demonstrated experience relevant to implementing the kind of bold transformative changes that our energy system needs."
Chang-Díaz said her plan's transportation elements offer "the fastest and perhaps the most widespread difference that people will feel most directly." She said funding them would involve federal dollars and revenues from a proposed surtax on incomes over $1 million, and that some sort of carbon-pricing program would be necessary to support the state's transition to clean energy.
"So many Massachusetts residents are sitting in these soul-crushing commutes today," Chang-Díaz told the News Service. "We have some of the worst congestion in the nation around greater Boston, and making a public transit system, a mass transit system that is cost-accessible, fare-free in many cases, fast, reliable – that is a quality of life change for commuters in addition to contributing to our advancing our climate goals."
RTAs serving Worcester and the Merrimack Valley have each approved fare-free service programs on at least a temporary basis, and the Boston City Council this month signed off on Mayor Wu's plan to use $8 million in American Rescue Plan Act funds to cover the cost of running three MBTA bus routes without collecting fares for two years.
In January 2020, the transit advocacy group LivableStreets Alliance tallied the cost of running fare-free local buses statewide at $60 million.
There is consensus among Democrats running for governor on making the MBTA free for at least some riders. Harvard professor Danielle Allen's jobs agenda calls for "fare-free MBTA access for low-income workers," while former state Sen. Ben Downing has said he would make MBTA and RTA buses fare-free his first year in the corner office, with all MBTA fares, including the commuter rail and ferry services, free by the end of his first term.
Downing, who co-chaired the Telecommunications, Utilities, and Energy Committee while in the Legislature and worked for the solar company Nexamp after leaving Beacon Hill, put out a climate plan in April that calls for 100 percent clean electricity by 2030 and for the state to be fully powered by clean energy by 10 years after that.
While eliminating fares for riders, Chang-Díaz also wants to electrify and expand public transit, a goal that involves increasing RTA and MBTA operating budgets. Her plan does not put a dollar figure on the budget increases. She said thay those goals would take multiple years to accomplish, "but we do have to walk and chew gum here. This is what it looks like to move with urgency."
She envisions full MBTA bus fleet electrification by 2030 and electrification of the RTA system and commuter rail by 2040. Her plan also calls for an east-west rail link and the transformation of the commuter rail into "a frequent, electrified regional rail, providing all-day 15-minute to 30-minute train service."
Chang-Díaz said her proposals would require a variety of funding sources, starting with the constitutional amendment on next year's ballot that would impose a 4 percent surtax on incomes over $1 million.
She also pointed to federal infrastructure money that is "already in the pipe to Massachusetts," and said she hopes Congress can direct more money here by passing President Biden's spending package known as the Build Back Better Act.
In her plan, Chang-Díaz said, she would "lead the charge to identify additional sources of funding – such as repealing tax breaks for corporations that shift their income to off-shore accounts – to transition to a completely fare-free MBTA."
"We also need to put a price on carbon and use that money to fund the transition to clean energy," she said in an interview.
Carbon-pricing bills have been filed for years on Beacon Hill but have not gathered the necessary momentum to become law. Gov. Baker last month was forced to scrap Massachusetts's participation multi-state cap-and-trade program known as the Transportation Climate Initiative (TCI) as political support in other states eroded.
Republican gubernatorial candidate Geoff Diehl has been a vocal critic of TCI, which would have bumped up the price of gasoline.
The collapse of TCI was the second major blow to the Baker administration's climate agenda after Maine voters rejected a transmission project intended to bring hydropower from Quebec to southern New England. Both come after lawmakers passed, and Baker signed, legislation earlier this year committing the state to reaching net-zero carbon emissions by 2050.
Chang-Díaz said the dynamics around TCI do not push her from the idea that the state needs to adopt some sort of carbon-pricing mechanism. "We just cannot have all of our whole climate change plan rest on things that are dependent on actors outside of our state," she said.
To move the state to clean electricity by 2030, Chang-Díaz said that she would work with the energy grid operator and other New England states and would invest in developing clean energy sources through the Massachusetts Clean Energy Center. She described the transition as a "survival imperative," given the effects of climate change, and added that it would also bring economic benefits as the state builds up a green economy involving offshore wind and solar power.