By Rebeca Pereira, Reporter Correspondent
June 23, 2021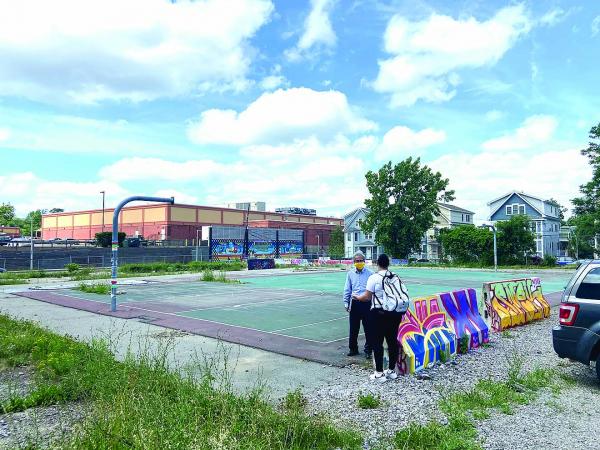 In 2016, Grove Hall's only teen center was converted into a senior center, which put an end to the intergenerational activities that had, albeit sparsely, attracted neighborhood youth in search of recreation and maybe, as one community activist put it, support and direction.
As the programming for teens dried up, 16-year-old Jay Thomas picked up a Charlie Card and set her sights on recreation hubs outside of Dorchester, hoping to find acting classes, exposure to robotics and engineering, and sound studios where she and her friends could "make beats.
"A lot of kids don't even know some of these opportunities exist, like STEM and other things," she said. "A youth center is not just about having fun; it's showing kids like me they can be whatever they want."
She added: "I think taking that center away from the kids – especially now with Covid, they haven't seen their friends in months and want to reconnect – is really bad for them in the long run and it's bad for our community."
With their center gone, Grove Hall's wired and rowdy teens saw the Boston Public Library branch as the only setting where they could congregate after school. Meanwhile, across the street on Geneva Ave. lay a 30-years vacant, city-owned lot featuring cement, desiccated shrubbery, and two towering, hoop-less basketball poles.
While aesthetically dilapidated, the site has potential, according to Project Rebuild and Improve Grove Hall Together (RIGHT) co-director Michael Kozu. He's pushing to see that potential realized to "engage young people and help provide them support and direction."
In an advertisement placed in the Dorchester Reporter and Bay State Banner last week, he and several dozen co-signatories expressed exasperation with years of stalled development of a Grove Hall youth center and called for immediate action from elected officials. 
"We've been fighting for the youth center for several years," said Kozu. "That's been our main focus because our mission is to fight for equitable resources and the absence of a youth center in Grove Hall, where every other neighborhood has youth programming, is not equitable."

Michael Kozu: Grove Hall a victim of political neglect. Rebeca Pereira photo

Kozu calls Grove Hall a victim of political neglect. The city's dithering on renovations to the Jeremiah E. Burke High School has already cost the neighborhood's youth decades, he said, feeding a "cradle-to-prison pipeline with a lack of positive opportunities for young people." 
The Burke lost its accreditation in 1994, and a planned renovation didn't take place until 15 years later.
"The renovation came 15 years too late," Kozu said. "Students were stuck with inferior buildings compared to other neighborhoods that their white student counterparts had more access to. It's a clear reflection of the racial disparities that young people face in this neighborhood."
The site identified for development by Project RIGHT is accessible by transit and is "neutral territory" between neighborhood groups.  
"What stands out is the lack of programming and lack of facilities in a neighborhood that's been hardest hit by violence since the '80s," he said.
City officials had previously floated siting a public park at the vacant Geneva Avene lot, but Project RIGHT staff, who are currently monitoring seven public parks for "negative activity" – a broad classification that encompasses passive squatting, violent turf disputes, and needle-littered sandboxes – say a park in the area is neither viable nor a priority. 
While Grove Hall "welcomes" settings for open-air recreation, Kozu predicts a park will not help against the dearth of youth services in the community. 
"The city says, 'Oh, we have to go through this mythical process to find an appropriate site for a youth center,' but we know the community, we know the community's needs, and we know what's available," he said. 
"Other parts of Dorchester have major facilities, and Grove Hall is the most densely populated neighborhood with youth in Dorchester. A youth center is long overdue for these teens, a youth center at this site is long overdue," he added.

Jay Thomas, 16: "A youth center is not just about having fun, it's showing kids like me they can be whatever they want." Rebeca Pereira photo

Asked about Project RIGHT's comments, William Morales, the city's commissioner for the Centers for Youth and Families (BCYF), said that the agency "has for some time recognized the need for an additional standalone community center in Dorchester.
"We did receive funds in our budget to conduct a feasibility study to determine which neighborhood would best benefit from a full community center," he added, noting "the process has not begun to engage neighborhoods." 
For advocates, that statement fails to offer assurances that a youth-oriented center will be built in Grove Hall and doesn't begin to address the urgent calls to site such a center at the vacant Geneva Avenue lot.
These days, students from Grove Hall look to a teen center in Mattapan and the Vine Street Community center in Roxbury as places to go for recreation.
It will likely be up to the next mayor of Boston to determine next steps for teenagers in Grove Hall. City Councillor At-Large Michelle Wu, one of six candidates for mayor, said she supports Project RIGHT's call for a community center and would work "to turn this vision into a reality" as mayor.
"We need not just words but action to create a space in Grove Hall where young people can come together, be in community, and express their creativity," Wu said in a statement.
John Barros, the city's former economic development chief, said he would work to bring youth facilities to Grove Hall.
"Boston's youth in every neighborhood deserve safe, welcoming space to build community and harness their curiosity," he said in a statement. "Grove Hall is no different. As Mayor, I will pledge to lead a transparent community process to study neighborhood impacts and community benefits, and will seek partnership with the State to support our efforts to bring new, high-quality youth facilities to Grove Hall."
Other mayoral candidates did not immediately respond to a request for comments.