By Rebeca Pereira, Reporter Correspondent
June 3, 2021
Tam Le ducks into the narrow corridor behind the counter of Phó Hóa, his parents' Dorchester Ave. eatery, and emerges in another restaurant-front – this one pristine and futuristic, with golden disks for lighting fixtures and back-lit lettering along the wall reminding customers and employees to "Recognize Real."
The Reign Drink Lab, a café specializing in nitro-fueled, cold-brew coffees and teas, is as much a fusion of South Asian and American flavors as its home base in Fields Corner – a Dorchester village that boasts a large population of Vietnamese Americans who recently locked in recognition from the Massachusetts Cultural Council as the Boston's Little Saigon.
"While the official designation took a couple of years, this has been built over the past few decades. Without the restaurants and businesses that were built here, there wouldn't exist a Boston Little Saigon," said Le. "Every establishment here stands for something. It's about being authentic, representing our heritage in a new country, and keeping the culture."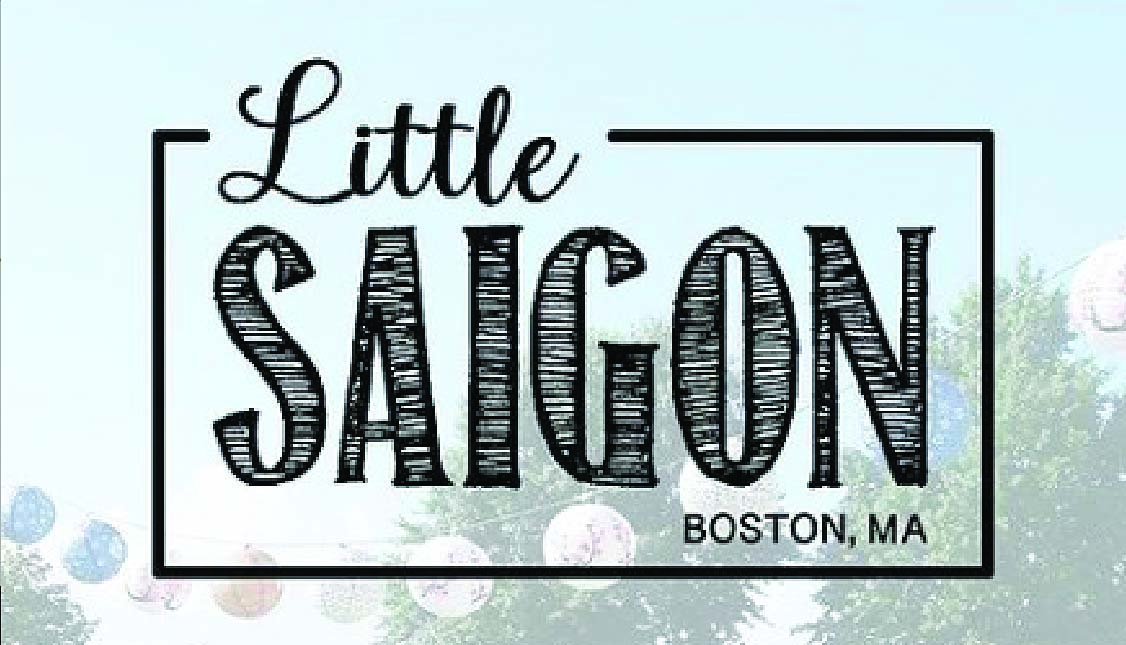 Le, who sits on the founding board of Boston's Little Saigon, said the cultural district's official designation didn't come easily. The approval process was riddled with pandemic-related interruptions, and the application, which normally takes from five months to a year to get an okay, was only granted in early May, three years after the Networking Organization for Vietnamese Americans (NOVA) launched its initial inquiry into the designation protocol.
NOVA's focus also changed as a result of indefinite business closings and ever-changing Covid guidelines. The non-profit now offers ServeSafe certification courses in English and Vietnamese, assists business owners in maintaining their licensure, and offers technical support and translation services to those who need them.
"The pandemic was a difficult time for everyone. Business went down and it was a lot of work to adapt, but the city helped keep us up and running by giving us the conditions we needed to be able to stick it out," said Le, who attributes his own success in "riding out" the pandemic to piece-meal relief measures like small business loans, the expansion of outdoor dining, and the extension of liquor-licenses to include take-out cocktails.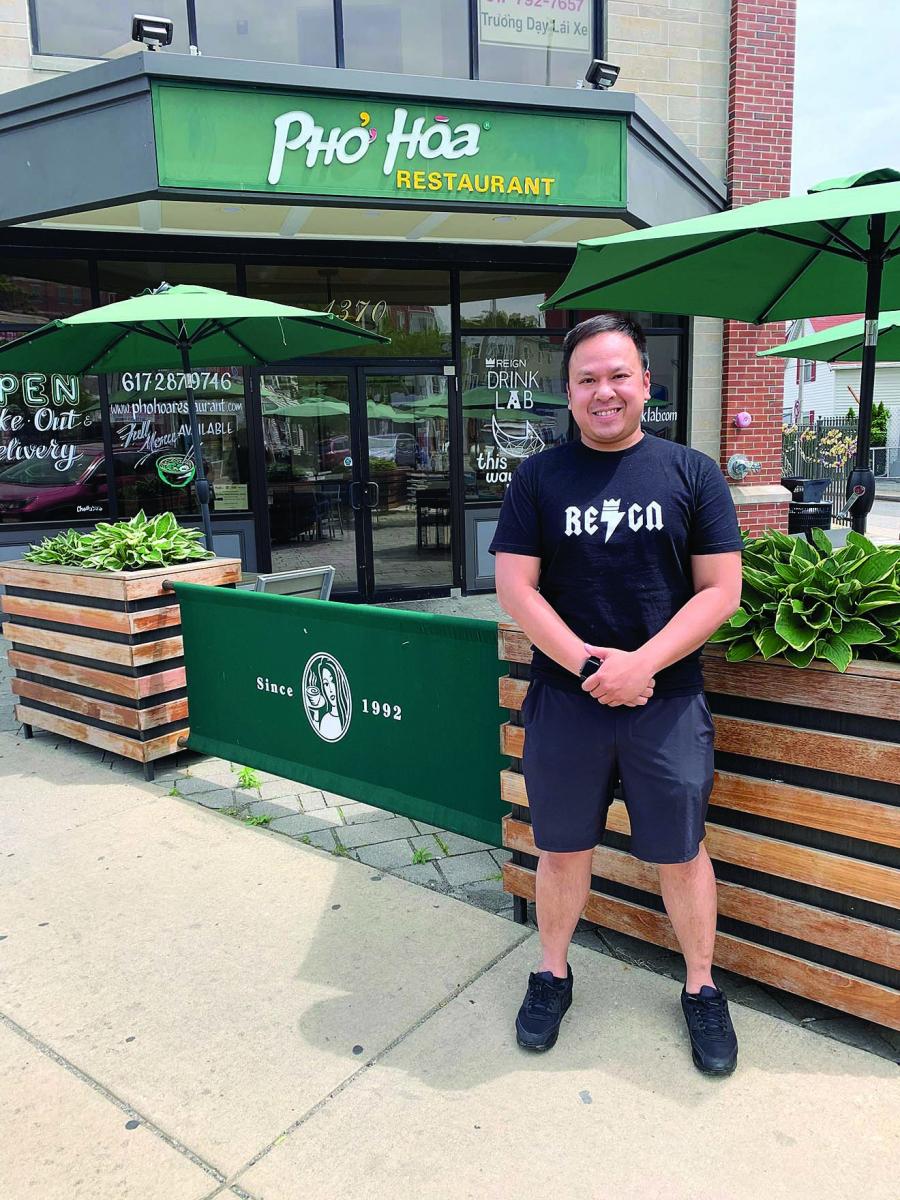 Tan Le is shown outside of Phó Hóa, his parents' Dorchester Ave. eatery, which is adjacent to his café, Reign Drink Lab, on Dorchester Avenue.
Daniel Sheehan photo
The Little Saigon designation, although lengthy and elusive, arrived at an opportune moment. The Cultural Council began designating districts in 2011 in response to legislation signed by former Gov. Deval Patrick. There are now 51 such communities across the state, three of them in Boston, including the Latin Quarter in Jamaica Plain.
Each designation offers special access to grants and state-sponsored aid; and, with its status cemented, Boston Little Saigon has already secured a substantial $75,000 "Our Town" grant from the National Endowment for the Arts.
Annie Le, president of NOVA and Boston Little Saigon, said the grant has cushioned the district's depleted rainy-day fund and enabled Little Saigon's inaugural board to readjust its mission from pandemic survival to a "broader vision.
"We're focused on bringing people together and helping artists and business owners flourish in Fields Corner," she said. "Obtaining federal funding takes time, but we know where our pain points are as a community and we know which steps we need to take to mitigate the harm left over from Covid-19."
"Artists have felt unsupported. We hear it all the time: Venues are closed and the gig economy doesn't work during a public health emergency. We need to make sure artists are thriving and feel our support," she said.

Le, Patterson, and Truong sit on the board of Boston Little Saigon

As the end of the Commonwealth's State of Emergency inches closer to June 15, NOVA is looking to the renewed possibility of an in-person Summer Festival, a tradition revived and revitalized with new signage across the district and an "art alley" connecting Dorchester Avenue and Adams Street.
The first order of business: Hiring the organization's first full-time employee, its first salaried member who will be tasked with managing the district's branding, aggregating a directory of its small businesses, and ensuring that dual Vietnamese language services are accessible to business owners.
For all that, the volunteer-based organization pulled off a series of community-building endeavors during the pandemic despite the team's limited capacity. NOVA board members distributed New Year festival kits, miniature guides to assembling do-it-yourself apricot tree centerpieces, and joined forces with local senior centers to pass out gardening kits in the first week of June 2020.
"We're doing well. We don't need a map of the next ten years because we have a vision and a plan," said Annie Le. "We're working really hard to move forward with the designation, take full advantage of the resources it allows us to tap into, and come together as a community."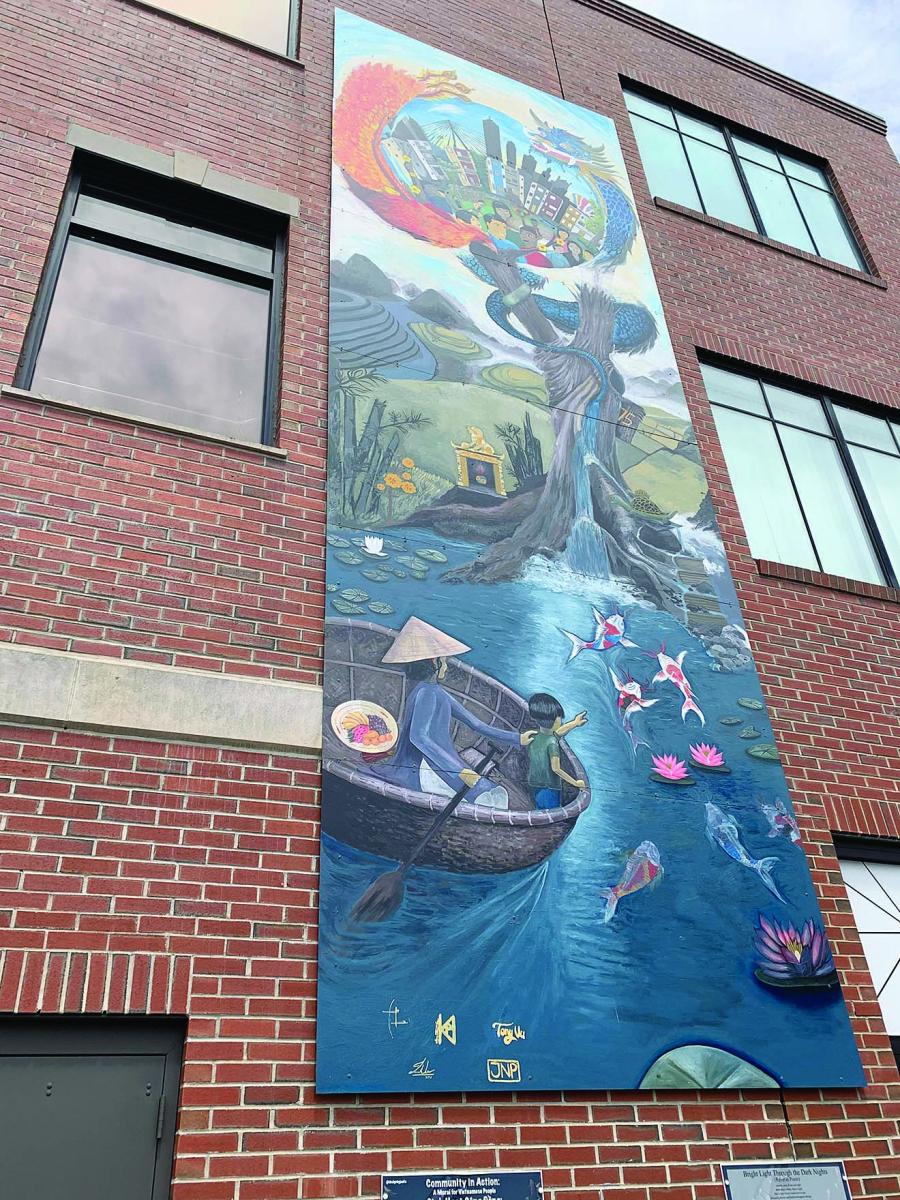 A mural on the side of Pho Hoa restaurant features symbols of Vietnamese folklore. Daniel Sheehan photo

Michael Bobbit, executive director of the Cultural Council, agrees that the district is "in good shape. I've traveled the United States and seen Little Saigons in numerous other places," he said, "and what we've built here over the past couple decades is really extraordinary. It's a terrific way to drive the economy, strengthen the character of the Vietnamese community, and attract tourists and spending."
The designation, Bobbitt said, was fundamentally collaborative: The city's Department of Arts and Culture assisted NOVA with its Request for Proposals, and inspiration for the submission came from observing the development of Boston's Latin Quarter, which encompasses Hyde and Jackson Squares.
Bobbitt, who is the father of an adopted Vietnamese son, hopes the trend will continue, pointing to the Fields Corner branch library as a potential partner for Little Saigon's early education initiatives and as a venue for art exhibitions.
"Community and cultural preservation is so important when you're living in an unfamiliar place," said Bobbitt, who joined the Cultural Council in February 2021 following a 12-year tenure as the artistic director of the Adventure Theatre-MTC in Maryland.
"I'm learning about the state, its districts, and advocating for funding at the appropriations level, but the ground level work is being done in our communities," he said.
That last is a sentiment echoed by Tam Le – collaboration works. Nearly 30 years ago, his parents, refugees of the Vietnam War, founded Phó Hóa to create a glimmer of familiarity on new soil. Boston's Little Saigon is the culmination of years of community building, and the designation is now a matter of legacy.
Said Le: "We're coming up on the third generation of Vietnamese immigrants in Dorchester. There's no better way to say 'thank you' than to honor our parents and carry the name Little Saigon."