By Maddie Kilgannon, Reporter Correspondent
March 16, 2021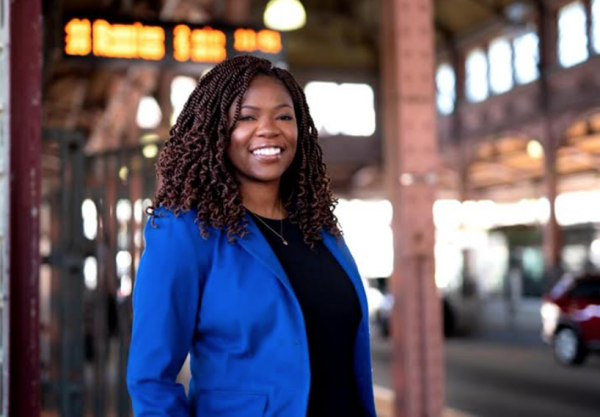 Ruthzee Louijeune, a lawyer with roots in Mattapan and Hyde Park, is joining the widening field of candidates seeking an at-large city council seat.
The 34-year-old daughter of Haitian immigrants said she is ready to bring her passion for community and experience as an attorney to combat the city's wealth disparities with intentional housing and homeownership policies.
"I care deeply about creating a city that's inclusive and affordable for all of its residents where the budget reflects what we say we value," Louijeune told the Reporter in an interview.
A Columbia University, Harvard Kennedy School, and Harvard Law School graduate, she is also a proud Boston Public Schools alumna.
That's "where it all started," said Louijeune, who attended the Charles H. Taylor School on Morton Street before graduating from Boston Latin School in 2004.
While at the Latin School, she had the opportunity to intern in state Rep. Marie St. Fleur's office as part of the Ward Fellowship Program.
"Ruthzee will be a great addition to the Boston City Council," St. Fleur said in a statement. "Ruthzee will be a leader who matches great negotiation skills needed for systems change with great constituent services, and that is what I look for in my City Councilor."
A Mattapan native who now lives in Hyde Park, she described herself as a passionate problem solver who is constantly connecting communities to each other. Her fluency in French, Haitian Creole, and conversational Spanish allows Louijeune to literally translate between communities across the city. "I feel comfortable in a lot of different environments," she said.
Louijeune also has served as senior counsel for Senator Elizabeth Warren's presidential and Senate campaigns. On the weekends, she volunteers at the Guild Works in Dorchester, delivering food to people struggling with food insecurity who are quarantining with COVID-19.
She owns her own legal firm where she does consulting and works on affordable homeownership agreements in Boston.
"I'm a lawyer, and I'm looking to use the full range of my skills," Louijeune said.
She has worked with the Massachusetts Affordable Housing Alliance to prevent evictions and promote homeownership and hopes to continue that effort as a city councillor.
Candidates for council at-large are required to get a minimum of 1,500 certified signatures from city voters to make the ballot. Nomination papers will be made available on April 13.