By Gintautas Dumcius, Managing Editor
November 16, 2021
At inaugural, she pledges to get 'the small things' right in neighborhoods
Michelle Wu took the mayoral oath of office on Tuesday, becoming the first woman and person of color elected to steer the city of Boston as its chief executive and the municipality's third chief executive this year.
The oath came after Wu, a 36-year-old Roslindale resident, tendered her resignation from the City Council, where she had served for eight years, winning reelection four times and topping the ticket twice, before launching her mayoral run in September 2020.
Judge Myong J. Joun, an associate justice with the Boston Municipal Court, administered the oath to Wu as Acting Mayor Kim Janey, US senators Elizabeth Warren and Edward Markey, Gov. Charlie Baker and Congresswoman Ayanna Pressley looked on inside the City Council chamber. Standing next to Wu were her husband Conor Pewarski and their sons, Blaise and Cass.
"Not only is it possible for Boston to deliver basic city services and generational change, it is absolutely necessary in this moment," Wu said in her speech, before a nod to the late mayor Thomas Menino, with whom she worked 10 years ago. "We'll tackle our biggest challenges by getting the small things right, by getting city hall out of City Hall, into our neighborhoods, block by block, street by street."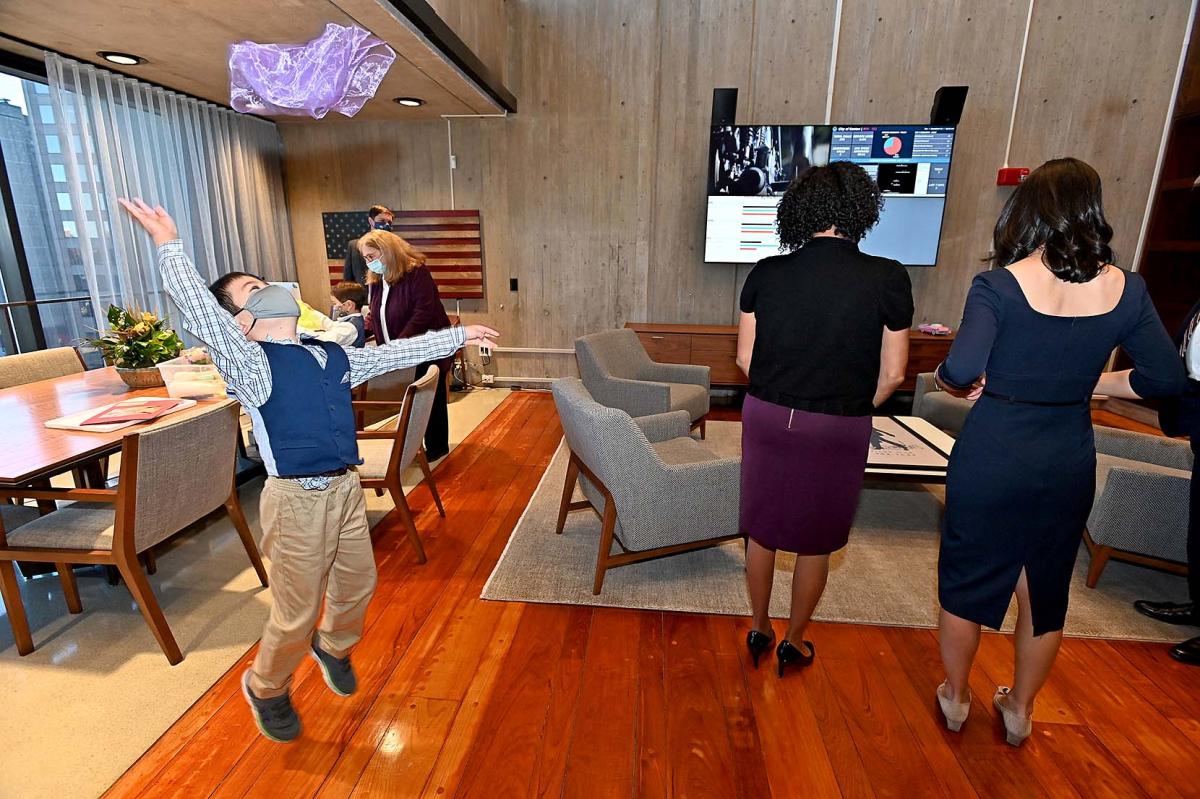 Mayor Michelle Wu's son Blaise, left, helped his mom settle into her new fifth floor office in Boston City Hall on Tuesday as the newly-sworn-in mayor joined Council President Kim Janey, right, in a tour. Isabel Leon/Mayor's Office photo
Her elected predecessor, US Secretary of Labor Marty Walsh, was unable to attend but sent Wu a text message Tuesday morning. Walsh, a Dorchester resident, was spotted on the White House lawn on Monday behind President Biden as he signed a federal infrastructure bill.
After the inaugural ceremonials, Wu headed across the fifth floor to the mayor's office. "We still have much to do in terms of continuing to build out the team in City Hall," she said. "Every single briefing I've had with departments, there are many, many roles that need to be filled quickly. We are approaching the winter, and that means being prepared for the weather, continuing to move quickly with the crises at the intersection of Mass Avenue and Cass Boulevard, and really supporting our school system."
Expectations are already high for the new mayor, who on the campaign trail pushed for a municipal-level "Green New Deal" to stem the effects of climate change. The plan includes a "climate corps" that would focus on the installation of green infrastructure, and the expansion of cooperative housing and community land trusts.
"She is going to be a historic mayor because this is going to be the Green New Deal city for the United States and the whole world. It's going to be the model," Markey told reporters after Wu's swearing-in ceremony. "And she is going to be the leader who shows you can have enormous economic prosperity and economic justice at the same time."
Markey said the federal infrastructure bill has money for ideas Wu supports such as electric buses and protecting coastlines against climate change.
"We're going to help her to get her share, more than her fair share of the funding," he said as he stood with Warren and Pressley, who pointed to Wu having a "decisive mandate from the people," referring to her 28-point margin of victory over City Councillor Annissa Essaibi George. "I have great confidence in Michelle's vision and also her resolve."
Other issues that Wu pushed for on the trail include a fare-free MBTA and a return to rent stabilization, or rent control. Those would require sign-off or buy-in from lawmakers on Beacon Hill. Mike Moran, a Brighton state representative who serves as assistant majority leader in the House and supported Wu's campaign, was as positive as Pressley about what the next four years hold for Wu's mayoralty.
"One of the reasons I really appreciate her is that she doesn't talk at you," he said. "She develops ideas and plans with you." He added: "I think that's going to be probably the biggest difference in her mayoral ship from the last four mayors preceding her. She's a person who likes to collaborate, she likes to talk. I really believe it's going to be a discussion, not her telling us everything she wants."
Before the ceremony, as Wu walked down the hall to the City Council chamber with family and aides in tow, state Rep. Russell Holmes, a Mattapan lawmaker who didn't endorse in the mayor's race, stood off to the side and noted that Wu is the third mayor of Boston in one year, with Janey as acting mayor for eight months, replacing Walsh, who left for the Biden administration in March.
"I think it's best that we finally have an answer and we're all moving on," he said. "I think that's good for the whole city."