By Bill Forry, Editor
March 17, 2021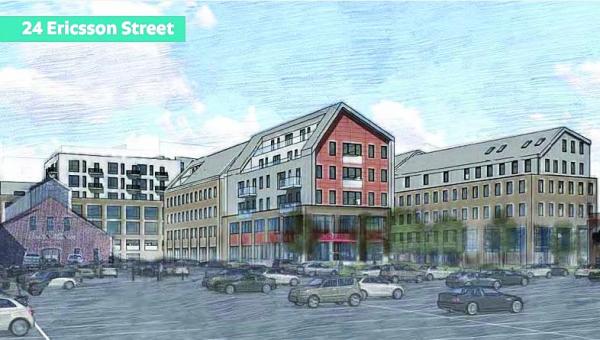 A developer's proposal to build a new complex of residences and mixed-use buildings on the Port Norfolk waterfront will get a new hearing this month. The Boston Planning and Development Agency (BPDA) has scheduled a virtual public meeting for Tues., March 30, at 6 p.m. to review City Point Capital's plans for 24 Ericsson St., which includes what is now the MarineMax/Russo Marine site next to Venezia restaurant and function hall.
According to a meeting notice published in today's Reporter, the latest iteration of the project would include "multiple buildings" and "120 residential units, approximately 23,400 square feet of office space, approximately 11,000 square feet of community/office flex space, approximately 3,600 square feet of retail space, a boathouse, and 159 vehicle parking spaces."
Earlier versions of the project — dating back roughly four years now—have been met with resistance from some Port Norfolk residents, much of it centered on traffic issues, too-tall buildings, and the absence of a plan to protect the neighborhood from flooding. 
The BPDA, which facilitates the review of large projects and ultimately decides their fate through a vote of its board, has sought to jump-start private investment on the 156,816 square-foot property. Labor unions and some Port Norfolk residents have also indicated strong support, citing the potential for jobs and an economic lift for the peninsula.
The March 30 meeting will be held via Zoom. A comment period on this version of the project will be open through April 30. For more information, contact Raul Duverge, the BPDA project manager, at 617-918-4492 or raul.duverge@boston.gov.