By Gintautas Dumcius, Managing Editor
October 11, 2021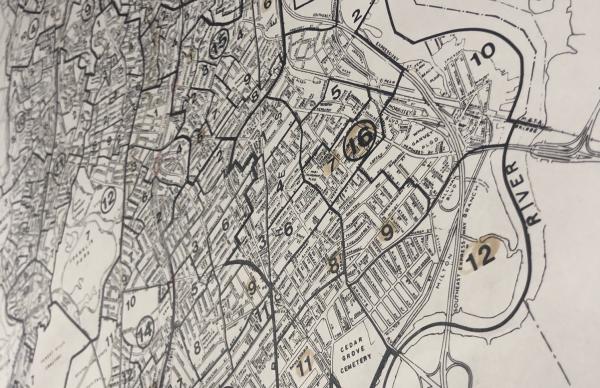 Some of the Massachusetts lawmakers tasked with redrawing the state's political boundaries are said to be considering the breakup of a Dorchester ward. The possibility has one local official threatening to launch a legal challenge to stop such a move while also drawing opposition from the neighborhood's civic groups.
The redrawing of the state's legislative and Congressional district boundaries follows every decennial US Census. Districts are made up of wards, which in turn are made up of precincts.
A special committee of legislators is working on new boundary maps meant to ensure that districts are more or less equally sized in population. Lawmakers from both the House and Senate lawmakers are expected to release their respective maps this week.
The Senate side is considering taking several Ward 16 precincts out of their current Senate district, where they are now represented by Nick Collins of South Boston, and shifting them into the district of Sen. Walter Timilty of neighboring Milton. Timilty's district also includes Avon, Canton, Randolph, Stoughton, West Bridgewater, and parts of Braintree, Sharon, and East Bridgewater.
"Ward 16 has never been divided and doing so goes against the principles of redistricting -- to keep cities and towns and wards whole," said state Rep. Dan Hunt, who represents most of Ward 16 in the House and serves a member of the redistricting committee. A former legislative aide who succeeded Marty Walsh in the House in 2014, he is also chair of the Ward 16 Democratic Committee.
"There are Supreme Court cases around communities of interest, and if a map comes out that divides 16, the Ward 16 committee will explore all legal options," Hunt told the Reporter.
Collins declined to comment. State Sen. William Brownsberger, a Belmont Democrat who chairs the Senate side of the redistricting committee, was not immediately available for comment.
Dorchester's Ward 16 precincts comprise an urban neighborhood, and if they are shifted to Timilty's seat, they would be combined with suburban precincts. "Dorchester deserves an urban senator, not someone who represents wealthy suburbs," Hunt said.
Local civic groups also voiced opposition to splitting up Ward 16. The heads of three groups — Steve Bickerton of Cedar Grove, John Schneiderman of Pope's Hill ,and John Lyons of Port Norfolk — on Saturday sent a letter to the redistricting committee asking them to keep the ward in one Senate district.
"Our urban community of Dorchester has drastically different concerns, pressures, and priorities than a suburban district which is made up of towns that are very different from Dorchester in many ways – demographically, culturally, and economically," they wrote. "We are a cohesive community and for the last 30+ years have been represented by a member of the Boston delegation, and a resident of the City of Boston."
The last redistricting effort a decade ago did not draw any lawsuits.
A legal challenge could slow down a redistricting process that is already on a tight timeline due to the pandemic, which hampered work on the federal Census by delaying the delivery of data to state lawmakers, who need the information to redraw the maps.
The data show that while Massachusetts cities and their suburbs grew in population, two counties in the western part of the state, Berkshire and Franklin, lost residents. For its part, Boston gained 58,000 people.
Beacon Hill lawmakers are aiming to have the maps ready by Nov. 8 of this year since House lawmakers must be living within their district boundaries for at least one year before an election while state senators just have to be residents when elected.
Material from State House News Service was used in this report.