By Rebeca Pereira, Reporter Correspondent
July 26, 2021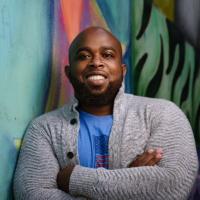 Two prominent progressive organizations are standing with Joel Richards in the contest for District 4 city councillor. The Greater Boston Labor Council threw its support to Richards this weekend along with Sunrise Boston, a youth-led climate advocacy organization.
"Our elected officials should support working families and unions, and that is why we are supporting Joel Richards for City Council," said Darlene Lombos, Executive Secretary-Treasurer of the Greater Boston Labor Council, which represents 30 unions in the Boston area. "We represent more than 100,000 hardworking families throughout every neighborhood in the Greater Boston region. We're hotel workers, construction workers, healthcare workers, janitors, teachers, and more."
In Boston, the council has also endorsed incumbent councillors Lydia Edwards, Ed Flynn, Liz Breadon and Kenzie Bok. The union coalition is also backing Kendra Hicks for District 6, Angelina "Angie" Camacho for District 7, and Ruthzee Louijeune for councillor-at-large.
Richards, a Boston Public Schools teacher and Boston Teachers Union (BTU) regional representative, has also been endorsed by BTU and the Democratic Socialists of America (DSA).
Sunrise Boston, which has also endorsed Michelle Wu for mayor, has said Richards will "fight for a livable future for young people."
"As a public school teacher and union member, Joel understands the impact of people-powered movements and is ready to use organizing in addition to legislative power to build an equitable Boston with climate policies that center labor and public schools," said Maya Chandrakasan, a spokesperson for the group.
Richards, a technology teacher at the Blackstone Elementary in Boston's South End, says climate competency includes retrofitting buildings and the curriculum to include composting, gardening, and biking programs in every school.
"Boston is facing an environmental crisis that falls heaviest on our communities of color in Dorchester, Mattapan, Roslindale, and Jamaica Plain," Richards said in a statement to the Reporter.
He added: "District 4 deserves more green space for our families, investment in our public transportation to combat air pollution, and expanded renewable energy programs that provide green jobs. The Sunrise Movement Boston has been organizing for this, and I am excited to work with them to achieve more for District 4."