By Katie Pedersen, Special to the Reporter
October 7, 2021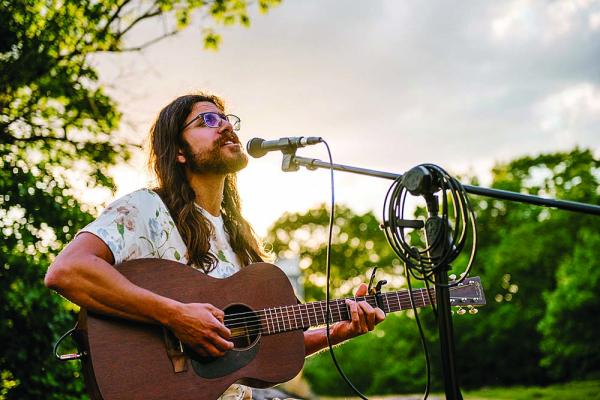 On every Thursday last summer from 6:30 p.m. until dusk, Aaron "Bear" Berger played guitar and sang for a group of neighbors and fans atop Savin Hill. Dubbed the "Happy Hour," the evenings at the popular community space started last April as a way for people to enjoy sunsets, music, and a picnic in the park.
"It's a gathering of people who live in Savin Hill and people who are willing to come from elsewhere to gather on top a beautiful hill with a beautiful view and hang out," said Berger, 29. "It's BYOP—Bring Your Own Picnic. I bring all my music gear, and amplify it, and play music, and we just enjoy ourselves while the sun sets." Those who joined the gatherings were encouraged to buy takeout or picnic food from local businesses.
Last month, with fall approaching, Berger scheduled the last Happy Hour of the season for Sept. 30. He said he was happy with how the first year went and was open to continuing it in a new setting with the change of seasons.
"I did reach out to some local bars and businesses to see if they wanted to start hosting an open-mic night on Thursdays, same time, in the neighborhood, but unfortunately, it hasn't happened yet," he told the Reporter.
The performances originated last spring with Berger's street busking. He describes his sound as "heart-healing indie folk."
"I was playing on the street, and people walking by loved seeing live music again," he said. "I was hanging out with my friend Matt, my girlfriend Andrea, and his girlfriend Sarah, and we were like, 'We should bring music stuff up to the hill and invite a bunch of people up there.'
"I made an Instagram post. I went up to the top of the hill and recorded me talking, sent a text message [to about 20 people], and created a flier. The first week nobody came—it was just the four of us." But word spread on social media and the next week saw about 15 new faces on the hill.
"And then the next week, Andrea recorded me playing, and I took that recording and turned it into an Instagram post, and then 20 or 30 people came," he said. "It just kept happening. There were a solid three to five weeks where there were 30 to 50 people up there. It was mostly people in the neighborhood, but a lot of people came from elsewhere as well."
Kaylee Douglas, 29, a regular face at Savin Hill Happy Hour, is a friend of Aaron's and works with him.
"One day said he wanted to start doing these happy hours, so I started coming up here. It's a nice little free thing to do on a Thursday night. The vibe up here is really nice. It's relaxing to do, easy to get to—it's always a good time," she said.
Josh Mentzer, 24, a local musician, ran across Savin Hill Happy Hour by accident over the summer and continued to attend regularly.
"I kind of stumbled across it, honestly," he said. "We were up here anyway, and I saw that this was going on, and ended up playing drums with Aaron at a bunch of these. It's been a lot of fun. I love to play music for people, and it's been fun to get together for something really fun, informal, and community-centered."
Some of Berger's favorite moments have been spontaneous jam sessions with "guest" performers.
"I didn't want it to be about me playing music on the hill. I wanted it to be about the community, and about everyone coming together. There's a local guy, Prophet. He just came up one day and I had no idea what to expect, but he played, and it was amazing. One day he brought his amplification system, too, and the two of us went song for song, playing back and forth all evening."
The original intent, as Berger notes, was "for everybody to come together and create community, and that's how I met so many cool people in the neighborhood."
Dorchester resident Ashley Tobin, another regular, spoke to the Reporter during one of the summer events.
"I'm up here most Thursdays—every Thursday, if the weather's permitting. It's just great to come together," Tobin, 27, said. "We have different musicians come in sometimes. It's usually Aaron, but there are always other people who come up, too. It's good because we've met a lot of people here. It's great for the community. It gives us something good to look forward to in the middle of the week."
Looking back on the first year, Berger is all smiles. "I would love to do it again next year if I'm still here," he said. "It was so fun."
Berger's music can be found at aaronbearmusic.com.