By Seth Daniel, News Editor
November 30, 2022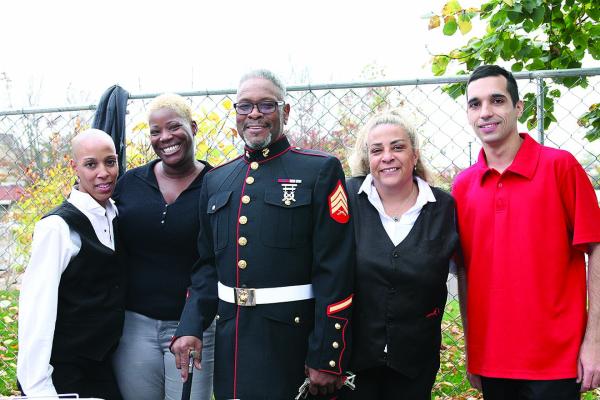 When Dorchester native Kenny Perry was attending Hyde Park High School in the 1970s, he started training to be a chef. That decision led to a 46-year career in the food industry, with the last 20 being his own company – Perry's Gourmet Catering in Codman Square – a business that he plans to retire from at the end of this year.
"What got me into cooking and into the kitchen was that in the mid-1970s, they were telling us all the time that computers were going to take peoples' jobs," he said. "I figured one thing a computer couldn't do was cook a meal. I liked cooking and stuck with it and have been in food service for 46 years…I started in high school and continued in the Marine Corps."
Perry, now 62, will hang up his spatula and flip the business to his long-time staff member, Shavonne Overton, who is excited to take over Perry's numerous clients that range from MIT in Cambridge to private clients in the neighborhood to the Trotter Elementary School in Dorchester.

Kenny Perry beside his delivery van, which has delivered thousands of meals in the Greater Boston area.

"I'm originally from North Carolina and so I knew all the southern stuff. And with nine siblings, you had to be in the kitchen to get the first piece of fried chicken," he said. "So, I picked up a lot from watching my mom."
Perry attended the Thompson Elementary and Martin Luther King Middle School and graduated from Hyde Park High. After service in the Marine Corps from 1979 to 1985, he returned home and worked as a cook in a number of area restaurants and institutions, finally landing a long-term position running the kitchen for City Fresh Foods that was formerly in Four Corners. Some 20 years ago, he figured it was time for him to run his own business, so he set up shop with his brother, Roger Perry, in Codman Square.
While things have been steady for two decades – he describes his clients as "family" – going out on his own in October 2002 was tricky at first. "In November and December, I made $60,000 in two months - it was great," he said. "Then January came and nothing. I didn't understand how the industry goes up and down like a yo-yo. I know those ebbs and flows now, but that was scary. I was a single father raising two boys and it was scary when no money came in that January. But I learned and the best thing I ever did was start my own business…I have no regrets now and am beyond happy God gave me what he gave me."

Perry's Gourmet Catering owner Kenny Perry with incoming owner Shavonne Overton.
Seth Daniel photos
Perry said that catering for events big and small – whether a backyard party or a City of Boston shindig – requires good timing and punctuality. He said you must know when to shop, when to prep the food, when to cook the food, and when it's time to just "get that food out the door and on time."
Being punctual is something he inherited from the Marine Corps, and it was something that gave him credibility as a caterer. "I'm always on time; if I'm not on time, something's wrong – and I never run out of food," he said with a laugh.
As to the decision to retire now, Perry said, "I wanted to go another three years, but it isn't going to happen," he said. "It is bittersweet, but I'm going to stay on in a limited way as a consultant. I want to make sure the food stays the same and the clients are happy. I really want to make sure Shavonne will succeed."