By Seth Daniel, News Editor
October 19, 2022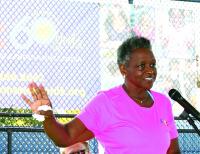 The Sportsmen's Tennis and Enrichment Center (STEC) joined the upgrade parade along Blue Hill Avenue in celebrating a groundbreaking on Oct. 12 for Phase 1 of their expansion plans while launching a campaign to fund a second phase involving an even larger revamping.
STEC members and friends also used the occasion to mark its 60 years of service at its location abutting Franklin Field. "This is the day when the dream of the eight people who founded this organization gets to be expanded," said Marilyn Chase, STEC board co-chair.
"The dream was not just for a tennis center, but also was a vision to make the community better and the people in this community better," she added. "It was not just to improve their tennis serve, but also to open doors to better life outcomes and to become better citizens."
Toni Wiley, STEC's CEO, said that as Blue Hill Avenue is being upgraded along its corridor, the center is ready to improve with it. "We are here today not only to put a shovel in the ground, but also to put a stake in the ground," she said, noting they are standing with the same faith that the original founders had when they started STEC six decades ago.
Phase 1 will include enclosing four outdoor courts to make more indoor court space, and then adding lighting to the remaining outdoor courts. Solar panels, 389 of them, will be set on the roofs of the center's buildings by Dorchester's Resonant Energy, which sees the location as ideally situated for solar.
A capital campaign spearheaded by STEC parents Scott and Alison Babka has raised nearly $5 million to fund this part of the project, which should be completed by next May.
Phase 2 will establish the Bud Collins Welcome Center, named after the famed Boston Globe and network broadcaster who was a dedicated supporter of STEC from its conception as an idea. Supported by his widow, Anita Klaussen, this phase will add classroom and fitness space, a teaching kitchen, and two outdoor courts.
It will also house the "Breaking the Barriers" exhibit that tells the story of Black tennis in the United States since 1916. Created by the Black Tennis Hall of Fame, the exhibit was originally on display at the US Open before moving to the International Tennis Hall of Fame.
"This is about community, wellness, education, and investing in our youth so they can learn the wonderful life-lessons that come with tennis," said Lindsey Keeler, United States Tennis Association (USTA) New England CEO.
Both state Rep. Russell Holmes and City Councillor Brian Worrell said they learned to play tennis at STEC when they were children, and that experience has helped them to this day. "But it can't be what it was 45 years ago because we have to constantly improve," Holmes said.
State Sen. Nick Collins noted that members of his family have played tennis at STEC, and that it's an easy organization to advocate for.
"There are a lot of resources out there and a lot of good ideas, but the people matter so much," he said. "Toni Wiley and the team at STEC make all the difference. When you're in the Legislature, you see STEC and know it's a high-value target and has a high chance for success."
The project will be completed by Shawmut Construction.