By Chris Lovett, Special to the Reporter
September 14, 2022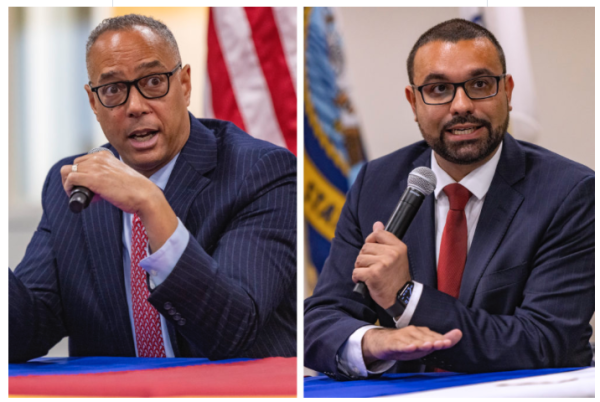 It was the weekend before primary election day, and one of the Democratic candidates for Suffolk County district attorney, City Councillor Ricardo Arroyo, was caught in a rip tide of retracted endorsements. For voters already tipped off by damaging news reports about alleged sexual misconduct in his teen years, the impression was only reinforced when the faces of erstwhile supporters backflowed in a final gush of campaign mail.
Arroyo's defectors were legion, including two US senators, a Congresswoman, and Boston Mayor Michelle Wu. But one of his colleagues, Roxbury's District 7 Councillor Tania Fernandes Anderson, held her ground. She told her followers on Twitter that the "choice was clear," and that she was still with Arroyo.
"Do we want to move ahead with progressive and forward-thinking criminal justice policies," she asked them, "or do we want to retreat to a stale status quo that will continue to victimize the least powerful among us?"
In a primary dominated by candidates trying to boost name recognition, some of which had been cultivated over years, the DA's race in Suffolk County stood apart. The current appointed DA, Kevin Hayden, a figure of low profile before this year, came out on top with 48 percent of the vote, while Arroyo, a second-term councillor from Hyde Park, got 41.6 percent. What also stood out in the race was the abnormally high share of blank votes – 10.5 percent – which some observers decoded as a triumph of conflicted feelings over purpose-driven choice.
A month before the vote, both candidates were being presented to voters through successive volleys of negative news reports. But if the race was between different shades of ethical clouds, it also was being defined by different camps with different views of criminal justice and police oversight.
First, it was Hayden on the defensive, denying that he tried to quash an alleged coverup by Transit Police officers that sprang from a traffic dispute. The coverup charge would re-emerge less than a week after the election, when the Boston Herald reported that the previous DA, now the US Attorney for Massachusetts, Rachael Rollins, had been allowed to recuse herself and her office from a federal investigation of Hayden and his first assistant DA.
In the next volley of reports, The Boston Globe revealed sexual assault allegations against Arroyo dating from 2005, when he was in high school. The allegations did not lead to criminal charges, but Arroyo gave conflicting indications about whether he was aware of having been investigated, which, in turn, prompted questions about his fitness to practice law.
The Arroyo camp blamed the revelations on improper leaks, pointing fingers at Hayden and police. Hayden denied any role in release of the information. And, after one of Arroyo's alleged victims reaffirmed her story in the week before the primary, Hayden made it clear that unprosecuted didn't necessarily mean unfounded.
On Aug. 24, the day after The Boston Globe ran its first story about allegations against Arroyo, two police organizations—the Boston Police Patrolmen's Association and the Boston Police Superior Officers Federation--called for him to drop his campaign for DA and resign from the City Council. At the same time, police were increasing their individual donations to Hayden's campaign, with $7,825 in August alone from 29 police force employees, mostly uniformed.
One of the largest donors, contributing $1,000 – the maximum allowed in Massachusetts – was Juan Seoane, identified on Hayden's campaign finance report for August as "Law Enforcement City of Boston."
In 2017, the CEO of Tara Construction Inc., Pedro Pirez, asked Seoane to look up information about the identity of Jose Martin Paz Flores, an employee who had recently been injured on the job. According to WBUR, Seoane shared his findings with the Boston Police Department's liaison to US Immigration and Customs Enforcement (ICE). Paz Flores was then arrested by ICE for being in the country illegally—right after a meeting with his employer.
The US Labor Dept. responded by suing Tara Construction and Pirez. In June of this year, a jury in federal court awarded $650,000 in damages for unlawful retaliation against an injured worker.
Hayden's more prominent backers also included champions of police reform like state Sens. William Brownsberger and Lydia Edwards. For his part, Arroyo had pushed for reforms with more emphasis on racial equity since his election to the Council in 2019. Along with supporting a shift of funds from law enforcement to other agencies, he raised questions about police cooperation with ICE, especially in connection with potential exposure to deportation from the gang database shared between Boston Police and other agencies. During the summer, he also criticized the alleged Transit Police coverup and the Boston Police response to a demonstration in in the city by the white supremacist group Patriot Front.
By the end of August, after sexual assault allegations had been amplified in a follow-up Globe story, City Council President Ed Flynn suspended Arroyo from leadership of two committees, one of them set to draw new council districts. Two days later, divisions intensified by the DA's race broke out in a chaotic meeting of the Council, extending to a melee between opposing groups outside the Iannella Chamber.
Among councillors themselves, there was a sharp denunciation of Arroyo by District 3's Frank Baker and an appeal by Fernandes Anderson for equity and respect that was spiked with expletives. Two days after the meeting, Fernandes Anderson expressed regret for use of the expletives, but made no apology for speaking out about "violent and veiled racism."
Reacting to the turmoil, political analyst and former councillor Lawrence DiCara said, "This was very unfortunate for the body and the individuals involved. I'm troubled by the vitriol, the language, the ad hominem attacks."
But the policy director at Progressive Massachusetts, Jonathan Cohn, said Fernandes Anderson was doing a district councilor's job: asserting the power of a voting bloc and protecting its interests. He said the same mission applied to voters supporting Arroyo in areas such as Roxbury, Grove Hall, and Mattapan, as well as support from other blocs in other parts of the city for Hayden.
Arroyo did carry the vote in Roxbury's precincts, as well as in adjacent parts of Dorchester and Mattapan, most of that in Wards 12 and 14. But the two wards still gave Hayden more than 40 percent of the vote, with a percentage of blanks below the city average.
Unsurprisingly, Hayden did very well in Ward 16, Precinct 12, a perennial high-turnout area in Dorchester near Neponset Circle. Home to many current and former police officers and firefighters, the precinct gave him 87 percent of the vote, with few blanks.
For all of Ward 16, including the rest of the Neponset area, Hayden received almost 65 percent of the vote, slightly below the 69.4 percent from the Ward 20 precincts in West Roxbury and slightly above the percentage in South Boston. In Dorchester's Ward 17 (Codman Square-Lower Mills), Arroyo managed a slight lead, but Hayden picked up almost 63 percent of the tally from the vote-rich Ward 13, Precinct 10, in Dorchester's Columbia-Savin Hill area. In Ward 18, Arroyo carried precincts in Roslindale and Mattapan, while Hayden's strongest showing was in the Fairmount section of Hyde Park and Readville.
As first reported by GBH News, the citywide total of blanks was greater than Hayden's advantage not only in Boston, but also in many precincts. And the percentage of blanks was greater than in other high-profile contests, including the uncompetitive Democratic primary for governor.
In the progressive stronghold of Ward 19, covering most of Jamaica Plain and Roslindale, Hayden got less than one-third of the vote, but a potentially hefty advantage for Arroyo fell short of 51 percent, thanks to a share of blank votes at more than 12 percent.
In response to a pre-election touting of Arroyo as a DA who would "challenge the systems that oppress us," an unpersuaded voter in East Boston's Ward 1 tweeted, "I am not voting for DA tomorrow but (in my opinion) this comment and everything I've been seeing around this race tells me that Boston politics really are losing all touch with reality." Despite the neighborhood's large Latino population, Hayden got 49 percent of the ward's vote, with just under 40 percent for Arroyo and slightly more than 10 percent in blanks.
The percentage of blanks for DA also ran above the citywide average in other higher-end progressive pockets, in the South End, Jamaica Plain, Back Bay, and the South Boston side of Fort Point Channel. DiCara says those voters might have been swayed by Arroyo's last-minute loss of high-profile endorsements from progressive stalwarts such as Mayor Wu.
"I think a whole bunch of people who were going to vote for Arroyo went by the mayor," he said, "and couldn't bring themselves to vote for Hayden."
Cohn argued that, instead of exerting power as a bloc, some progressives cast their vote to express feelings about candidates. "It's an understanding of voting," he said, "as an individual, rather than a communal act." And, as one long-time advocate reminded her followers on Twitter, "Those who understand power vote for their candidate period."
Aside from the DA's race, the Democratic primaries in Boston had less drama and less crackle of insurgency than the last "mid-term" contests in 2018. Headlining the earlier election were successful challenges to the political mainstream by Ayanna Pressley and Rachael Rollins, but there were also upsets over members of the Democratic leadership team in the state's House of Representatives by Nika Elugardo and Jon Santiago. The ferment pushed Boston's voter turnout to almost 25 percent, the highest figure since 2006, but the figure for this year's primary dropped to 19 percent.
Cohn agreed that 2022 was no match for 2018's "synchronicity of messaging," amplified at pre-pandemic forums that, short of changing minds, could get traction with voters on social media.
"It didn't have that linear advance that would lead to a lot more campaigning," he said. "You didn't have the same number of in-person events. There were more virtual events—and fewer events at all."
The most notable advances by Democratic women in 2022 were Maura Healey's nomination for governor – without active opposition – and the nomination of former Boston City Councillor Andrea Campbell for attorney general. In Boston, one year after a strong run for mayor, Campbell got 68.7 percent of the vote, despite endorsements of her opponent, Shannon Liss-Riordan, by Wu, former acting mayor Kim Janey, and US Sen. Warren.
Though Campbell failed to advance into last year's final election, Cohn said her candidacy, buoyed by an endorsement from The Boston Globe, left voters with "generally positive feelings. They loved her," he said, "or they didn't dislike her."
After Sonia Chang-Diaz left her state senate seat open to start a campaign for governor that she later suspended, five Democrats aimed to succeed her in the 2nd Suffolk District, mainly comprising Roxbury and parts of Jamaica Plain, Mission Hill, Mattapan, Hyde Park, and a small area of Dorchester. The top vote-getters were both incumbent state representatives –the winner, Liz Miranda, with 31.4 percent, and Nika Elugardo, with 25.9 percent. The three other candidates included one of the district's former senators, Dianne Wilkerson.
Elugardo dominated the vote around her House district in Mission Hill and Jamaica Plain. But Miranda dominated in Roxbury precincts, as well as in parts of Dorchester and Mattapan in Ward 14. She even got more than double the votes for Elugardo from Ward 18 precincts in Hyde Park and Mattapan.
"Liz has been in community and her professional roles have taken her across the district for the last 25 years," said Will MacArthur, a junior researcher for Rivera Consulting Inc. a strategy group for the Miranda campaign. "And she put a real emphasis, and we put a real emphasis in our path to victory, in terms of how we were prioritizing our mail and digital and person-to-person outreach resources, trying to earn votes in every neighborhood, and not just playing a single geographic base."
As a result, Miranda picked up almost one-quarter of the vote in Elugardo's stronghold in Wards 10 and 19. MacArthur said the campaign also made sure to alert and engage voters in parts of Hyde Park and Mattapan recently added because of the district's new boundaries.
"One of the big reasons that Liz got the result that she did," said MacArthur, "is that in a low turnout, multi-candidate race, it really comes down to who has identified the most supporters and who has the operation to make sure they turn out."
Said City Councillor At-Large Ruthzee Louijeune, one of Miranda's supporters: "The result of the 2nd Suffolk Senate race was a product of two decades of deep community work that Senator-elect Liz Miranda has put in. Liz's campaign centered the voices of people typically left at the margin, young people, immigrant communities, formerly incarcerated folks, jaded voters, etc. It was led with a sense of love and intentionality that very clearly resonated with the people of the 2nd Suffolk and got folks excited about getting civically engaged."