By Seth Daniel, News Editor
May 4, 2022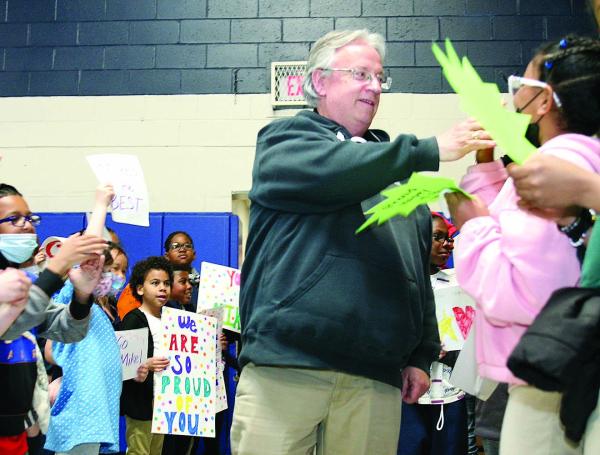 Hundreds of young members of the Boys & Girls Clubs of Dorchester (BGCD) gathered secretly in the gym at the Deer Street building Monday afternoon to stage a high-energy surprise send off to long-time club leader Mike Joyce, who is travelling to Chicago this week to accept a national award.
With homemade signs reading things like 'We love you Mike,' and chants of "We like Mike," the children encouraged a mentor who has shaped thousands of young people in Dorchester over the past four decades.
"BGCD has been my home for 40 years and it's a great home and a great organization," said Joyce. "I couldn't see myself working anywhere else. I still love waking up every day and coming to work. The one thing about the Club family is there are a lot of just good people you come in contact with, whether parents, staff members or people who just want to do good for the kids."
Joyce will attend the Boys & Girls Clubs of America 2022 National Conference in Chicago this week and receive the National Professional Service Award. He was selected nationally out of 56,000 adult professional staffers from over 4,300 Club locations across the country. The prestigious award is given to a Boys & Girls Club staff member who has provided exceptionally devoted service to the organization.
"Mike has been for me like a second dad – always kind and caring," said Leonana Addo-Fung, who has been at BGCD since she was 6 years old. "He always knew exactly how I felt and what to say to make me feel better. Thank you, Mike, for all you do."
Added BGCD President Bob Scannell, "You can't put into words all that Mike Joyce has done in Dorchester. He is absolutely a legend…I don't know any person in my lifetime who has done more for Dorchester families than Mike Joyce."
Joyce, now senior vice president of operations, began working at the Club in 1979. A Dorchester native, he has also served as vice president of programming, program director, and athletic director.