By Chris Lisinski, State House News Service
May 4, 2022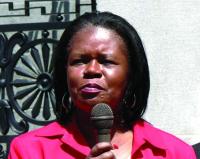 More than a decade after she resigned from her state Senate seat, pleaded guilty to federal corruption charges, and then found a new role in the activism world, Dianne Wilkerson appears to be eyeing a seat on Beacon Hill once again.
A spokesperson for Secretary of State William Galvin's office confirmed last week that someone pulled nomination papers on Wilkerson's behalf on April 15. Wilkerson told a POLITICO reporter that she plans to run for the Second Suffolk District in the Senate, which she represented from 1993 to 2008.
Wilkerson left the Senate while facing federal charges alleging she accepted $23,500 in bribes to help developers and businessmen secure liquor licenses and state land in her district. She pleaded guilty in 2010 to attempted extortion and served several years in prison.
In recent years, she has reemerged as a community activist, helping to lead the Black Boston Covid-19 Coalition and the WAKANDA II coalition.
If she does jump into the race, Wilkerson — who has not yet filed paperwork with the Office of Campaign and Political Finance — would face off against Democrat state Reps. Liz Miranda and Nika Elugardo as well as Rev. Miniard Culpepper, who is also a Democrat.
District and county office candidates had until Tuesday of this week (May 3) to submit nomination papers to local election officials for certification of signatures. Senate hopefuls need to collect signatures from 300 registered voters to qualify for the ballot.
Sen. Sonia Chang-Diaz, who defeated Wilkerson in the 2008 election, currently represents the Second Suffolk District but is running for governor rather than seeking reelection.