By Gintautas Dumcius, Managing Editor
May 17, 2023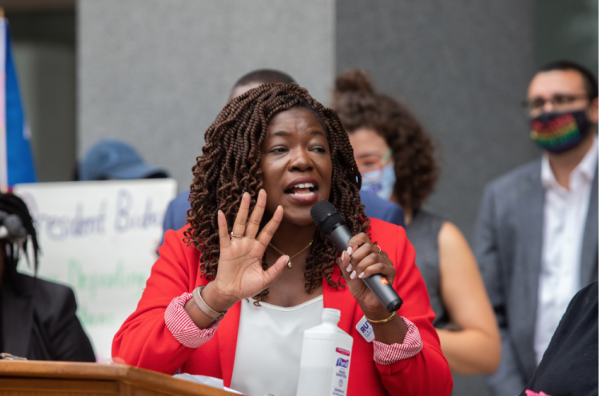 Facing a May 30 deadline to pass a new map of the nine City Council district boundaries, councillors this week squabbled over the next steps as Mayor Michelle Wu urged them to move quickly and laid out her own map, which unites neighborhoods across the city, including Dorchester's Neponset, Fields Corner, Uphams Corner, Bowdoin Geneva and Adams Village within District 3.
Councillors struggled to come to consensus at a Monday meeting of its Civil Rights Committee, which effectively became the new map-drawing committee after an 8-4 vote last week sent it there. That move came days after a federal court order demanding they draw new lines.
The move put Councillor At-Large Ruthzee Louijeune in charge of the second attempt at a redistricting process. She offered her own map early this week, putting it on the table with the Wu map, and one from District 6 Councillor Kendra Lara, who represents Jamaica Plain and West Roxbury.
But councillors on Monday opted not to discuss any maps, since they would not be formally introduced to the body until Wednesday's meeting of the full council. Instead, they focused on what they'd like to see and quarreled over whether Louijeune's committee was the right place to handle the process new maps, while District 3 Councillor Frank Baker of Dorchester continued to rage about last fall's redistricting process, despite winning the court order he and others sought and obtained last week.
SEE THE MAPS: Mayor Wu's proposal | Councillor Louijeune's proposal | Councillor Lara's proposal | 2012 map | Blocked map from 2022
Baker is among the councillors who are funding the lawsuit, sending thousands of dollars to attorneys for plaintiffs who oppose last fall's map, now blocked from use after US Judge Patti Saris found the plaintiffs had a likelihood of success in their legal challenge.
The lawsuit primarily alleged that race had wrongly predominated in last fall's redistricting process as councillors carved up Adams Village and Neponset, and moved white conservative super-voters from District 3 to District 4, a Dorchester-Mattapan seat held by Brian Worrell.
Redistricting occurs every ten years, after the US Census. This round hinges on a population boom in South Boston-based District 2, represented by Council President Ed Flynn, and a population loss in District 3. The nine Council districts must be equally balanced in population.
Redistricting cycles are typically fraught, as incumbent councillors focus on self-preservation and are loath to give up precincts that treat them and their allies well in elections.
Under the now-defunct map, Baker and Flynn lost some of their best precincts and Baker was particularly vocal, arguing that the new map destroyed District 3.
This week, District 5 Councillor Ricardo Arroyo (Hyde Park and Mattapan) echoed Baker's language while criticizing the mayor's map. It "decimates" Jamaica Plain, he claimed, adding that he also disagreed with moving Mission Hill to District 6 from District 8, which is currently without a councillor as Kenzie Bok recently took the top job with the Boston Housing Authority.
"Redistricting is always one of the most contentious matters that a legislative body has to do," Louijeune said. A lawyer and redistricting expert, she said she believes independent commissions should handle redistricting, because elected officials acting as map-drawers have too much self-interest and conflicts of interest.
But she remained optimistic about the Council's prospects of adopting a second attempt at redistricting. "I do believe this Council can come together and pass a map," she said.
May 30 is the key date for the Council, since the Wu administration says it's the latest possible date that allows the city's elections department to conduct a process for candidates to gather voter signatures needed to get on the ballot and mail ballots in time to conduct the planned Sept. 12 preliminary.
A Wu spokesperson said that Monday's hearing indicated that "there is still much work ahead" to pass a map. Due to the tight timelines, the spokesperson added, Wu has been encouraging Flynn to set dates for special Council meetings in addition to the two remaining full Council meetings before May 30 so that "the Council can be prepared to accept revisions and take additional votes as necessary."
Before Monday's meeting, Wu's map took heavy fire from a coalition that includes NAACP Boston and other voting rights groups. The coalition said her map "threatens decades of progress" and invoked a version of former president Donald Trump's campaign slogan, saying it is a map that seeks to "Make Boston Great Again." The Wu administration called the rhetoric "inaccurate and incendiary."
Amid the crossfire, District 6's Lara submitted a map that moved around just 13 precincts, saying, "I used a scalpel, not a hammer." She keeps Cedar Grove and Adams Village in District 3.
But to correct for the population imbalance, her map sends District 3 up into the South End, adding Villa Victoria, home to a Puerto Rican community. She also keeps Mission Hill in District 8.
Efforts to keep Adams Village and Neponset together within one district, as the plaintiffs' lawsuit seeks, are causing ripple effects in all of the proposed maps, and more focus falls on Mattapan, which is split between Districts 4 and 5. For example, Louijeune's map would hand over several Mattapan precincts along Walk Hill Street to District 4 from District 5.
The lawsuit's plaintiffs, among them local civic groups and residents like Maureen Feeney, the former councillor and city clerk, are also monitoring the proceedings, and ready to go back to court. The coalition of voting rights groups also appears ready to launch its own lawsuit if they find a map not to their liking.
In a letter to City Hall attorneys, a lawyer for the plaintiffs said they believe the Council appears "more divisive and combative" since the judge's order. The attorney said they were aware that councillors were trying to intimidate Flynn by threatening to strip him of his Council presidency. The letter reiterated their desires, including keeping Ward 16 entirely within District 3, and for councillors to "pay attention" to Wu's map.
"This is not rocket science following the court order to get this done," the letter said.