By Seth Daniel, News Editor
May 25, 2023
City Councillor Ruthzee Louijeune hosted a breakfast with support of Haitian Americans United (HAU), the group that organized the previous Sunday's Haitian Unity Parade on Blue Hill Avenue, last Thursday (May 18) as the city's Haitian Americans celebrated their ancestry and called for more help for the Caribbean nation during events held to commemorate Haitian Flag Day at Boston City Hall.
More than 200 were in attendance for the breakfast and the flag raising ceremony at which Louijeune and Mayor Wu honored Haitian healthcare workers and also spoke about the plight of migrants now living here in Boston who are still waiting for work authorizations that have been slow to come from US authorities.
"The healthcare system here would crumble if it wasn't for the Haitian community working in all aspects of that system," said Louijeune.
For her part, the mayor called for an end to the backlog on work permits at the federal level.
"We need intake centers to provide wrap-around services and temporary shelter where people are safe," she said. "We are calling also on our partners to make sure our new neighbors are eligible for work permits immediately. We've seen some progress...but we need to see even more, especially for those that have been here for months and are ready to get to work. We know that Boston is strongest when we can put every talent to work in our community."
Dr. Cassandra Pierre of Boston Medical Center was one of several health care workers honored at the event. "We are here only because of our forefathers," she said. "It was our grandparents, aunts, and uncles. We are supported by their sacrifice and hope that we would bring the community along with us in our own successes."

Trisha Dumervil, of the Toussaint L'Ouverture Academy in Mattapan, sings the Haitian national anthem at the Flag Day Unity Breakfast.
Students from the Mattahunt Elementary's Toussaint L'Ouverture Academy, the first dual-language English/Haitian Kreyol school in the United States, sang the Haitian national anthem in a performance that was met with a standing ovation.
At the Unity Parade, a sunny day greeted those watching along Blue Hill Avenue. Louijeune served as grand marshal. She shared the ribbon-cutting with HAU's Pastor Keke Fleurissaint, Mayor Wu, state Rep. Brandy Fluker Oakley, Suffolk DA Kevin Hayden, and City Councillors Brian Worrell, Julia Mejia, and Ricardo Arroyo.
Photos by Seth Daniel

Margareth E. Jacques, Margareth M. Jacques, Domeque Jacques, and Sandy Zamor Calixte.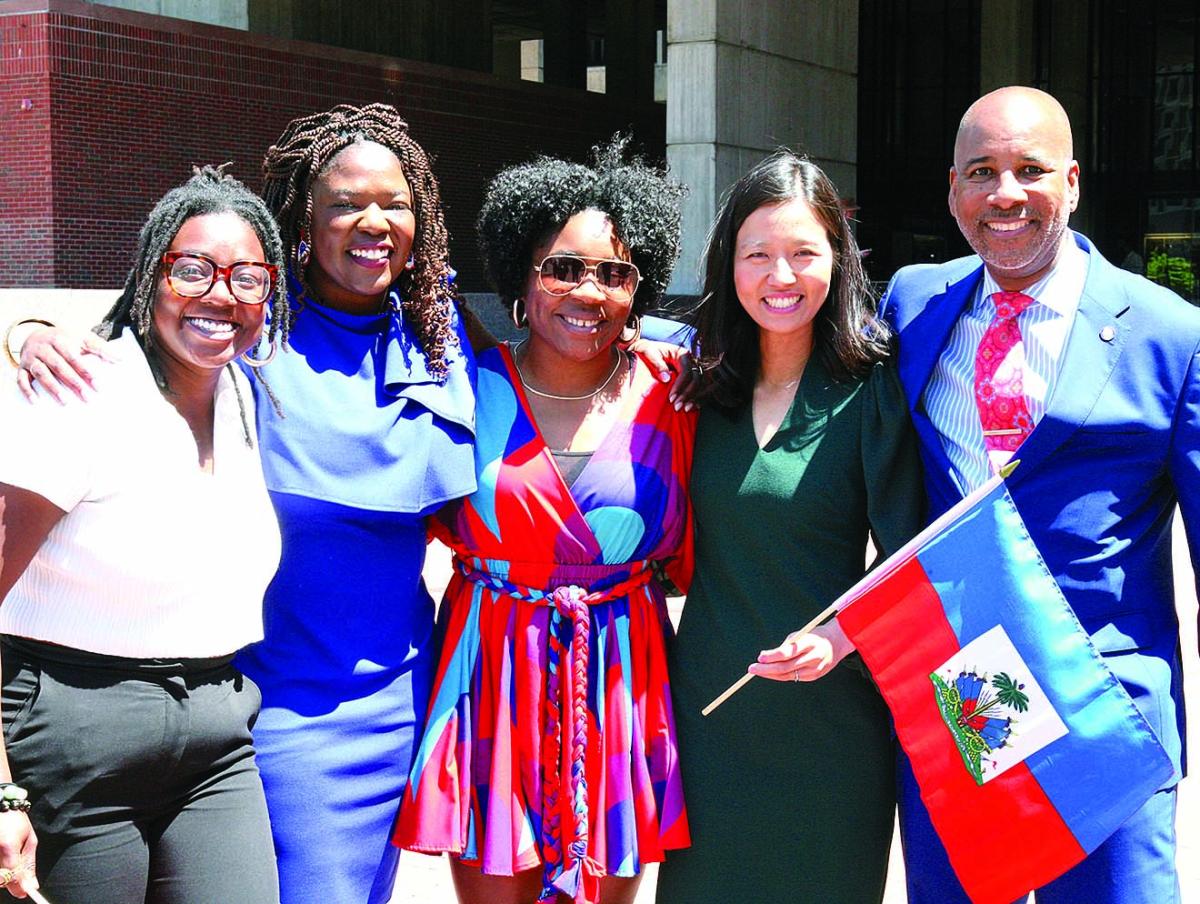 Phyliss St. Hubert, Councillor Ruthzee Louijeune, City Hall Director of Communications Jessicah Pierre, Mayor Wu, and City International Partnerships Manager Reggie Colimon.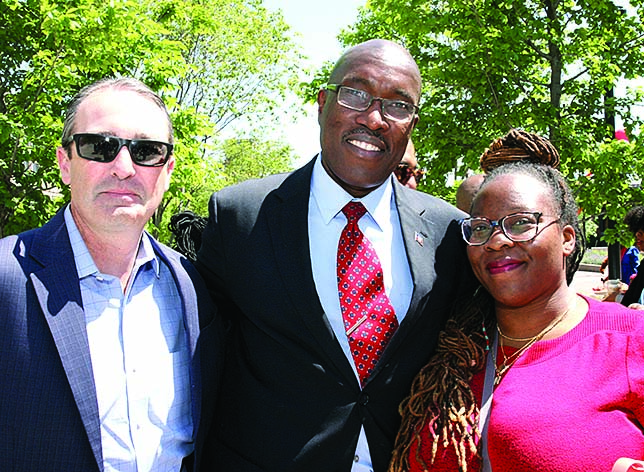 From SEIU 1199 healthcare workers union were Executive Vice President Tim Foley, Smith LaMothe, and Nadia Vilmont.

Host of the Unity Breakfast Ruthzee Louijeune honored dozens of Haitian American healthcare workers, including Dr. Jean Bonnet of Hyde Park Health Associates.

Michelle Pierre Vilmont, Gertrude Delsoin of HAU, and Filaine Deronnette of SEIU 1199.

Developer Shabnam Mashmasarmi with Donald Alexis, director of Caribbean Integration Community Development (CICD).