By Izzy Bryers, Special to the Reporter
February 16, 2023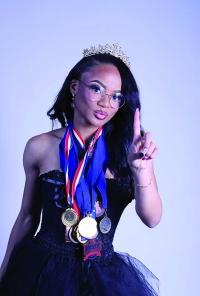 Lasell University sprinter Ariel Foster had a busy time of last week: She received her third Rookie of the Week recognition from the Great Northeast Athletic Conference (GNAC); she put time in at her two jobs; and she bought herself a Tesla with plans on how she'll spec it out: "Right now, it's red, but I'm going to wrap it pink—like a soft pink, nothing too bright—and the interior's white and will be pink and then I'm actually getting it tinted tomorrow," she said.
The 19-year-old first-year runner from Fields Corner bought her dream car just two days after setting a new school mark at a Boston University invitational meet last Saturday and Sunday (Feb 3-4). Putting up a record time of 7.82s in the preliminary dash and qualifying for the finals, she went on to match her school's previous record by finishing at 7.90s to place 8th overall.
Foster became aware of her speed at a young age "I used to beat the kids in my school," Foster said. "So, my teachers and my PE teachers used to be like, 'Oh, yeah, you should join track.'" Which she did, first at a club and then in high school.
Since graduating from Boston Arts Academy and committing to track and field at Lasell last year, Foster has broken multiple school records and continues to lead the women's track team while studying for her criminal justice degree, working at Francesca's, and selling life insurance.
Foster, who had wanted a Tesla since she was a little girl, spoke about her on-and- off motivation regarding track. It's "just knowing what type of life I want to live," she explained. "I have a really specific lifestyle I want to live. I do not want to stay in Dorchester, and definitely don't want to stay in Massachusetts."
Foster also credits NCAA sprinter Sha'Carri Richardson of LSU fame as inspiration: "I want to be like her, just even younger."
Another key player in her success to date, and an inspiration to get up for 6 a.m. practices every morning, is her coach, Ben Biello, who took over as Lasell's head track and field and cross-country coach around the same time Foster was recruited last year. "If you really want me to be honest, the only thing that really wakes me up in the morning is Coach Ben," Foster said. "Just knowing that he understands and he's going to help me get to where I want to be."
Biello spoke highly of Foster in return, explaining how her well-rounded interests contribute to her achievements. "She could have gone and competed D1 but she wanted to balance more of a D3 career, and she's still crushing it at the D3 level," he said. "And that's one of my favorite things about the sport of track and field: It's all times and marks."
His focus, he says, has been on "refining her technique" and helping rein in her tendency to always "raise the stakes. Her work ethic is one of the most talented things I've ever seen," Biello said. "Like this morning, she was off campus, due to a family issue and we had breakfast this morning. She sent me the workout she completed on her own. She's just very a go-getter and takes the initiative. So, it's definitely something that's great about her and it's very evident in all aspects of her life and work in the sport."
Biello says that ethic shows in how she continuously achieves the goals she sets.
"She was saying she works a lot because she was determined to have a Tesla before she's 20 years old," he said. "She's focused on her goals, whatever they may be—sport related or not. And she just achieved that goal the other day and was able to purchase it. We're a program that prioritizes personal, academic, career development, and sport development in unison."
And even though Foster chases the four successes that Biello speaks of, she appreciates track and field's ability to constantly check her expectations.
"Something I like about it is just the fact that it humbles you," Foster said. "You would think that you're the best and another girl comes up and you'll be in second place and that's okay. There's always room for improvement."
Looking ahead, Biello is appeciative: "I'm just really blessed to have such an amazing individual on my team, and she's, you know, one of the key individuals I'm going to be building this program around."
For Foster, keeping her eye on the prize—and her Tesla—is what drives her forward. "Knowing what I want to be and what I want to do requires a lot of effort and time. Just knowing the truth makes me want to go harder."