Clap School celebrates year's end, new beginning in fall
By Gintautas Dumcius
Jun. 30, 2011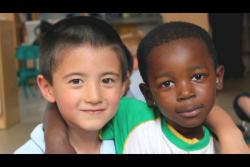 Daschel Koh and Ahzar Barnhill finished K-1 on Tuesday at the Clap Elementary school, which is re-opening as an "innovation school" in the fall.
One hundred and fifteen years after it was built, the Roger Clap Elementary School closed its doors this week and, in a bittersweet victory for parents, is set to reopen in the fall as an "innovation" school.
The Harvest St. school, which serves Dorchester and South Boston, will be revamped, with administrators having more flexibility over the curriculum, the budget, staff and the school calendar.
Superintendent Carol Johnson proposed closing the school last fall, citing low MCAS scores. But parents protested and then worked out a plan to open it as an "innovation" school, with four of the fifteen faculty returning.
On Monday, the second to last day of school, several teachers and dozens of students crowded into the third floor auditorium to remember the 148-student school and watch through a documentary-style yearbook the efforts to save it.
With a soundtrack that featured Queen and Katy Perry, students recalled trips to the JFK Library and the Museum of Science, and the parents who crowded English High School's auditorium to protest the school's closing.
"The families just kept at it," said Kenny Jervis, one of the parents.
"I feel like it really captured the Clap," said Mary Hamilton, the principal at the school for the last seven years. "I think it's an ending and a beginning. I just feel like all our hopes and dreams are moving to the innovation school."
The 18-minute video yearbook was hatched in April by the active School Site Council, "once the dust had settled," and originally conceived as "four pop songs and a slideshow," according to Gene Gorman, who was a member of the team designing the innovation school's curriculum and whose son is finishing K-1 at the Clap.
Gorman, who was once an undergrad focused on cable and print journalism, agreed to head up production of the video yearbook. "My big issue was I hadn't been on an editing deck in 20 years," he said.
So he roped in a student he had taught at Framingham High School, Josh Frackleton, who is currently a student at the Newhouse School of Public Communications at Syracuse University.
The project was filmed over two and a half weeks. "I could tell it was a really good group of kids," Frackleton said after the documentary aired in the Clap's auditorium.
Claire Harris, another parent, also helped out. Sponsors, including local stores, pitched in to help cover the cost of the film, which was dedicated to those who "saved our school."