Dot talent fuels team's winning ways
By
Elizabeth Murray, Special to the Reporter
Jun. 14, 2012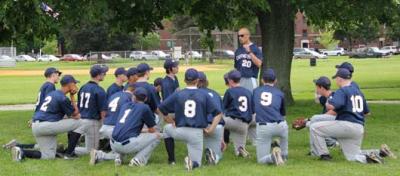 Champs seek to repeat: Boston Collegiate Charter School baseball coach Matt Underhill gives the Hurricanes a pep talk before the Charter School State Championship semi-finals on Monday at Joe Moakley Park. Photo by Elizabeth Murray
Three years ago, Boston Collegiate Charter School (BCCS) put together its first official baseball team.  For two of its three seasons, the Hurricanes have gone undefeated, winning the Charter School State championship last year and going for a repeat title this year.
The Hurricanes started off this year's playoffs with a 21-3 win against Prospect Hill Academy in Cambridge on Monday.  They are set to compete in the championship finals today at 4 p.m. against Foxborough Regional Charter School at Joe Moakley Park. 
Coach Matt Underhill said the unique thing about the team is that 14 of the 18 guys on the squad are from Dorchester and grew up playing baseball together in either the Cedar Grove or Savin Hill youth leagues.  Underhill is a resident of Medford and has been teaching English at the BCCS for six years as well as coaching the baseball team for the three years it has been in existence. Underhill said top-notch coaches who taught his players the fundamentals of baseball at a young age gives the team an advantage over other teams in the league. 
"I'm one of the only coaches in that league with that luxury," Underhill said.
The players from Dorchester include Jimmy Manning, Andrew Sheehan, Matt O'Connor, Gio Pedriali, Vince Lakes, Jake MacKinnon, Eamonn Mannion, Jerry Manning, John Choukas, Ciaran Murphy, Manny Arroyo, Joe Murphy, Dan Manning, and Dillon Emery.
The BCCS includes students from grades five through 12, most of whom reside in Dorchester. The mission of the charter school is to prepare the students for college, and since its founding in 1998, its students have had a 100 percent college acceptance rate. The BCCS also placed first in both Math and the English Language Arts Massachusetts Comprehensive Assessment System (MCAS) test in 2011 as 100 percent of its 10th graders either scored advanced or proficient in each category.
The BCCS has two campuses in Dorchester, with one for grades five and six located at 215 Sydney Street and the other for middle and high school students located at 11 Mayhew Street. The campuses are 10 minutes walking distance from one another so the two campuses can share resources and operate as a strong school community.
The team itself is mostly made up of teens in 9th through 12th grade with one 8th grader in the mix.  Underhill said the juniors make up the biggest number of his team. 
"We got lucky from an athletic standpoint," he said.  "They're all pretty good baseball players."
Underhill and the rest of his team are optimistic about how they will fare in the playoffs.  Senior Dan Manning, 18, from Port Norfolk, said he thinks the team will do well since they won last year and they only lost a few seniors who graduated last year.
"We're a focused team," Manning said. "That's where we get a lot of our stuff from is the focus."
Underhill said the team practices after school, on the weekends, and even on days the rest of the school has off.  He said that the focus of his team is the ultimate goal for him at this level.
"We probably run more than most track teams," Underhill said.  "On a day when we have practice when we don't have school, everyone's on time and just putting in work."
On top of practices, Manning and his team member senior Ciaran Murphy, 17, of St. Brendan's, said they both go for runs regularly to stay in shape.  Murphy said the work ethic is what gives the Hurricanes an edge over the competition. 
"Yesterday we were out at 10 a.m. practicing on a Sunday morning," Murphy said before Monday's game.  "We work hard so we deserve it."