Sandy's coming: Employees told to stay home, off the roads
By
Staff
Oct. 29, 2012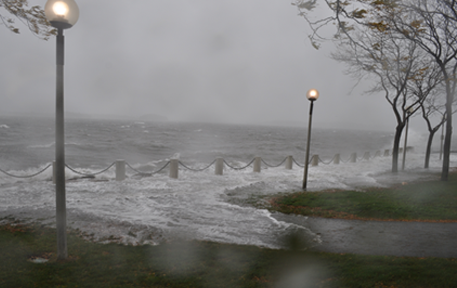 State and city officials are urging the public to hunker down today as a massive hurricane swept up the East Coast, with the potential for wind damage, power outages and coastal flooding locally over the next 24 hours. Boston Public Schools are closed today and all non-essential city and state employees have been told to stay at home.
Morrissey Boulevard is closed in both directions as high tide arrives at 11:30. Waves are crashing onto the boulevard and the Harborwalk around the Columbia Point peninsula— which is not a safe place for pedestrians at the moment.
State Police say that the boulevard will likely stay closed until 2 p.m.
The Boston Fire Department is expecting down power lines throughout the storm, according to a City Hall statement. All down lines should be considered live and extremely dangerous, and should be reported to the Mayor's hotline: (617-635-4500).
"After assessing the most updated report from the National Weather Service, and out of concern for the safety of Boston residents, Boston Public Schools will be closed Monday and only essential personnel will report to City Hall," Mayor Menino said in a statement issued Sunday. "I urge Boston employers to assist the city in keeping residents safe, and allow employees to work from home."
The Boston Centers for Youth & Families' Curtis Hall, Hyde Park, Paris Street and Tobin Community Centers will be open today from 7:30 a.m. to 6 p.m. to provide a safe and secure location for parents to bring their children in light of the BPS closure. Other BCYF centers will open only in the event of an emergency that necessitates it.
Boston residents should register for emergency notifications from Alert Boston at www.cityofboston.gov/alertboston, or follow @notifyboston on Twitter for updates. Residents can also call the Mayor's 24-hour hotline (617-635-4500) with any storm-related issues or concerns.
Tags: