Teens prep for medical careers on Bowdoin Street
By
Sharon Ng, Special to the Reporter
Jun. 13, 2012
Medical Scholars on Bowdoin Street: Dr. Alphonso Brown, top row at center, is pictured with the 11 graduates of his inaugural Medical Scholars Program, ICAN, during a ceremony at the Bowdoin Street Health Center last Saturday, June 9. Photo by Sharon Ng
Few teenagers know for certain what they want to be when they grow up. For the students who graduated from the ICAN Medical Scholars program on Bowdoin Street last Saturday, the answer is getting clearer.
A mentoring course for high school students in grades nine through 12 who want to pursue a career in medicine, ICAN, like its students, just finished its first year. It was founded by Dr. Alphonso Brown, a gastroenterologist at Bowdoin Street Health Center, which is affiliated with the Beth Israel Deaconess Medical Center in Boston.
All 11 scholars—Risibelle Conceicao, Kelly Costa, Leyda Frias, Brandon Gomes, Kayla Harris, Robert Martin, Visaury Moreta, Nikita Moreira, Benjamin O'Sullivan, Keritson Sequeira and Aicha Tavares—graduated in Saturday's ceremony and are automatically enrolled in next year's curriculum.
For three hours every other Saturday, the 11 teens showed up to Bowdoin Street Health Center willing to learn. Dr. Brown has devised a three-year curriculum that focuses on clinical diagnosis, patient interviews, community-based health services research, medical ethics and the Hippocratic Oath. The students also receive help applying to and succeeding in college, SAT prep, lifetime mentoring and career counseling.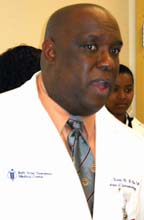 Dr. Alphonso Brown"It is a full anatomy and physiology program," said Dr. Brown, a Newton resident. "It's all community-based learning."
Dr. Brown's own personal life inspired ICAN. With a younger brother who was sick most of his life and parents who did not have a lot of money, he wondered how he could help.
"The result was to try and become a physician," the 44-year-old New York native said. "I didn't want socioeconomic status to be a barrier."
After receiving his Doctor of Medicine degree from Harvard Medical School in 1994, Dr. Brown conceptualized his program with help from two vital people. Operations manager Vera Costa and administrative assistant Shirley Ortiz helped interview and select candidates.
"I had the idea for a long time," he said. "Initially I wanted to help kids do better. I wanted to introduce them to medicine. But it was difficult at first because the kids didn't have an interest."
Dr. Brown then decided that for his initiative, interest in medicine would be important, as well as grades.
"We didn't go looking for good students," he explained. "Grades help with selection, but we don't want to make grades the only criteria. We were looking for kids who showed commitment and motivation and were willing to work hard. A lot of these kids come from disadvantaged, unstable backgrounds, and we wanted to create something for the kids and create an alternative for kids in the neighborhood."
One of Saturday's graduates, Benjamin O'Sullivan, 14, said he learned a lot.
"It's really good and interesting," said O'Sullivan, a Neponset resident. "It teaches you a lot about life skills that you can apply to anything."
O'Sullivan met Dr. Brown last year when he was in eighth grade. His godfather had died the year before of stomach cancer after being diagnosed in Stage IV. He was looking for further explanation.
"Benjamin has always been good with science," said his mother Mary O'Sullivan, who also works at Bowdoin Street Health Center as a nurse. "In the fifth grade, he learned about the process of digestion, and it excited him. He loved it."
After she introduced him to Dr. Brown, O'Sullivan said the two formed an instant bond.
"Benjamin wants to be a stomach doctor, and Dr. Brown invited him to see and interview patients," the 49-year-old mother of four said. "Benjamin even wanted to see a colonoscopy!"
O'Sullivan said all the kids are special.
"These are good kids who show up week after week because they want to," she said. "It's really something. These kids are amazing."
There is huge demand to enroll in the ICAN program, according to Dr. Brown, but he wants to keep the class size to 11 students.
 "We once had 30 students in a class, but the kids drifted off and took other kids with them," the instructor said. "A smaller class helps kids focus and allows for individual attention."
Dr. Brown is impressed with all his students, who all have plans to go to medical school.
"It's fun to watch how these kids have grown," he said. "It's a life-changing experience. We work with these kids from high school until they graduate from medical school. They probably teach me more than I teach them."
Tags: