Thousands attend vigil for Richard family, marathon bomb victims at Garvey Park
By
Paige Buckley, Special to the Reporter
Apr. 16, 2013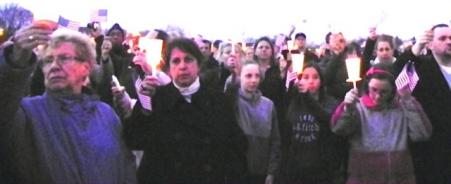 A view of the throng who came out to Garvey On tuesday evening, April 16, in a spontaneous show of support for the community's victims of the Boston Marathon terror attacks. Photo by Paige Buckley
Thousands of grieving neighbors gathered Tuesday evening at Neponset's Garvey Park — where 8-year-old Martin Richard once played with friends —to mourn his death and his family's injuries in Monday's horrific bomb attack along the Boston Marathon route in Copley Square. Attendees held candles and American flags to show support for the Dorchester family and other victims.
Denise Richards, Martin's mother, suffered a head injury during the blast, and his younger sister Jane, 7, lost her leg. In a statement issued earlier today, Bill Richard — Martin's dad— asked for privacy at this time.
The candles and American flags went quickly, faster than organizers could supply them. As the sun set on Tuesday, thousands descended on Garvey Park, holding little cups to protect the candles in the wind or simply raising American flags above their heads.
Garvey Park was where Martin Richard, the 8-year-old avid athlete who loved flag football, would often play with friends and classmates.
Twenty-eight hours after the attacks, one of his friends and teammates, Brendan Pinto, stood on the field and hugged his mother, Tracy Jensen. His green sweatshirt said "Greater Neponset Flag Football League" on the front, and on the back, Pinto had altered it, adding his teammate's name.
Pinto was quiet and his eyes had red rings. "He's trying to hold it in," Jensen said.
Catherine White, a 90 year old resident of Savin Hill, sat on a hill in the park with a wool coat and a lawn chair. A relative of the Richard family, she lost a niece in the September 11 attacks over a decade ago.
"I'm in a state of shock," White said, adding, "I've seen a lot, honey."
Pastor Dwayne Frazier, a North Reading resident whose church is located in West Roxbury, hung around as the crowd thinned out later in the evening. He doesn't know the family, he said, but just one of the many people who are "coming together."
"You overcome evil with good," he said.
Rosie Hawker, a Quincy resident who grew up in St. Peter's Parish, attended the vigil with her sister Liz. "It's devastating all around," Rosie said. "When you realize he's from your town, it hits worse."
Each of the vigil attendees had his or her own reason for attending, but all expressed shock and sadness for yesterday's events. The laughter of children too young to understand was mixed with tears. Several friends of the Richard family attended the vigil, including some neighbors, but were too upset to comment.
"My grandson plays sports with little Martin," said Maria Deltufo, 47, a lifetime Dorchester resident. "It's just heart wrenching you know? The whole community, it's really touching home for everybody. It's hard to fathom that it happened in the first place, but when it's somebody in your neighborhood, and your hometown. And such a little boy that is so full of life and so happy. And the whole family is now destroyed senselessly," she said.
"Nobody knows what to do, but this is the only thing we can think of to do, to come together and be with each other and just show how strong a community we really are because Dorchester really is a strong support system," Deltufo said. "There's nothing any of us wouldn't do for that family right now."
Carol Moruzzi, 40, of Dorchester, who once ran the marathon, said she watches the race from the bleachers in Copley Square almost every year. This year she chose to spend time with her ailing mother instead.
"Having this so close to home. This is so unreal. You see this on television. It's something in Israel or in London. It's something that does not affect us. When you watch television you just don't see Boston, you just don't see Copley Square. You see these families; you see the pain of these people. And it has to stop," she said.
Moruzzi attended the vigil with Paul Caulfield, 40, of Stoneham, a coworker at the Local 537 Pipefitters Union. Caulfield said he attended the vigil to show the union's support for the community and for the Richard family in particular.
"My children were always at the races. They could have been there," said Ann Hayward of Neponset Avenue. "We got a call from one of my grandsons who is in China, just yesterday, and he says he's just heartbroken because of the four great festivities that Boston runs, he says this is the thing I miss most about Boston. This race day is something that all young people love to be involved in."
Many expressed pride in being part of the Dorchester community, a community they said is strong, resilient, and that will persevere.
"I mean look around, they were supposed to do this up the street at the church, St. Ann's, and look at how many people turned out here, so it's strength in numbers," said Mark Doherty, 39, of Dorchester.
"I brought my kids here today to show them what a group of people can do when they put their minds to something," said John Muldowney, 42, of Dorchester.
Overwhelmingly though, attendees expressed deep sadness at the loss of one of their own, in their city.
"I'm sad. I'm sad for anyone who loses a child. I'm sad for the child. Although in my faith the child is in heaven. I'm thinking about Martin and I'm thinking of all the children around the world who've died and I pray for all of them. And I'm also praying for the people who caused, who are perpetrators of the violence because they need prayers too," said Beth Parkhurst, 62, of Dorchester.
"I'm here because I'm sad and I want to be there for the family. I love Boston. I love Boston's people. I love Boston because of the people. I love that neighborhood spirit and I'm here because of it."
At the vigil's conclusion, a man near the middle of the crowd began singing "God Bless America" and hundreds of voices joined in.
Rev. John Connolly of St. Brendan Parish in Dorchester presided over the vigil, offering prayers for Martin Richard, his family, and all those affected by the tragedy. The Boston Public Health Department made counseling services available to vigil attendees, and urged those affected to seek help at the many crisis centers throughout the city.
Reporter News Editor Gintautas Dumcius contributed to this report. An earlier version of this story was updated with his reports.
Tags: