Ureneck: Aiming to reduce government's role
By
Mike Deehan, Special to the Reporter
Apr. 11, 2013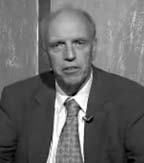 Joseph Ureneck describes himself as a political activist first and a candidate second. The only Republican in the race to succeed Sen. Jack Hart in the state Senate, Ureneck wants to use his candidacy as a vehicle to promote his political views across the district.
A Chinese language translator and interpreter by trade, Ureneck has been active in the community for more than over 40 years. He lives in Fields Corner and has been involved with local civic groups like the Fields Corner Civic Association, Dorchester Food Co-op, and the Fields Corner Community Development Corporation.
Ureneck, 61, said he became a Republican in 2007 because of the libertarian beliefs of Ron Paul, the former Congressman and presidential candidate. Though he believes that there are many functions that state government can and should provide for citizens, he said he does not consider it the role of a senator to increase the role of government in people's lives.
"I think that the idea that the state senator or the state representative is actually going to do a lot for the district is perhaps a mistaken idea," Ureneck said. "There is so much government intrusion," he said "that we really need to reduce that rather than increase it."
Ureneck has run for office once before, in 2010, as a Republican looking for a seat on the Governor's Council representing the southeastern portion of Massachusetts. He was defeated in that race by former Councilor Charles Cipollini of Fall River.
He is the chairman of the Fatherhood Coalition, a group of judicial activists that advocates for the role of fathers and families in the lives of children. The group opposes the 209A restraining order law that they say removes men from families, creating situations that contribute to crime and other societal problems.
Ureneck has called Dorchester home for nearly his entire life, with a decade-long stint living in China the only interruption to his residence here. "This is the district I grew up in, so it's more natural for me to be a candidate here," Ureneck said Monday in an interview with the Reporter.
He left the United States at the end of the 1980s and lived in Beijing for ten years. When he returned near the turn of the century, he noticed many changes to his home country, including an increased diversity in the culture.
"I understand the problems that ordinary people are facing on a daily basis and will take concrete steps in the legislature to correct them," he said in answering the Reporter's questionnaire earlier this month. "I will not hesitate to criticize government institutions that need reform."