Ballet will be all the rage at Strand Theatre this week
By Chris Harding
Feb. 7, 2013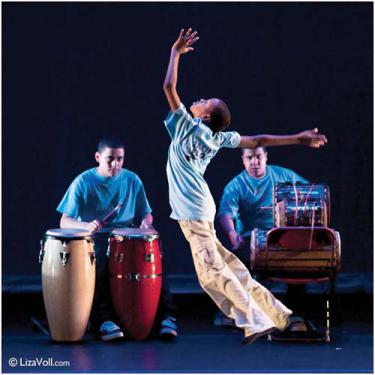 Boston Ballet's Boys in Motion program from the Frederick Middle School will perform an original work by Yo-el Cassell at the Strand Theatre next Friday. Photo by Liza Voll Photography
"Balletomanes": That's a fancy new vocabulary word that Dorchester Public School students are going to have to learn to describe themselves. It means "ballet fans."
Their expertise in this art form continues to grow each year thanks to the Boston Ballet (BB), which will be presenting its fourth annual sampler/showcase on Friday, Feb. 15. Busloads of school kids will pack the Strand Theatre for a free 11 am school performance, and troops of neighborhood groups will do the same for the free 7p.m. evening show, both highlighted by Dot's own Boys in Motion students from the Lilla G. Frederick Pilot Middle School.
This fast-paced educational hour, now a cherished late winter tradition in the city, uses 5-minute excerpts to introduce a variety of dance genres including classical ballet, neoclassical ballet, and contemporary dance.
"Boston Ballet is thrilled to continue our relationship with the greater Dorchester community," said Boston Ballet Artistic Director Mikko Nissinen. "We are fully invested in this program, as well as the access it provides to the art form of dance."
For the Friday morning program, all the Strand's 1400 seats are expected to be filled with BPS students, including K-8 groups from the Maurice J. Tobin and Higginson-Lewis schools. Of course, The Frederick Middle School will again turn out in full force to support fellow students who will be performing.
BB's Boys in Motion will perform an original work by Yo-el Cassell, BB School faculty member and program instructor. This extended learning time option is part of BB's Education and Community Initiatives' Taking Steps, a creative dance troupe designed exclusively for middle school boys. The program, founded in 2010, has enriched the lives of 37 Frederick students.
"These students have done something so remarkable with this program," commented Zakiya Thomas, Director of Education and Community Initiatives, who will co-host both performances. "Their passion for dance shines when they're on stage. These performances are not only important for them, but for their neighborhood and the community at large."
To increase the youth-friendliness of the show, young dancers will speak candidly directly to the audience about their experiences. This year's theme is gender roles. Performers will explain how different types of choreography require different strengths and abilities. The discussion will aim to inspire self-confidence in the students as they explore new ventures in life.
The varied 2013 program features BB Resident Choreographer Jorma Elo's dynamic Plan to B performed by the Company, along with the expressive Lost by Last which features dancers from Boston Ballet II. The Company will also do an excerpt from Christopher Bruce's spirited Rooster, set to music by the Rolling Stones, legendary choreographer Marius Petipa's "Blue Bird" pas de deux from his classic, The Sleeping Beauty, and Niris, an original work by BB principal dancer Yury Yanowsky.
For the daytime performance, community groups and schools can still reserve tickets online. But the evening show has already generated such "overwhelming community response" (according to the BB Press office) that all 1,400 seats have been reserved a long time ago and there's a current wait list of over 588 other balletomanes.