Dahill: 'Every day I'm putting myself out there'
By Gintautas Dumcius
Apr. 11, 2013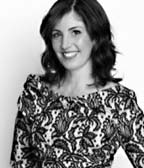 Maureen Dahill got a taste of the state Senate at an early age: When she was in college, she was a page for a few years during Senate President William Bulger's reign. "I loved it," she said, recalling her job running errands and getting coffee for senators. "I loved being in session. The bills stacked up on the tables."
Now she's taking a leap into politics as one of two South Boston candidates running for an open Senate seat.
The 43-year-old Southie native has several other connections to public service: Her father worked for the Senate clerk before ending up at the State Police. Her husband, Peter Gailunas, is a firefighter and her campaign's "head sign-hanger." Her brother is a police officer and her sister is a teacher at the Murphy School in Dorchester.
She has taken a leave of absence from her job at Rue La La, an online retailer, though she still works on the online site that she founded, "Caught in Southie."
All of which has led to a lot of full days, as she juggles the website, the campaign, and the needs of three children. Yesterday, she woke up at 5:30 a.m. to check her e-mail, to have the kids dropped off at school by 8 a.m., and to meet with a friend, Anna White, who has been advising her on the campaign, to plan a schedule packed with meeting volunteers, stand-outs at train stations, and fundraising phone calls.
For the rest of the day, after breakfast with a reporter, she made plans to pick up her kids from school at 2:30 p.m., help them with their homework, and then head off to do some door-knocking in Andrew Square before hitting the area's civic association meeting in the evening.
"I'm not a professional politician," Dahill said over breakfast at Mul's Diner on West Broadway. The campaign is "literally building the plane as we're flying it," she said, noting she does not have a field director of a campaign director. Jim Spencer, a consultant, is helping with strategy, she said. "Other than that, it's all volunteers."
She doesn't expect big-name endorsements, which have, in any event, largely flocked to the two elected officials in the race.
"You really push yourself to the limits," she said, when asked about campaigning.
Dahill, a "people person" who drew both praise and grumbling from some quarters earlier this year for calling for the inclusion of gay and lesbian groups in the traditional St. Patrick's Day Parade, said she's by nature a problem solver and a collaborator. "Being innovative and thinking outside the box should be a huge part of being a politician," she said.
She said she remains cheery on the campaign trail, plunging into the work with gusto. "Every day I'm putting myself out there."