New owners for longtime Mattapan Square supermarket
By
Bill Forry, Editor
Aug. 15, 2013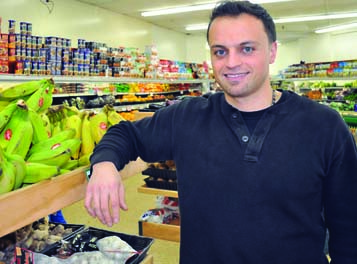 A longtime Mattapan Square supermarket is now under new ownership and management. The former Farmers Warehouse Market on Cummins Highway has been purchased by America's Food Basket, a chain with locations in both Boston and New York. The company took control of the market in June and has been making incremental changes to the store's interior— with plans to update the exterior in the coming months.
Edwin Polanco, one of the owners of the chain, which also owns stores in Fields Corner, Bowdoin Street, Hyde Park and Codman Square, said that the store's location and customer base made it an attractive acquisition.
"They pretty much had the same type of customer that we serve," said Polanco. "We believe it's a good location. We're there to bring a quality of products, fresh, and good prices, because the neighborhood deserves a nice and clean store."
The store had been owned and managed for years by Alfred (Chip) Marsolini, who died suddenly last March. Polanco said that the company purchased the store from Marsolini's sister for an undisclosed price. A new manager, Austin Morda , has been brought in from New York to manage the Mattapan store. He said that in the weeks following Marsolini's death, conditions at the market deteriorated.
"It took a dramatic drop in quality after his death and his family couldn't run it," said Morda. "We've focused a lot on changing the produce and meat departments."
Next up, Polanco says, will be a re-branding of the store— starting with the signage outside.
"We are still waiting for some estimate of what it will cost to fix the outside to let people know that we are there now. They need to see a different name," said Polanco. "We expect [to keep] some of the same customers but also have different customers. We know a lot of people didn't go there because of the poor quality, so we want those kind of customers to go back and see it is a lot cleaner."