DOT DAY '14: COMPLETE GUIDE TO SUNDAY'S PARADE • JUNE 1 • 1 P.M.
By Staff
May. 29, 2014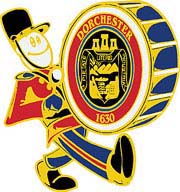 Parade Guy: 2014 Parade starts at 1 p.m. on Sunday, June 1The Official Dorchester Day Parade Roster
This roster is printed as an informational guide only. The parade line up is subject to change by the committee at any time.
ADVANCE UNIT
Boston Fire Department
Boston Emergency Medical Services
Brewster Ambulance
McCall Ambulance
Eascare Ambulance
(5 Groups)
CHIEF MARSHAL'S DIVISION
Boston Mayor Marty Walsh and Family
Boston Police Gaelic Column
2014 Mayor of Dorchester - Erin Murphy
Massachusetts State Police Honor Guard and Mounted Unit
Boston Veterans' Services Commissioner - Francisco Urena
2014 Dorchester Day Parade Chief Marshal Brendan Murphy
MBTA Transit Police Honor Guard
First Responder Vehicles
Team MR8 (Richard Family)
Chelsea Soldiers Home Honor Guard
English High Army - JROTC & Marching Band
Community Academy of Science and Health – JROTC
Charlestown High School Air Force – JROTC
Brighton High – JROTC
5th Mass Battery
Cub Scout Pack 11 - Mather School
National Lancers
2014 Little Miss Dorchester - Eleanor Moye-Gibbons
2014 Young Miss Dorchester - Gina Cruz
2014 Essay Competition Winners - Aedan Harasymiw & Lilian Nguyen
2014 Artist Competition Winners - Kayla Nguyen & Huynh - mai Son
Second Line Social Aid Brass Band
Vietnamese American Community of MA
Spartans Drum And Bugle (Sponsored by Susi Auto Body)
Red Sox World Series Trophy
Exqusite International Ms. Classic Massachusetts - Sondra Hardy
2014 Petite Miss Massachusetts - India Cobb
2014 Petite Miss New England - Bonnie Gagnon
Worcester Sound & Lights Band Organ
(27 Groups)
1ST DIVISION
Candidate for Governor - State Treasurer Steve Grossman
Colonial Pipers Bagpipe Band
Boston Party Adventures
Greene O' Leary School of Irish Dance (Sponsored by H. Levanbaum Ins.)
Dunkin' Donuts - Big Fish Productions
Dorchester Arts Collaborative
MSPCA
Suffolk County Sheriff - Steven Tompkins
Family Steel Band
Painters and Allied Trades District Council 35
Trinidad & Tobago Social Club
St. Mark's Area Main Streets
State Senator - Linda Dorcena Forry
Estrellas Tropicales
Mather Elementary School
WORK Inc.
Big Sister Association of of Greater Boston
State Representative Dan Cullinane
Kenny School Marching Band
Patsy's Clowns
All Dorchester Sports League
State Representative Dan Hunt
DJ3Way Entertainment
DotOut
Vietnamese American Initiative for Development (Viet Aid)
St. Brendan Color Guard
State Representative Evandro Carvalho
Boston School of Music Arts
The Network / La Red
Mt. Washington Bank
Tony Barrie Marching Band
(31 Groups)
2ND DIVISION
City Councilor - Frank Baker
Roma Band
Carney Hospital
Fields Corner Main Street
Century 21 - Cahill Associates
Dynasty Productions, Inc.
Dorchester YMCA
The Modern Dog
Eastern Bank
City Councilor at Large - Michael Flaherty
Westbrook Fife and Drum Corps
Dorchester Park Association
Bay Cove Human Services
Kit Clark Senior Services
A Cluster of Clowns
Roberto Clemente 21 Dancers
Pilgrim Church
1199 SEIU
Firehouse Dixie
Dorchester People for Peace
Uphams Corner Health Center
Nigerian American Community Organization
Veterans for Peace
Worcester Brass Band
Standish Villiage Assisted Living
Dorchester Community Food Coop
(26 Groups)
3RD DIVISION
Candidate for Governor - Charlie Baker
New Liberty Jazz Band
Massachusetts Nurses Association Region 5
Candidate for Governor - Jeff McCormick
South End Show Stopperz
First Parish Church Dorchester
Candidate for Governor - Evan Falchuk
Boston Windjammers
Codman Square Health Center
Dorchester Recycling Coalition
Candidate for Suffolk County Sheriff - Douglas Bennett
Uncle Sam Jazz Band
Dunkin' Donuts
Candidate for Lt. Governor - Steve Kerrigan
The Next Birthday Project
105.7 WROR
Candidate for Registrar of Probate - David Keenan
Providence Brass Band
Harvard Street Neighborhood Health Center
Candidate for Lt. Governor - Mike Lake
Christ the Rock Church
MacLellan Law Firm
Candidate for State Representative - Corey Allen
The Cycling Murray's
Dorchester Youth Hockey
Avenue Auto Wholesalers
Candidate for Atty. General - Maura Healey
First Panamanian Marching Band
(28 Groups)
TOTAL 117 Groups