Dot runners form nucleus of Richard Foundation's Marathon Team
By Bill Forry
Jan. 29, 2014
100-plus squad will raise funds, honor Martin Richard
Harry BenzanA tight-knit group of neighbors and family friends will form the nucleus of the inaugural Team MR8, a squad of 100-plus runners who will run in April's Boston Marathon in memory of Martin Richard, the eight-year-old Dorchester boy who lost his life in last year's terror bombing attack.
Each member of the team will raise thousands of dollars for the newly formed Martin W. Richard Charitable Foundation, whose mission is "to honor Martin's message of 'No more hurting people – peace' by investing in education, athletics, and community."
Among those hand-picked by the Richard family and their foundation are close friends and neighbors, including Lisa Hourihan Jackson, Jose Calderon, Mike McCarthy, and Harry Benzan, who coached both Martin and his younger sister Jane, who lost a limb in the attack.
"When this awful thing happened, Bill and Denise [Richard] said that they really wanted some privacy. And we honored what they wanted," explained Benzan. "So now this opportunity came and this is what they've asked for. It's a wonderful way to show that we're there for them."
The other Dorchester and OFD runners named to the squad this week include Colin Butler, Bob Cleary Dave Gilmartin, Michelle Griffin, John Hanlon, Michelle Hobin, Edmund Kelly, Katy Kelly, James Keefe, Suzanne (Morrison) McDevitt, Rachel Moo, Patrick Ryan, and Steve Wilkins.
The full team, which is expected to be finalized and announced this week, will include as many as 108 runners, among them a mix of charity runners, who will receive bibs through the foundation. The team will also include qualified runners who already have a bib through the Boston Athletic Association (BAA).
In a statement announcing plans for the team earlier this month, Bill and Denise Richard explained, "This foundation will be a legacy for Martin, allowing us to 'pay it forward' and make a difference in ways that would make him proud but also be a source of healing and purpose for us."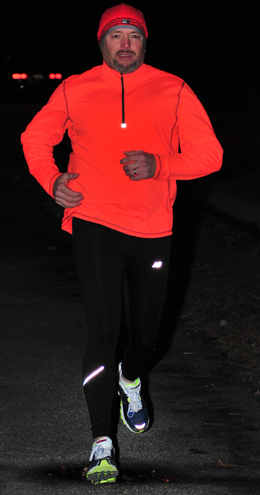 Mike McCartthy: Neighbor, friend of the Richard family will run his first marathon. Photo courtesy McCarthy familyThis will be the first marathon for Mike McCarthy, a 47-year-old father of four who lives on Westmoreland Street. His children became friendly with Martin Richard and his parents and siblings through local sports leagues – and they often socialize in the close-knit Ashmont-Adams neighborhood. McCarthy, a carpenter by trade, has been running for several years, but mostly in 5k races. He has been training hard in recent months to prepare for the chance of being on the Richard team.
"I almost jumped through the ceiling," said McCarthy of getting the news that he was named to the team. "I was so excited. It hit home with the bombings. That was one of the worst days of my life when I got the phone call [last April.] I couldn't believe it. I took a week off of work because it shook me up so bad. The Richards are just absolutely incredible people. Obviously every day is a struggle, but they're good people. And we've done a lot of road races together as families."
Lisa Jackson, 47, is another close friend of the family. She last ran a marathon 17 years ago when she participated in Boston's 100th event. She and her husband Tom are avid runners – and Lisa plays in a women's soccer league every weekend. She's putting her passion for soccer aside for the next few months to put all of her focus into training for the Patriot's Day event.
Lisa Hourihan Jackson: Shown, left, with her sister-in-law Jill Jackson.Lisa and Tom have four children: Annie, 11, Joe 10, Cecilia, 9, and Patrick 7. The Jacksons spent much of last year's Patriot's Day weekend with the Richard family – playing pick-up baseball at Hemenway Park, hanging out at their house, and running in the BAA's relay race for kids on the Saturday before the marathon.
"I think about [Martin] all the time when I go running," Lisa said. "I just want the kids to know you can go on. I just can't believe how strong they are: Bill and Denise and Henry and Jane. If I can do this one little race for them and raise some money to keep Martin's memory alive and his mission – "No more hurting people –" peace"– it's one small thing that I can do."
Jose Calderon, a 41-year-old engineer, met the Richard family while coaching their children – and his own three sons – at the soccer fields of Pope John Paul II Park. He has run four marathons, including Boston back in 2000.
"It's a privilege to be able to do something so minimal to help out the foundation and to help the family move on and keep Martin's memory alive," he said. "I run religiously and so this was something I couldn't pass up: merging my love for running with a great community-based cause."
McCarthy has been training every day after work— running a tough, hilly and chilly course from Dorchester to the Blue Hills and back in the dark.
Team MR8He and his wife Sheila also have four children: Michael, 14, Matthew, 11, Caroline, 8 and Clare, 3.
"The kids all met through St. Ann's and so did the parents with pick-ups. Michael and Matthew hung out with Henry and Martin and Caroline hung out with Jane. We've always had a little bond through hanging out at the beach at Nantasket and running track at Moakley Park. The kids all became good friends," McCarthy explained.
"As a team member we're supposed to raise approximately $7,500 [each]. When I found out. I still can't believe it now. I'm pretty determined and set my mind to things. After what happened last year it inspired me. I just wanted to do it more. It motivated me even more to run the marathon."
Jose Calderon: Shown, right, running a 5k with his son Tomas and father-in-law Jim Austin.Mike and Sheila are planning an Irish-themed fundraiser event to help him raise the requisite donation for the MR8 team. The party will be held at Florian Hall on Thurs., Feb. 27. The event will include a 50-50 raffle, a silent auction, step-dancing performances, and "tons of Irish music," according to McCarthy.
"We've had a tremendous outpouring, and some of my friends said they wanted to pull this time together. We want to honor Martin's memory and give the community itself a chance to coming together. That's what Dorchester is all about," McCarthy said.
Anyone who wants to donate to any of the runners can visit www.TeamMR8.org and click "Donate" to support a runner on Team MR8.