Fifth Suffolk voters choose Carvalho
By Gintautas Dumcius
Apr. 2, 2014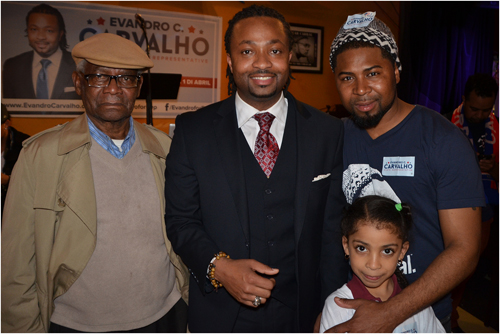 Winning candidate: Evandro Carvalho is pictured with his grandfather, Cecilio Correia (left), Edson Soares-DaRosa (right) and Destiny Pires. at Restaurante Cesaria. Photo by Chris Lovett
Attorney Evandro C. Carvalho on Tuesday won a low-turnout Democratic primary in the race to replace former state Rep. Carlos Henriquez. Carvalho, 32, of Fields Corner, moves onto the ballot in the April 29 general election. Since no candidates from the GOP emerged to run in the primary, there will be no Republicans on the ballot to contest Carvalho.
According to unofficial numbers posted on the city elections department's website, Carvalho won with 49 percent of the vote, or 960 votes, topping Karen Charles Peterson, chief of staff in the state Department of Telecommunications, who came in second with 26.62 percent, or 521 votes. Trailing the top two were Barry Lawton with 9.71 percent, or 190 votes, community activist Jennifer Johnson with 151 votes, and Roy Owens with 89.
The district includes parts of Dorchester and Roxbury. Its Dorchester neighborhoods include Uphams Corner, Bowdoin Geneva, and Fields Corner.
Carvalho, who once worked in the Suffolk County district attorney's office, was born in Cape Verde and came to Boston at age 15. He graduated from Madison Park High, UMass Amherst, and Howard University School of Law. His roots played a strong role in his win. A news team from Cape Verde was at his victory party inside Bowdoin Geneva's Restaurante Cesaria, and streamed video from the celebration.
In a phone interview after his victory, Carvalho said he was grappling with the result. "It's still sinking in," he said. "I feel blessed. I'm exhausted. I'm still in work mode."
Carvalho will be filling out the rest of Henriquez's term and will have to run for reelection this fall if he wants to keep the seat. House lawmakers voted to oust the Dorchester Democrat after he was convicted of assault and battery charges earlier this year.
Carvalho said he visited Henriquez, who is serving a six-month sentence at the Middlesex House of Correction in Billerica, just before he pulled nomination papers for the seat in February. It was the first time they had met in person. Carvalho said he went to tell Henriquez about his candidacy "out of respect" for the former lawmaker.
"I'm hoping the fine candidates who ran, we can sit down and talk about how we can move forward and improve the community," Carvalho said. "My whole effort was about community effort."
The race carried echoes of last year's mayoral race: Many of Carvalho's supporters had worked on former School Committee member John Barros's campaign and several backers of Charlotte Golar Richie's bid for mayor threw their support to Charles Peterson. Barros, currently working as Mayor Marty Walsh's economic development chief, was the first person of Cape Verdean descent to serve on the School Committee.
Carvalho outraised and outspent the candidates in the weeks leading up to the election. According to filings with the state Office of Campaign and Political Finance, he raised $14,415 and spent nearly $7,000, while Charles Peterson picked up $8,696 and spent $5,357.
The runner-up told the Reporter on Wednesday morning that she will decide in the next couple of weeks about running for the seat again in September. "I think we ran a really good and tight ship," said Charles Peterson. "We were able to pull a lot of voters out but not enough voters." She pointed to the Cape Verdean community turning out for Carvalho. "They came out and they did a good job of pulling out Cape Verdean voters," she said. "But for me it's not just one group, it's not about one cultural group. It's about all of the residents, all of the cultures. Unlike my opponent, I didn't focus on one cultural group. I focused on the entire community."
Stephanie Soriano-Mills, Henriquez's attorney, said on Wednesday that Henriquez could also run for the seat again in September. He may be paroled later this month.
The race to replace Henriquez was one of three special elections in Boston on Tuesday, and one of two in Dorchester. Former State House aide Dan Hunt, the Democratic nominee in the 13th Suffolk House race, easily won the general election to succeed Marty Walsh in the House representing a district that includes the communities along Dorchester's eastern edge, from Savin Hill down to Neponset Circle, and a precinct in North Quincy.
Walsh, who publicly stayed out of both the 13th and 5th Suffolk races during the primaries, recorded a robo-call for Hunt that hit voters' phones on Tuesday. US Sen. Elizabeth Warren, a Cambridge Democrat, also made a call for Hunt.
The third special election was held in Charlestown and Chelsea where Dan Ryan, a longtime aide to Congressman Michael Capuano, won the seat vacated by Eugene O'Flaherty, a Chelsea Democrat, who has joined the Walsh administration as corporation counsel.