Forry, Tompkins urge voters to give Grossman 'hard look'
By Lauren Dezenski
Aug. 13, 2014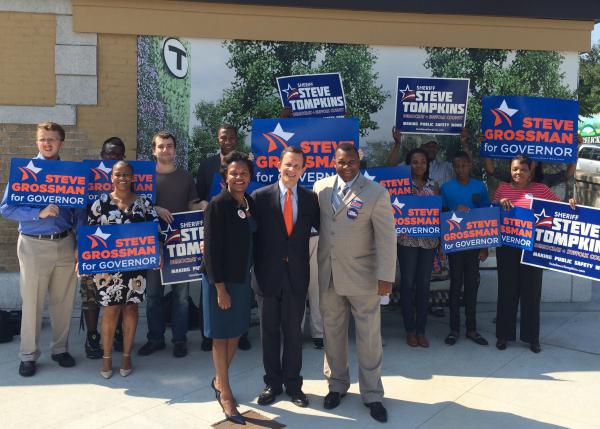 Steve Grossman hopes key endorsements from State Senator Linda Dorcena Forry and Suffolk County Sheriff Steven Tompkins will activate their "army of activists" for the Treasurer currently trailing in the governor's race polls.
"We can motivate an army of activists as we did at the convention when I earned the endorsement of the Massachusetts Democratic party," Grossman told the Reporter on Monday morning outside Mattapan Station, where the senator and sheriff delivered their formal endorsements. "And that's what this is all about. Getting your army of activists motivated."
Even though Grossman can't seem to knock Democratic front runner Attorney General Martha Coakley from her top spot in the polls, "this is still the first quarter and we have a long way to go" before the primary, said Dorcena Forry, the wife of Reporter editor and publisher Bill Forry.
"People are just tuning in to what's taking place," said Forry. "We have the opportunity as the sheriff of Suffolk County and the senator of the 1st Suffolk District to let our folks know we know Steve. And if you didn't know Steve, we want you to take a hard look at Steve."
Tompkins agreed. "It's my birthday and I'm out here for Steve." Before Tompkins could finish his thought, Grossman and Dorcena Forry led the group of 15 supporters gathered singing "Happy Birthday" to the now 57-year-old. "That's not why I said it!" he said.
"I believe over the next 29 days people will begin to tune in and turnout. And the fact is, it's about turnout," Grossman said. "It's about getting your voters out and there's not more two more passionate groups of people in this community than the people who support the sheriff and who support the senator."
Those groups will also have to turn out for the two candidates, both of whom are running for their current seats. Tompkins has a three-way Democratic primary against Douglas Bennett and Jeremiah F. Goodwin in September. There is no Republican candidate. Dorcena Forry faces unenrolled challenger Robert E. Powers, Jr. in November.
•••
Grossman also hoped a second TV ad debuting this week will help move the needle in his favor.
The first of the gubernatorial candidates to air a TV spot last month, Grossman released another on Sunday focusing on universal pre-kindergarten.
"It's basically a way to look people in the eye and say, 'Universal pre-K. Don't leave children behind. It's part of the economic plan,' " Grossman told the State House News Service on Monday during a campaign stop.
Asked about new television advertisements and whether they would focus on contrasts with Coakley, Grossman said "Stay tuned."
Coakley's campaign rolled out its first TV ad on Tuesday, set to play through the end of the month, touting her economic plan and taking a shot at her opponents, including the political insiders and the old boys club.
•••
If the ads on TV weren't enough, even more candidates are papering the neighborhood with campaign materials. "Re-elect Althea Garrison" signs have popped up in shop windows around Fields Corner. Garrison, a perennial candidate who previously held the 5th Suffolk seat from 1993 to 1995 as a Republican, is challenging fellow Democrat and incumbent State Rep. Evandro Carvalho for the 5th Suffolk seat in September. The primary winner faces Republican Claudette Joseph in the November general.
Meanwhile, in Lower Mills, Carlotta Williams appears to be ready to chat it up with the voters in the 12th Suffolk, circulating fliers saying she is "energized to move forward and win" the primary, and she hopes "to talk to many more of you before September to learn about your concerns and how I can help." Williams, a Democrat, hopes to unseat State Rep. Dan Cullinane in a four-way primary for the 12th Suffolk Seat that includes Corey J. Allen and Ruthella Legan-Cruz. The flier didn't mention any of her three opponents, instead focusing on her "community first" leadership that includes "common concerns" about for economic development in Mattapan, public education, summer jobs for youths, and affordable housing.
•••
Though there wasn't much reason to assume another outcome, Gov. Deval Patrick on Wednesday officially signed legislation granting Boston its own independent liquor licensing board for the first time in a century and 75 new liquor licenses. Mayor Marty Walsh will be tasked with naming a three-person licensing board to oversee the city's liquor licenses. Businesses can begin applying for the 25 new licenses available this year on Sept. 1. Of the 25 licenses available each year, 20 will be specifically constrained to areas lacking licenses, including Dorchester, Mattapan, and Roxbury. Should the city seek more licenses, or to remove the cap on licenses, lawmakers would have to go back through the State House.
The liquor license legislation is an amendment in the expansive economic development bill. Patrick has also signed into law House Speaker Robert DeLeo's anti-gun violence bill and the environmental bond bill.
•••
During an afternoon spent touring Vietnamese businesses in Fields Corner with Viet-AID Executive Director Nam Pham, GOP Chairwoman Kirsten Hughes said the party is looking to specifically cultivate Vietnamese candidates.
"The fact that we don't have a Vietnamese candidate is something that I'm interested in changing," Hughes told the Reporter on Tuesday. The Quincy city councilor is currently touring the state, shoring up support for GOP candidates and
"It's important that we get candidates that reflect the local makeup in order to win," said Hughes. "In order to do that you have to get local people to run, and in this neighborhood, that means Vietnamese candidates."
Information from the State House News Service contributed to this report.