By Reporter Staff
May 25, 2017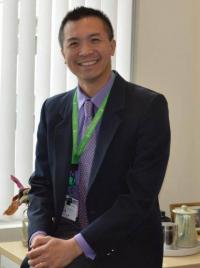 Dr. Huy Nguyen has been named the Chief Medical Officer for DotHouse Health. Dr. Nguyen, who began his new position on April 3, has been a part of the DotHouse Health team for over 13 years as a primary care pediatrician.
"Dr. Nguyen's longstanding commitment to the health center, investment in the health of our Dorchester community and desire to lead will help DotHouse as we continue to navigate the changing health care environment and meet patients' needs," said Michelle Nadow, President & CEO of DotHouse Health.
In his new role, Dr. Nguyen will continue to provide pediatric primary care two sessions a week. The CMO also serves as the health center's medical liaison to external partners and works collaboratively with community-based organizations, affiliated hospitals and professional schools, among others.
Dr. Nguyen has managed the Adolescent Clinic, provided clinical instruction to pediatric residents and medical students and developed and presented a health center-wide training to increase culturally sensitive care for Vietnamese-American patients. At DotHouse, Dr. Nguyen also has promoted early childhood literacy and school readiness as the site's medical liaison for the Reach Out and Read and Thrive-in-Five programs.
Dr. Nguyen has also served as the Medical Director to the Boston Public Health Commission (BPHC) and was interim executive director at the agency.
"The vibrant and dedicated staff at DotHouse Health really listen to patients in supporting their journey to health and wellness. In my new role, I'm excited to work to continue to keep patients at the center of our mission as we face the challenges of healthcare transformation," said Dr. Nguyen, who is a graduate of both Harvard College and Harvard Medical School. He resides in Quincy with his wife and their two children.